These are 8 Must Read Novels I read in the last month that I think you don't want to miss. I can't wait to share with you some of my favorite books I've been reading lately. This post contains affiliate links.
These eight books below are mostly thrillers and suspense. But everyone one of them I could not put down.
OMG, this book! You can just feel dread through the whole thing. It drives you crazy, and the ending is very, very unexpected. Some of the reviews I read said it was totally guessable, but I am good at figuring out every plot, and this one was a true surprise at the end.
This was probably my most favorite book from all of these. I read it in just one day because I could not stop. And, it will probably stay with you — at least for me, as a mother, it really stayed with me. Sheesh!! Here's a synopsis:
Lowen Ashleigh is a struggling writer on the brink of financial ruin when she accepts the job offer of a lifetime. Jeremy Crawford, husband of bestselling author Verity Crawford, has hired Lowen to complete the remaining books in a successful series his injured wife is unable to finish.

Lowen arrives at the Crawford home, ready to sort through years of Verity's notes and outlines, hoping to find enough material to get her started. What Lowen doesn't expect to uncover in the chaotic office is an unfinished autobiography Verity never intended for anyone to read. Page after page of bone-chilling admissions, including Verity's recollection of what really happened the day her daughter died.

Lowen decides to keep the manuscript hidden from Jeremy, knowing its contents would devastate the already grieving father. But as Lowen's feelings for Jeremy begin to intensify, she recognizes all the ways she could benefit if he were to read his wife's words. After all, no matter how devoted Jeremy is to his injured wife, a truth this horrifying would make it impossible for him to continue to love her.

Goodreads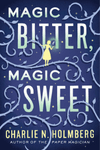 I love books that are full of magical realism where the world is normal, but magic is also something that happens. This is a sweet mystery with an infusion of romance. I really enjoyed it. Here's a synopsis:
Maire is a baker with an extraordinary gift: she can infuse her treats with emotions and abilities, which are then passed on to those who eat them. She doesn't know why she can do this and remembers nothing of who she is or where she came from.

When marauders raid her town, Maire is captured and sold to the eccentric Allemas, who enslaves her and demands that she produce sinister confections, including a witch's gingerbread cottage, a living cookie boy, and size-altering cakes.

During her captivity, Maire is visited by Fyel, a ghostly being who is reluctant to reveal his connection to her. The more often they meet, the more her memories return, and she begins to piece together who and what she really is—as well as past mistakes that yield cosmic consequences.

Goodreads
This was a whirlwind thriller that kept me guessing. Often I can see where a suspenseful story is going, which disappoints me, but this one was full of twists and surprises. I read through an entire night because I couldn't stop. I really liked the ending in a messed up way. Here's a synopsis:
Florence Darrow is a small-town striver who believes that she's destined to become a celebrated writer. When she stumbles into the opportunity to become the assistant to "Maud Dixon," a celebrated-but anonymous-novelist (think: Elena Ferrante), she believes that the universe is finally providing her big chance. The arrangement feels idyllic; Helen can be prickly, but she is full of pointed wisdom on both writing and living. She even invites Florence along on a research trip to Morocco, where her new novel is set. Florence has never been out of the country before; maybe, she imagines, she'll finally have something exciting to write about herself.

But when Florence wakes up in the hospital after a terrible car crash, and Helen is dead, she begins to imagine what it might be like to 'upgrade' into not only Helen's life, but also that of Helen's bestselling pseudonym, Maud Dixon…

Goodreads
Jennifer McMahon is one of my favorite writers. I have literally read every book she's written. She writes these terrifying thrillers that sometimes end up being more on the horror end, though it's never gory. She writes stories where I have to read it in the daylight with someone in the same room. Here's a synopsis:
When social worker Jax receives nine missed calls from her older sister, Lexie, she assumes that it's just another one of her sister's episodes. Manic and increasingly out of touch with reality, Lexie has pushed Jax away for over a year. But the next day, Lexie is dead: drowned in the pool at their grandmother's estate. When Jax arrives at the house to go through her sister's things, she learns that Lexie was researching the history of their family and the property. And as she dives deeper into the research herself, she discovers that the land holds a far darker past than she could have ever imagined.

In 1929, thirty-seven-year-old newlywed Ethel Monroe hopes desperately for a baby. In an effort to distract her, her husband whisks her away on a trip to Vermont, where a natural spring is showcased by the newest and most modern hotel in the Northeast. Once there, Ethel learns that the water is rumored to grant wishes, never suspecting that the spring takes in equal measure to what it gives.

Goodreads
I loved this book so much I've been on the hunt at all my local libraries to see if I can find book #1 in this series. This book is actually book #2, but you don't need to read book #1 to know what's going on. This is a collection of short stories involving an elderly woman who is basically a psychopath. The stories all weave together about people in her life. The things she does! It's very entertaining. I absolutely was enthralled by it. Here's a synopsis:
Everyone's favorite octogenarian killer is back in this new collection of stories by Swedish crime writer Helene Tursten that is sure to have you in stitches.

Eighty-eight-year-old Maud is never looking for trouble, but it always seems to find her. First, a woman in her building met an untimely end: tragic. Then, just recently, a dead body mysteriously appeared in her very own apartment, prompting an investigation by the local Gothenburg authorities. Such a strange coincidence. When it seems suspicion has fallen on her, little old lady that she is, Maud decides to skip town and splurges on a trip to South Africa for herself.

In these six interlocking stories, memories of unfortunate incidents from Maud's past keep bubbling to the surface, each triggered by something in the present: an image, a word, even a taste. When she lands in Johannesburg at last, eager to move on from the bloody ordeal last summer, she finds certain problems seem to be following her. Luckily, Maud is no stranger to taking matters into her own hands . . . even if it means she has to get a little blood on them in the process.

Don't let her age fool you. Maud may be nearly ninety, but this elderly lady still has a few tricks before she's ready to call it quits.

Goodreads
This is a historical novel based on the real lives of librarians of the American library in Paris during WWII. As someone who loves the library and books, this was a wonderful story. I loved the way it went back and forth between a modern time and WWII.
Based on the true World War II story of the heroic librarians at the American Library in Paris, this is an unforgettable story of romance, friendship, family, and the power of literature to bring us together, perfect for fans of The Lilac Girls and The Paris Wife.

Paris, 1939: Young and ambitious Odile Souchet has it all: her handsome police officer beau and a dream job at the American Library in Paris. When the Nazis march into Paris, Odile stands to lose everything she holds dear, including her beloved library. Together with her fellow librarians, Odile joins the Resistance with the best weapons she has: books. But when the war finally ends, instead of freedom, Odile tastes the bitter sting of unspeakable betrayal.

Montana, 1983: Lily is a lonely teenager looking for adventure in small-town Montana. Her interest is piqued by her solitary, elderly neighbor. As Lily uncovers more about her neighbor's mysterious past, she finds that they share a love of language, the same longings, and the same intense jealousy, never suspecting that a dark secret from the past connects them.

A powerful novel that explores the consequences of our choices and the relationships that make us who we are—family, friends, and favorite authors—The Paris Library shows that extraordinary heroism can sometimes be found in the quietest of places.

Goodreads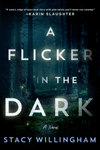 I love true crime podcasts and documentaries. If you've ever had an interest in what it was like to be the family and kids of someone like the BTK serial killer, this might be an interesting read. I wasn't completely satisfied with the ending, but it was a book I couldn't put down.
When Chloe Davis was twelve, six teenage girls went missing in her small Louisiana town. By the end of the summer, Chloe's father had been arrested as a serial killer and promptly put in prison. Chloe and the rest of her family were left to grapple with the truth and try to move forward while dealing with the aftermath.

Now 20 years later, Chloe is a psychologist in private practice in Baton Rouge and getting ready for her wedding. She finally has a fragile grasp on the happiness she's worked so hard to get. Sometimes, though, she feels as out of control of her own life as the troubled teens who are her patients. And then a local teenage girl goes missing, and then another, and that terrifying summer comes crashing back. Is she paranoid, and seeing parallels that aren't really there, or for the second time in her life, is she about to unmask a killer?

In a debut novel that has already been optioned for a limited series by actress Emma Stone and sold to a dozen countries around the world, Stacy Willingham has created an unforgettable character in a spellbinding thriller that will appeal equally to fans of Gillian Flynn and Karin Slaughter.

Goodreads
This one was basically guessable, but it was like a train wreck you can't look away from. It did have some twists and turns, but you can see where it's headed. It was rather weird and seemed a little unbelievable at some parts, but it was a page turner I couldn't stop reading.
The author is very good at leaving a cliffhanger after each chapter because it vacillates between the past and present, and you have to keep reading to see what happens after the last cliffhanger. Here's a synopsis:
THEN
She was fifteen, her mother's golden girl. She had her whole life ahead of her. And then, in the blink of an eye, Ellie was gone.

NOW
It's been ten years since Ellie disappeared, but Laurel has never given up hope of finding her daughter.

And then one day a charming and charismatic stranger called Floyd walks into a café and sweeps Laurel off her feet.

Before too long she's staying the night at this house and being introduced to his nine year old daughter.

Poppy is precocious and pretty – and meeting her completely takes Laurel's breath away.

Because Poppy is the spitting image of Ellie when she was that age. And now all those unanswered questions that have haunted Laurel come flooding back.

What happened to Ellie? Where did she go?

Who still has secrets to hide?

Goodreads
Friend Me on Goodreads!
Love to read? Friend me over on Goodreads. I find almost all my favorite reads by learning what friends on Goodreads love to read.
Come Join Us!
Liked this article and want more? Follow along on Instagram, Facebook, Twitter, Pinterest, TikTok, and YouTube!
Come over and join us on Facebook in the group Recipes, Crafts, and more with TipToe Fairy or Sewing and Crafting with The TipToe Fairy!
Visit Our Other Blogs!