There are always those certain foods or family recipes that just make you miss those loved ones who are no longer with us. Some day my grandchildren are going to reminisce about me when they eat a spoonful of this Cheesy Bacon Green Bean Casserole. This is a sponsored post. All opinions are 100% my own.
Del Monte green beans are one that always make me think of my Grand Jackie. She always added a little bacon grease to her green beans, and she always used whole green beans. I never knew why her green beans were so amazing until my mom told me those little secrets.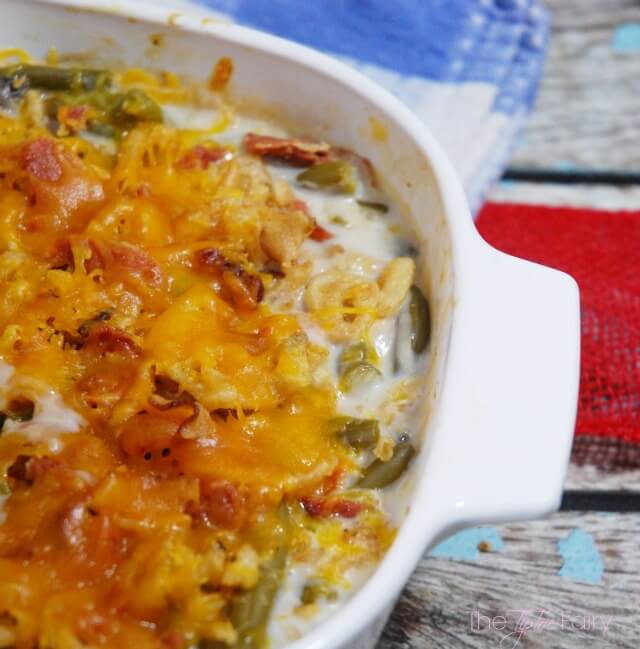 One quintessential holiday dish is the famous Green Bean Casserole. Is it always on the table at your Thanksgiving or holiday dinner?
I love giving recipes my own twist, so I decided this year's Green Bean Casserole was going to get a little makeover. It's getting a cheesy bacon makeover to be exact.
How do you make Cheesy Bacon Green Bean Casserole?
The best part about this dish is that you can put it all together in the same dish you bake it in.
First, we'll add the green beans to the dish.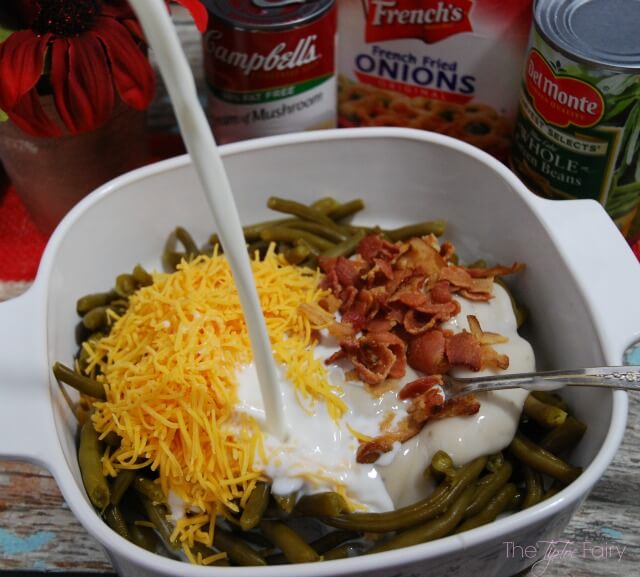 Then, add the cheese, bacon, milk, soy sauce, pepper, some of the fried onions, and the Campbell's soup right on top of the green beans.
Mix it all up and put it in the oven for 20 minutes or until it's all bubbly.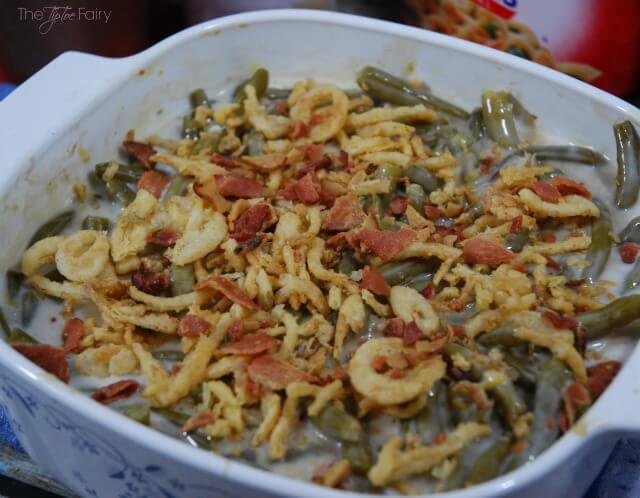 When it's nice and bubbly, pop it out of the oven for a few minutes and add the last of the crumbled bacon and the fried onions.
Then, top it with the last 1/2 cup of cheese, and bake for an additional 3-5 minutes. You want that cheese nice and melted.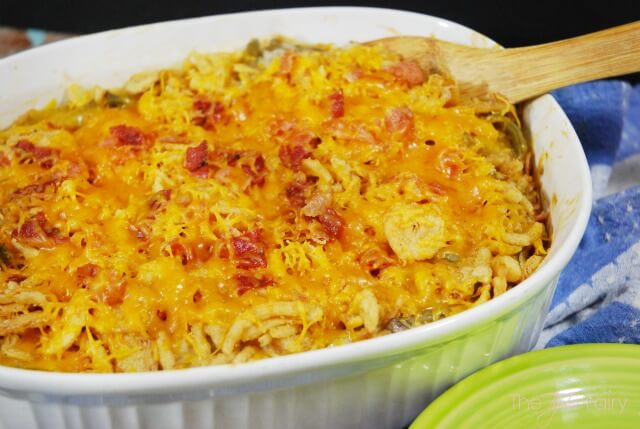 You will not believe how wonderful this Green Bean Casserole smells with the bacon and the mushroom soup. I tend to be a very picky person, so whenever someone else has made this casserole I stayed away from it. I seriously could not leave it alone when I made this one. You are going to love this old classic with an updated twist!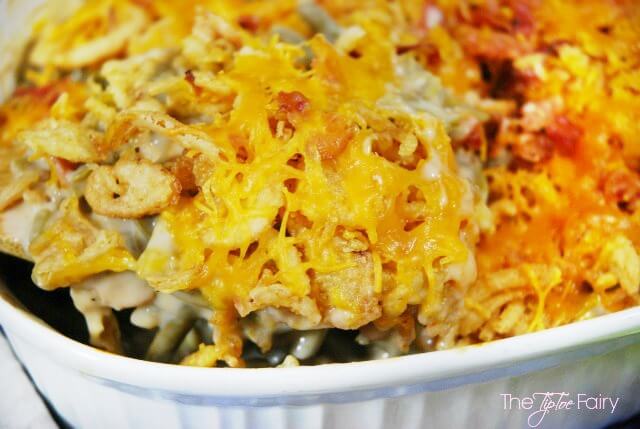 Looking for more Thanksgiving or Holiday Recipes?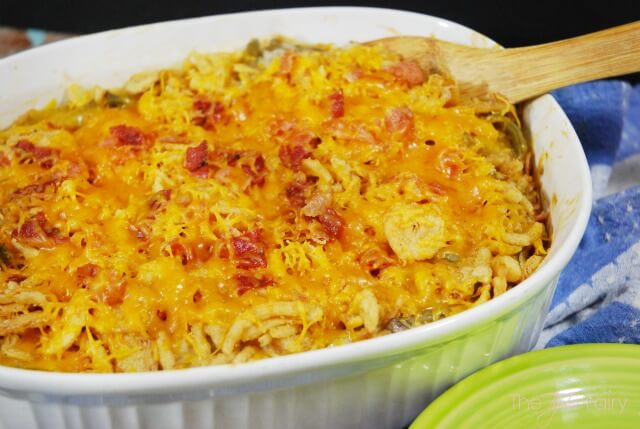 Yield:

10-12
Cheesy Bacon Green Bean Casserole
Need to put a twist on green bean casserole? Check out this Cheesy Bacon Green Bean Casserole!
Ingredients
2 cans (10.5 oz. each) Campbells Condensed Cream of Mushroom Soup
1 cup milk
2 tsp. soy sauce
1/4 tsp. ground black pepper
4 cans (14.5 oz. each) any style Del Monte Green Beans, drained
2 2/3 cups French's French Fried Onions
6 strips of bacon, chopped
1 cup of cheddar cheese, shredded
Instructions
Preheat oven to 350 F degrees.
Stir Campbells soup, milk, soy sauce, black pepper, green beans, 1/2 cup of cheddar cheese, 3 strips of bacon, chopped, and 1-1/3 cups onions in 3-qt. casserole.
Bake at 350°F, uncovered, for 25 min. or until bean mixture is hot and bubbling.
Stir bean mixture. Sprinkle with remaining onions, bacon and cheese.
Bake for 5 min. or until cheese is bubbly and onions are golden brown.