I don't know about you, but I just love individual mini servings of things like these Green Bean Casserole Cups or Meatloaf Muffins. They are just so cute! This is a sponsored post and also contains affiliate links.
I decided to put a twist on the famous Green Bean Casserole and make individual Green Bean Casserole Cups for the big holiday dinner!
What do you use to make individual Green Bean Casserole Cups?
These green bean casserole cups are simple to make, and people just love them. All you really do is take the traditional Green Bean Casserole, but you put it on a biscuit.
I like to use the regular size flaky biscuits in a can for this recipe. You can use any flavor of canned biscuits, just make sure you use the regular size and not the "jumbo" size.
What kind of muffin tin works best for individual Green Bean Casserole Cups?
I experimented with this recipe a few times and found that a jumbo muffin tin works best.
Make sure you spray the muffin tin liberally with a nonstick spray like olive oil, so they are easier to remove when they're done baking. I have not had a single one stick to the muffin tin (knock on wood!).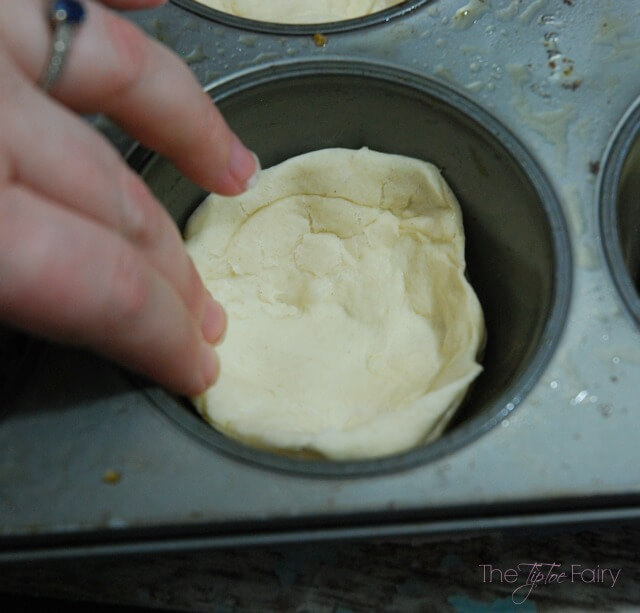 How do you prepare the biscuits to make them cup shape?
Let the biscuits rest a few minutes in the muffin tins before adding the rest of the ingredients. Then, gently pull them on all sides to make them more "cup" like, like the photo above.
When they bake, the sides of the biscuits puff up the sides of the muffin tin a little to hold the casserole.
How do you make the Green Bean Casserole Cups?
While the biscuits are resting in the muffin tins, mix up the green bean casserole ingredients.
Use a large ice cream scoop and add one scoop of the casserole mixture to the top of each biscuit.
Bake them in the oven for 18-20 minutes. I usually take them out closer to 18 minutes as I don't want to burn the biscuits.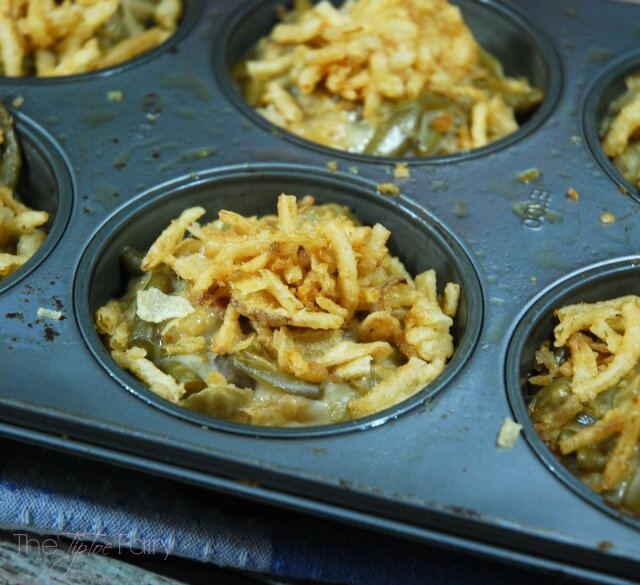 Top each Green Bean Casserole Cup with a tablespoon of the fried onions. Then, carefully pop them in the oven again for an additional 3-5 minutes, until the onions are a golden brown.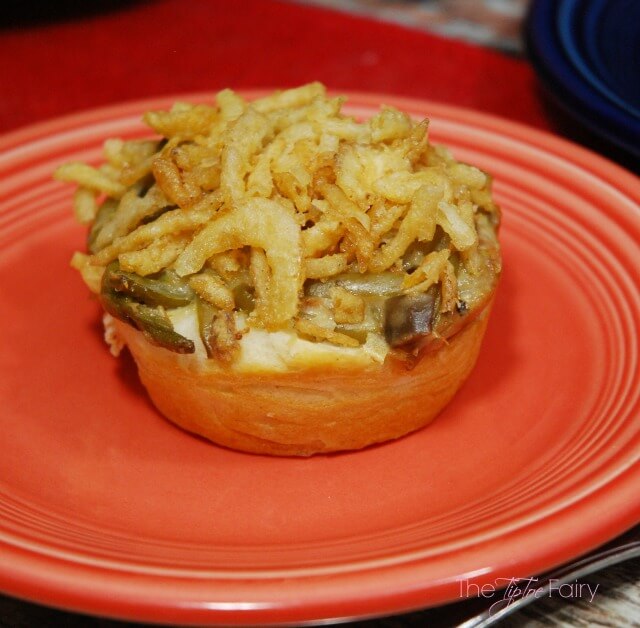 It's easier to remove them from the muffin tins when they are still hot. I do this by gently sliding a fork under each biscuit cup and lifting directly out onto a plate. If you wait until they start to cool off, the biscuits are harder to remove.
These are also perfect for a pot luck dinner! You can get about 24 or so Green Bean Casserole Cups out of this recipe. Just place them in a cupcake carrier, and they are easy to transport and serve.
Looking for more Thanksgiving or Holiday Recipes?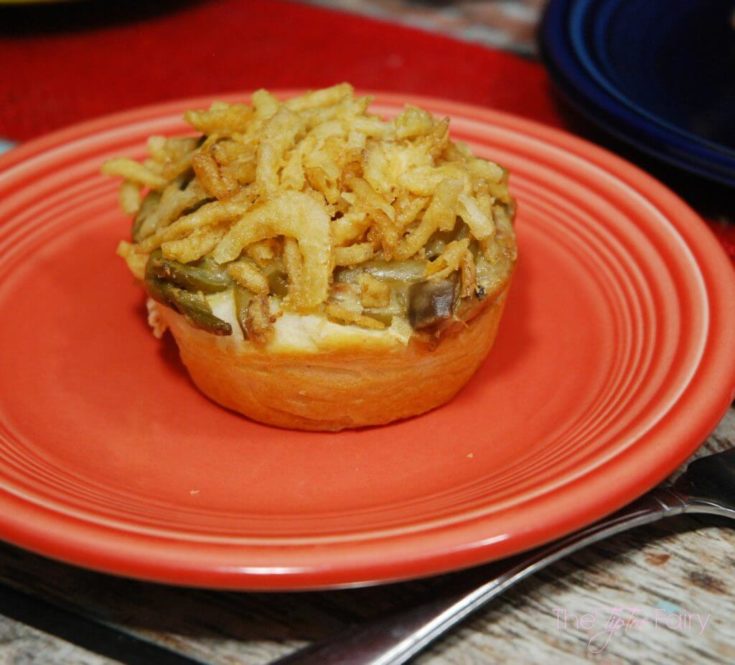 Yield:

24
Green Bean Casserole Cups
Here's a quick way to serve individual green bean casserole cups!
Ingredients
2 cans (10.5 oz. each) Campbells Condensed Cream of Mushroom Soup
1 cup milk
2 tsp. soy sauce
1/4 tsp. ground black pepper
4 cans (14.5 oz. each) any style Del Monte Green Beans, drained
2 2/3 cups French's French Fried Onions
2-3 cans of refrigerated flaky biscuits (10-count tubes of biscuits)
Instructions
Preheat oven to 350 F degrees.
Stir soup, milk, soy sauce, black pepper, green beans, and 1-1/3 cups onions in a large bowl.
Spray a jumbo muffin tin with nonstick spray. Then, place a biscuit in the bottom of each tin.
Gently pull the biscuit from side to side to make it more "cup" like.
Place a large ice cream scoop of the casserole on top of each biscuit.
Bake at 350°F, uncovered, for 18-20 minutes or until bean mixture is hot and bubbling.
Remove from oven and sprinkle with remaining onions.
Bake for 5 minutes or until onions are golden brown.