Recently I was sent a pair of Tranya Rimor Wireless Earbuds in exchange for a review.
I was excited to try these out because my teenager has been dying for true wireless earbuds that are also noise cancelling.
He helped me put them through the paces to see how great the Tranya earbuds were.
True Wireless Earbuds
These Tranya Rimor headphones are true wireless earbuds. They come with a charging case that connects via a type C USB charging cord. Each earbud fits into the charging case securely and magnetically.
The wireless earbuds fit ergonomically with right and left earbuds. They also come with three different sizes of the soft ear bud covers for a customized fit. And, they're waterproof, so sweating during a run or a workout or just being caught in the rain should not be much trouble at all.
The most exciting part about these affordable true wireless earbuds is the environmental noise cancelling. My teenager could not wait to try it out.
At the price point for these earbuds, I could not find similar true wireless earbuds that were both waterproof and noise cancelling.
What we loved about Tranya Wireless Earbuds
They came charged and ready for immediate use. My kids were thrilled we could take them directly out of the case and use them without having to charge for hours.
They keep a charge for a long time. This is the feature my kids still keep talking about. These earbuds will hold a charge for a long time. You can listen to music for an hour, put them up without charging, and tomorrow they will still have a good charge.
The fit is so much better compared to the popular true wireless earbuds. We have all always had a problem with the fit of the earbuds that come with our phones, and the wireless earbuds are the same design. They never fit our ears. The Tranya Rimor earbuds were able to fit all of us.
Not a single one of us was worried about them falling out of our ears. My college kid even fell asleep with them in her ears and woke up the next morning, and they were still in her ears.
When they say instant pairing with a Bluetooth device, they mean it. My son took them straight out of the case, opened his phone, and instantly the earbuds were ready to pair in his phone.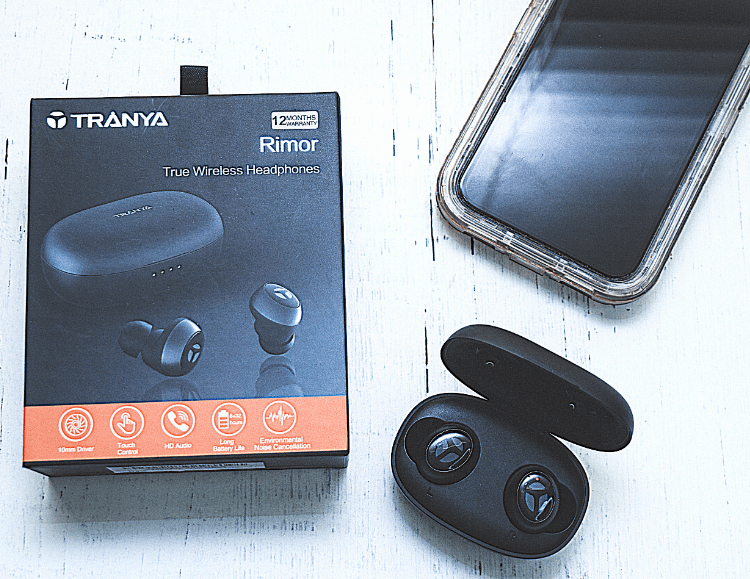 It's total touch control. You can easily change songs, adjust volume, and manage calls just by tapping your earbuds. It took a little practice to remember how to do it all, but then it was easy to control.
The sound quality is amazing! They really are noise cancelling. You cannot hear anything but your music, your podcast, or your audio book.
My husband and my kids are still fighting over these earbuds because the sound quality is so good. We are going to have to buy at least one or two more pairs because they all want to listen to their music with these earbuds.
What we didn't like
Honestly, there wasn't much we didn't like. My kids could not find one thing wrong with them. My son just keeps telling me they are amazing.
My only issue was related to talking to someone on the phone who was using the earbuds to talk to me. Everyone in our family who talked to someone on the phone using these earbuds could hear clear and fine, except me.
I have a mild auditory processing issue. I often have trouble hearing people clearly on a phone when they use the speakerphone or headphones to talk to me. I found this to be true for using these earbuds as well. It was slightly muffled. I could hear them talking; it just wasn't clear for me. I think this is something specific to me, not the headphones. But, I wanted to mention it in case someone might have a hearing deficit.
How much are the Tranya Rimor Wireless Earbuds?
They are ONLY $79.99! I couldn't believe they were so inexpensive compared to other true wireless earbuds. That's a steal for how amazing these earbuds are!
Where can you get Tranya Rimor Wireless Earbuds?
You can order them directly on the Tranya website. At this price, you can totally get more than one pair! Head over and check out all the specs to see if they're the true wireless earbuds you're wanting.
Come Join Us!
Liked this article and want more? Follow along on Instagram, Facebook, Twitter, Pinterest, TikTok, and YouTube!
Come over and join us on Facebook in the group Recipes, Crafts, and more with TipToe Fairy or Sewing and Crafting with The TipToe Fairy!
Visit Our Other Blogs!