This is a sponsored post for Magic Mixies Magical Crystal Ball from Moose Toys. I was compensated and provided free product for this post. All opinions are my own. This post contains affiliate links.
Are you looking for that amazing gift for your kid this year? Opening up a Magic Mixies Magical Crystal Ball will make their holiday so magical! You won't believe all there is to do with this fun new toy!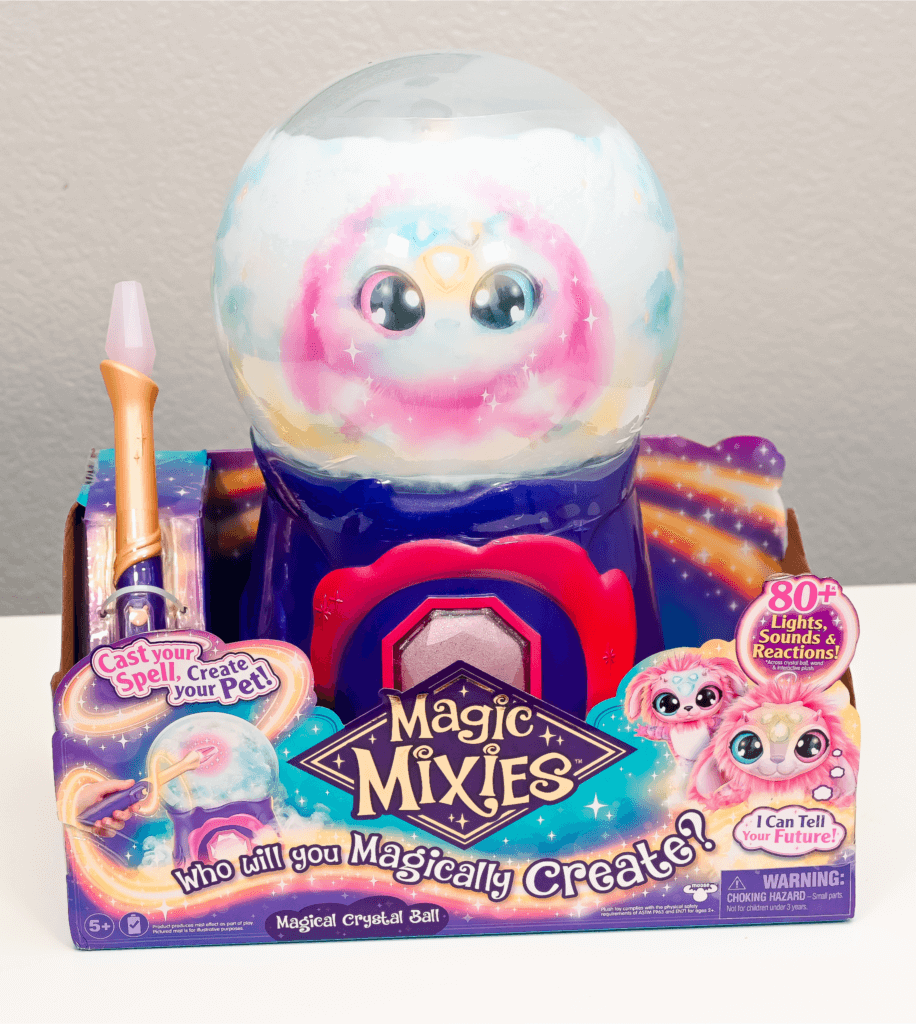 If you have kids who love blind bags, stuffed animals, and magical fun, look no further than the new Magic Mixies Crystal Ball from Moose Toys! And, this isn't just a one and done toy. You can create the magic multiple times over, and it does all kinds of other things, too!
What do you get with a Magic Mixies Magical Crystal Ball?
You can choose a blue or pink Magic Mixies Magical Crystal Ball. They each come with:
A Real Magical Wand
Crystal Ball
Electronic Stuffed Animal
2 instruction books

BATTERIES ARE INCLUDED

(You don't need to buy batteries!! Don't you love that?)
What are the ages for this toy?
The box recommends ages 5 to 15 years old.
Personally, I think it might be too young for a 14-15 yr old teenager, but I know both my 5 year old and my 12 year old LOVE this magical toy. So, my recommendation is more 5 to 13 years old.
Real Magic Returns with Magic Mixies!
Create your very own fortune-telling Mixie by performing the Creation Spell using your light-up interactive magic wand.
Magic Mixies let children experience the suspense and wonder of "Real Magic" when they can cast spells with a glowing magical wand to reveal a mystical new friend!
This Crystal Ball is so much more than just a simple magic trick because your child can go on a fantastical journey that allows them to believe in REAL MAGIC!
Do your kids fantasize about magic in the world?
My 5 year old daughter loves pretend play and fantasy, and she's always looking for real magic. You can imagine she was beyond thrilled when I opened the box with her new Crystal Ball. She could not wait to reveal what was inside. And, she keeps recreating the magic all over again.
A Real Magical Wand
Before you can reveal your Magic Mixie, you have to learn to use the light up magic wand that comes with your Crystal Ball. You will learn to do certain wand movements, and those are easily taught in the first instruction booklet.
The way you know you're doing them correctly is that the wand changes colors for each movement. There is an upwards movement, a downwards movement, and a horizontal movement.
For each step of the Creation Spell, you must do the correct wand movement and say the magic word for that step.
Your child will be so excited when their Crystal Ball magically responds to the movements they do with the crystal wand to complete each part of the Creation Spell.
A tip for those with a smaller kid
When I saw the wand movements, I was a little worried that my 5 year old was going to get frustrated because she had trouble getting the right colors to show up when we practiced the wand movements, unlike me and her big sister, who had no problem getting the colors to change.
However, there is no need to worry because the secret is in the buttons pushed on the wand. Even if the right colors don't show up after doing their wand movements, when they push the spell button, then everything keeps moving smoothly according to the Creation Spell. So, don't fret if the right colors don't show up on the wand. Just let them wiggle the wand around, push the button, and voila — the spell keeps progressing to the reveal.
Steps of the Creation Spell
There are six different steps for the Creation Spell to be complete and reveal your new friend!
Through the Creation Spell, you'll be able to summon real magical mist before giving your Mixie her color and her voice as well as teachering her how to tell fortunes. Then, once your child says "Magical Mixus" their Mixie comes to life!
Illumi
Mistos
Coloramo
Melodias
Fortunus
Magical Mixus
The back of the crystal ball base has a button that can be placed 3 different ways:
Once it's in create mode, the front gem on the base will glow green. If for some reason it's orange and you hear a warning chime, that means you need to make sure the crystal ball top is screwed into place. This happened to use once when we redid the magic and forgot to set the ball back into place.
Awaken the Crystal Ball – Illumi
First, awaken the Crystal Ball.
The first time you do the Creation Spell, it won't fill with mist immediately. It will first do the Illumi part of the spell and flash yellow lights.
Later if your child wants to do the magical spell again and again, when you start the spell, it will immediately fill with mist, and then it will fill with mist again in the "Mistos" part of the spell.
There is enough of the mist to do the spell several times. We've probably done it at least 5-6 times now, and it's filled every time. There are mist liquid refills you can purchase with an easy video that shows you how to refill the mist liquid
Summon the Magical Mist – Mistos
The second step is to summon the mist, and this is where the magic starts to really appear!
The crystal ball will begin to fill with mist and some will leak out and look very magical. Your kid will get super excited!
Add Color to your Mixie – Coloramo
This next step gives color to your Magic Mixie and the crystal ball will flash in a rainbow of colors.
Form your Mixie's voice – Melodias
The fourth step is giving your Mixie a voice! You'll hear her sing first higher and then lower and then her perfect voice!
Teach your Mixie to tell Fortunes – Fortunus
This step teaches your Mixie how to tell fortunes.
Once she's revealed, you can ask her questions and she'll give you yes, no, or i don't know answers. And, this step teaches her how to do that.
Bring your Mixie to life – Magicus Mixus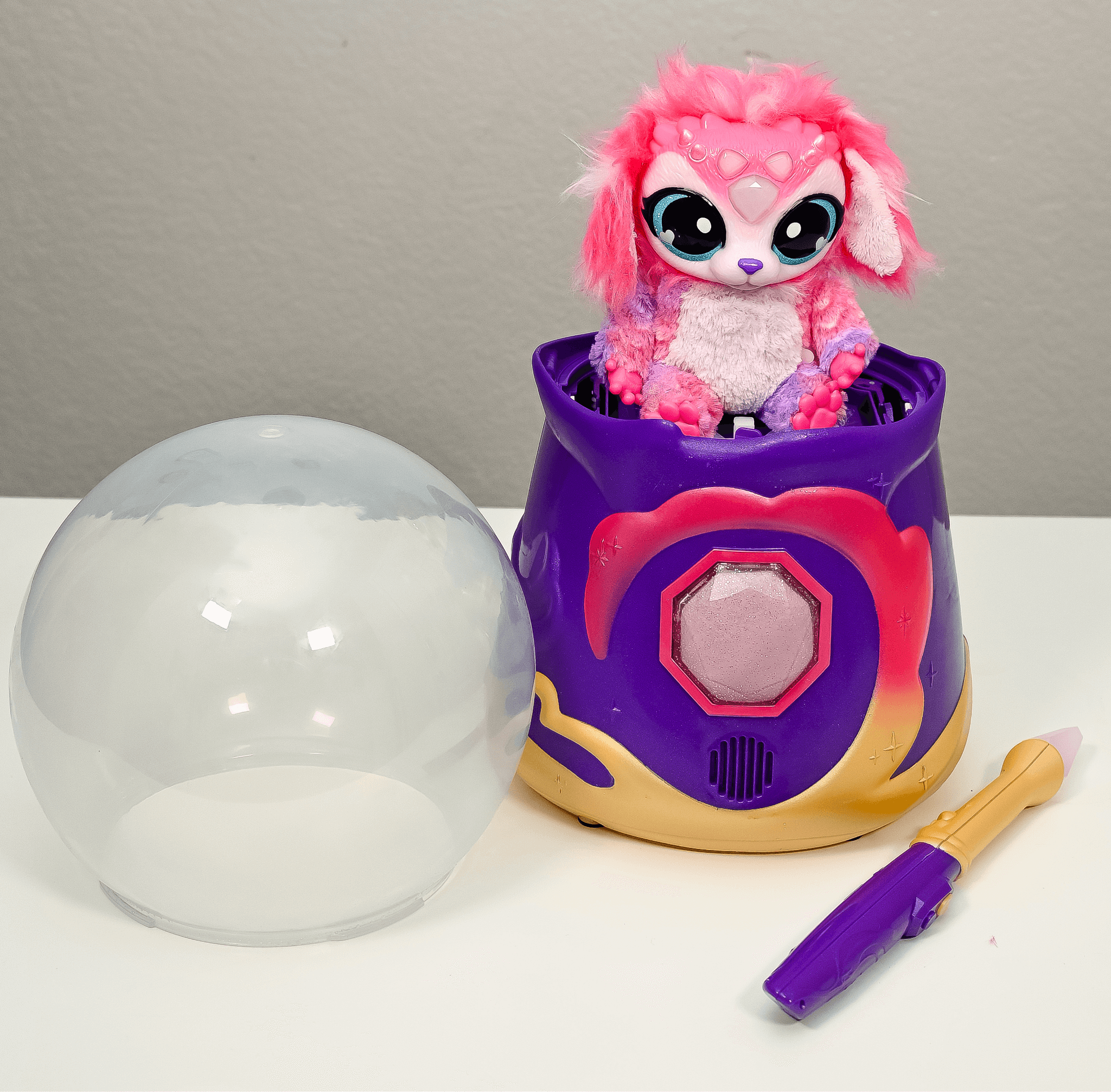 You're almost done! It's the last step to reveal your new Magical Mixie! The lights will flash a rainbow of colors in the Crystal Ball and your Magic Mixie will be revealed. Then, you can open the Crystal Ball and meet your new friend!
What else can the Magic Mixies Magical Crystal Ball do?
This toy isn't just a one trick pony because the Magic Mixie herself has all kinds of activities and you can even do things with the Crystal Ball!
What can you do with the Crystal Ball?
My favorite thing about this is that you can use the Crystal Ball as a night light in your child's room! It slowly changes colors of the rainbow while gently illuminating while your child sleeps.
You can also repeat the reveal again and again using your Magic Mixie or even other toys that will fit on the platform.
What can you do with the Magic Mixie?
The magical creation spell isn't the only fun you can have with your new Magic Mixie! Use the magic wand to interact with your Mixie by performing spells, playing a game together and having your fortune told!
There are four different modes you can put your Magic Mixie in:
Spell Mode
Tickle Mode
Fortune Mode
Game Mode
Spell Mode
In Spell Mode, you have to do the wand movements. Then, you can create different spells with your Magic Mixie that correlate to the color of the light on the wand. There are 7 spells:
Blue – mystic spell
Pink – love spell
Purple – enchantment spell
Orange – fire spell
Yellow – lightning spell
Green – power spell
Red – failed spell
Tickle Mode
You can tickle your Magic Mixie and she'll giggle and laugh. But, if you tickle her too much, she might tell you she doesn't like it.
Fortune Mode
This is my 5 year old's favorite one to play. You can ask your Mixie a yes or no question, and she can reveal your fortune.
When her answer is yes, she makes a positive sound, and her lights turn green. When her answer is now, she makes a negative sound, and her lights turn red. When her answer is unsure, her lights are multicolored and she has an unsure sound.
Game Mode
When you hit the Mixie button on the wand two times, this turns on Game Mode with your Mixie. She'll say "Gamezeeboz."
The Mixies lights will flash a certain color and you must move the wand up and down to get the right color. If you get it right, you get to move to the next level. If you get it wrong, you can try again. But, if the time runs out, the game is over.
Sleep Mode
There is one more mode and that is Sleep Mode. If you leave your Mixie alone, she'll complain and make noise for you to come play with her. But, if you don't, she eventually starts snoring and then turns off. To turn her back on, you must open the velcro at the back of the Mixie and hit the on/off button to turn her back on.
This same off/on button will switch her off at anytime.
Where to find a Magic Mixies Magical Crystal Ball?
This is a really great toy for kids who love fantasy and magic. They'll love casting a spell to create their own Mixie!
You can find your own Magic Mixies Magical Misting Crystal Ball at:
Come Join Us!
Liked this article and want more? Follow along on Instagram, Facebook, Twitter, Pinterest, TikTok, and YouTube!
Come over and join us on Facebook in the group Recipes, Crafts, and more with TipToe Fairy or Sewing and Crafting with The TipToe Fairy!
Visit Our Other Blogs!