This is a sponsored post on behalf of Bob's Red Mill. All opinions are my own.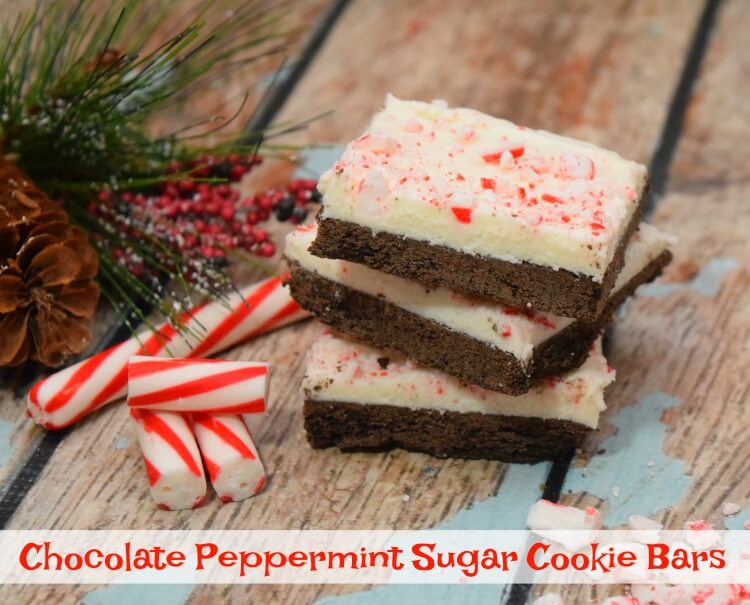 One of my favorite things to do is bake something wonderful for someone else. I love giving the gift of my baking to friends and families all year long and especially during the holiday season.
Did you know psychologists have found that baking for others promotes a sense of well being and benefits the baker as much, if not more, than the recipient? I know it always makes me feel warm and fuzzy when I package up my goodies and send them off.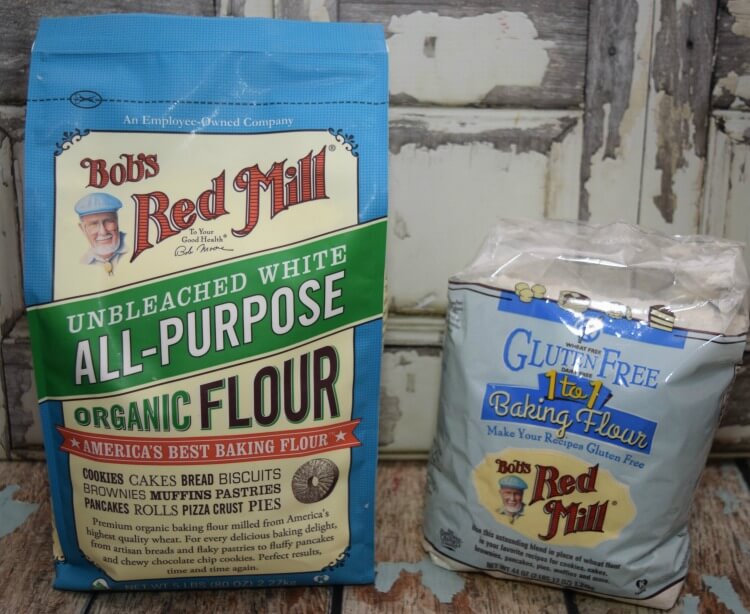 When I make treats and eats, especially as gifts, I always make sure to use the highest quality ingredients. One of my favorites is Bob's Red Mill products because I believe their products help make my baked goods shine. Just like me, Bob's Red Mill believes in making our world a better place through small acts of kindness.
All through preschool my middle daughter had a friend who was very allergic to gluten. Most times when someone brought a special baked treat, she had to have something completely different. Soon after we started at this preschool, I discovered Bob's Red Mill Gluten Free 1-to-1 Baking Flour. You can literally use it in the same exact amount as you would with wheat flour. I was able to make treats for the whole class with it and she could eat what everyone else ate.
These Chocolate Peppermint Sugar Cookie Bars are made with Bob's Red Mill organic all purpose flour and came out just beautifully! They are pretty straightforward and easy to make. Plus, you don't have to roll out any cookies!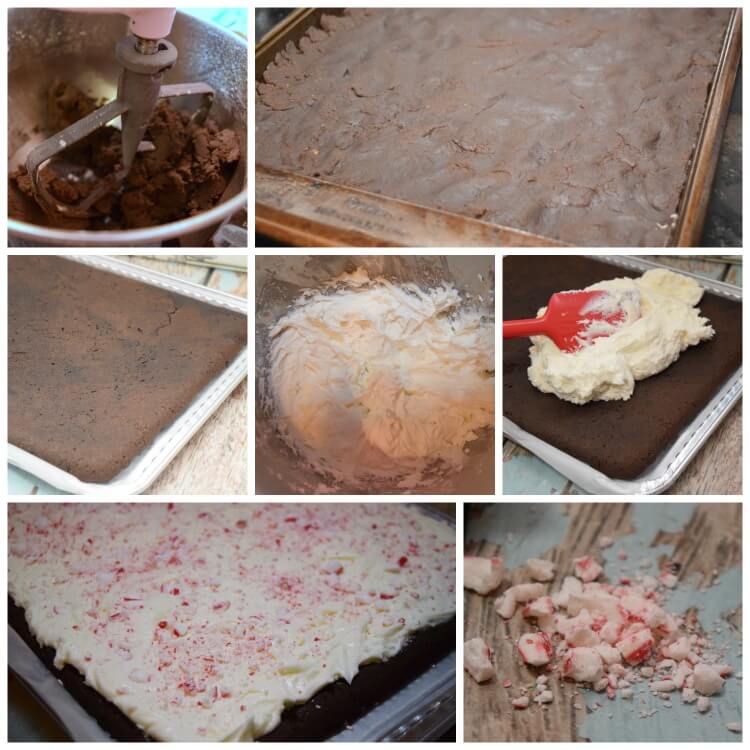 For these cookies, I use mint extract instead of peppermint extract. I feel it's not as overpowering as the peppermint and goes so well with the chocolate.
After making the dough, I don't like to chill it. I find it's just easier to press the dough into the pan when it's still warm. Then, I chill it for about 30 minutes before baking.
These cookies do not rise very much, so I find baking the pan for just 10-12 minutes is perfect to keep them soft and delicious.
Let the pan cool for just a few minutes before flipping it over on wax paper to remove the cookie bars. Then, let them cool completely before frosting.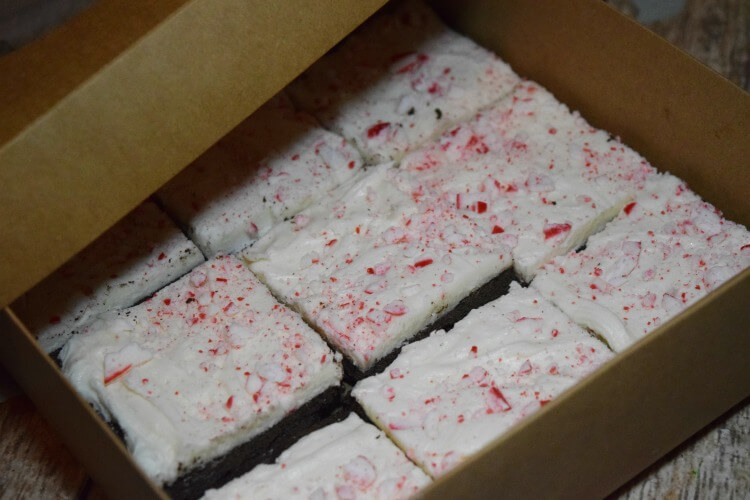 I make a vanilla mint buttercream to top these Chocolate Peppermint Sugar Cookie Bars. I like to whip it in the electric mixer an extra minute or two to really get it fluffy. Then, I frost the entire top of the cookie bars.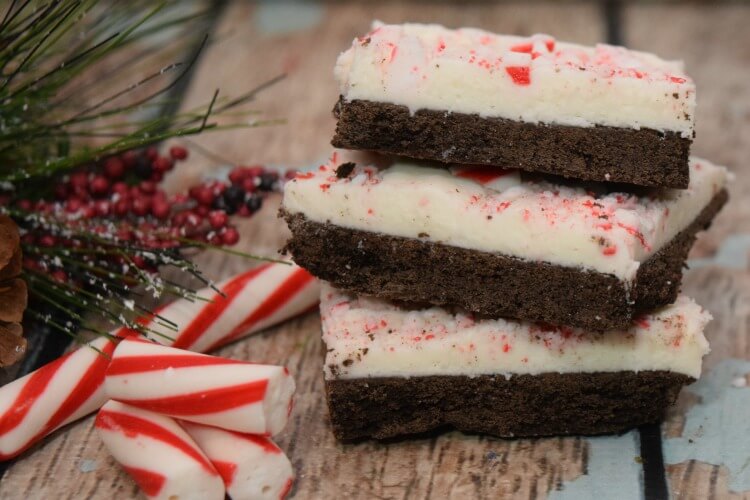 For the actual "peppermint" part of these cookie bars, I love using soft peppermint sticks because they just melt in your mouth. I take about 6 of the old-fashioned soft peppermint sticks and crush them in a plastic zipper bag with a meat tenderizer or sometimes the food processor. I usually do it by hand with the hammer so they are more coarse.
Then, I sprinkle them over the top of the frosting and freeze the bars for 10-15 minutes before cutting into squares.
I've found warming my knife in some hot water before slicing the bars up makes these cut just beautifully.
More Holiday Recipes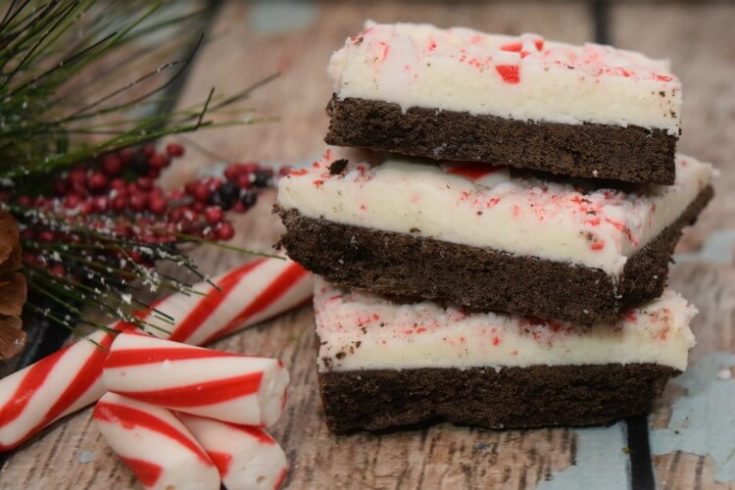 Chocolate Peppermint Sugar Cookie Bars
Ingredients
Chocolate Sugar Cookie Bars
1/2 cup unsalted butter, softened
1/2 cup sugar
1/2 cup brown sugar
1 tsp vanilla
1/4 tsp mint
2 tablespoons heavy whipping cream
1 egg
2 cups flour
1/2 cup dark chocolate cocoa
1 tsp baking powder
1/2 tsp salt
Mint Frosting
1/2 cup unsalted butter, softened
3-4 cups powdered sugar
3-5 tablespoons heavy whipping cream
1 tsp vanilla
1/2 teaspoon mint
Peppermint Topping
Instructions
Chocolate Sugar Cookie Bars
Preheat 350 F degrees.
Mix sugar, butter, egg, vanilla, cream, and mint together.
Then in a separate bowl mix flour, cocoa, baking powder, and salt.
Gradually mix in the dry ingredients to the wet ingredients with an electric mixer.
Spray a 9 x 13 inch cookie sheet with baking spray and press the cookie dough into the bottom of the pan.
Bake for 11-13 minutes.
Remove from oven and cook for a few minutes before flipping the pan onto wax paper and set aside to cool completely.
Mint Frosting
With an electric mixer whip the butter and gradually add in the powdered sugar.
After the first cup of powdered sugar add 2 tablespoons of cream and the vanilla and mint.
Then add the powdered sugar and whip until it's fluffy and creamy.
Frost the entire cookie bars.
Peppermint Topping
Take about 6 sticks of soft peppermints and crush with a meat tenderizer hammer or in a food processor. Sprinkle over the top of the frosting.
Then freeze the bars for 10-15 minutes before cutting into squares.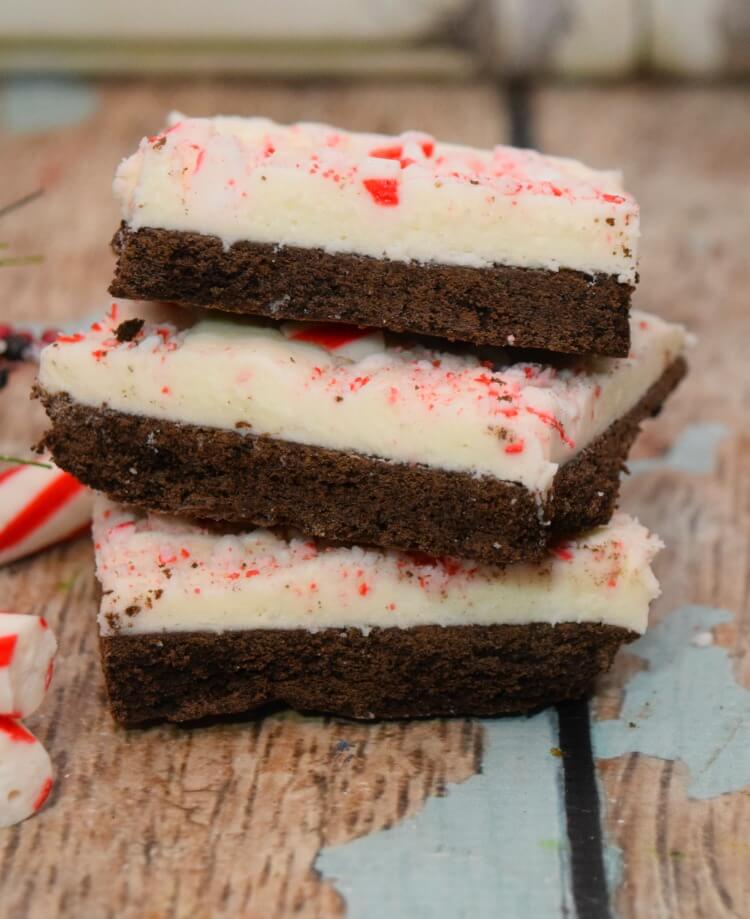 Come Join Us!
Liked this article and want more? Follow along on Instagram, Facebook, Twitter, Pinterest, TikTok, and YouTube!
Come over and join us on Facebook in the group Recipes, Crafts, and more with TipToe Fairy or Sewing and Crafting with The TipToe Fairy!
Visit Our Other Blogs!
Thank you to Bob's Red Mill for sponsoring this post!