This post may contain affiliate links.
It's time again for the Peanut Butter Bash! We get a new ingredient every month to pair with peanut butter. This month's ingredient was apples. I was in luck because it just so happened that my mom dropped off a few cans of apples after she ordered a case of them from Amazon.
These apples are so great for tarts or pie fillings because there's no sugar added. They're just regular ol' apples in water, and you can do whatever you want to them. I don't really like the sweetened pie fillings. I prefer unsweetened fruits with just a little bit of sugar sprinkled over them when I make my pies or tarts.
For this challenge I made an Apple Peanut Butter Rustic Tart made with unsweetened apples and peanut butter cream cheese. This tart does have some sugar in it, but if you need to leave it out or exchange it with stevia, it will taste lovely as well.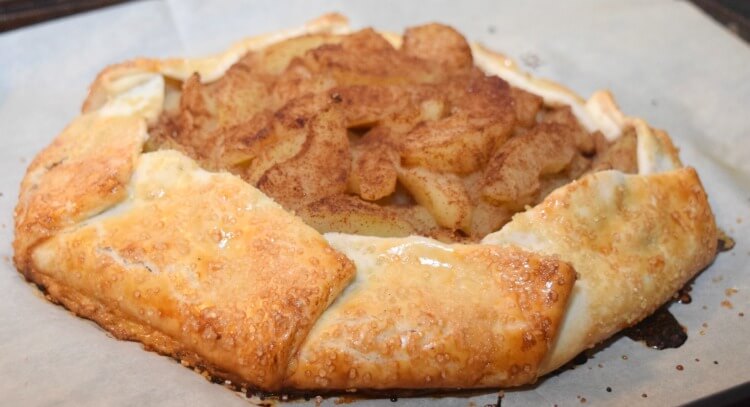 I used a can of Musselman's apples in water. I make sure to drain the water completely from the can. Then, I mix the apples with apple pie spice and a tablespoon of raw sugar.
Next, I mix softened cream cheese, peanut butter, and powdered sugar until smooth and creamy.
With four kids, I don't have time to make pie crust, so this one has a store bought pie crust rolled out onto parchment paper on a cookie sheet.
Slather the middle of the pie crust with the peanut butter/cream cheese mixture.
Then, pile on the apples. Make sure you leave enough room to fold the pie crust over in the rustic tart fashion.
Once the pie crust is folded over up the apples, then brush the crust with an egg wash. Lastly, sprinkle another tablespoon of raw sugar over the crust and entire tart.
Bake for 30 minutes or until golden brown. Make sure to let it cool for a few minutes before serving.
Print
Apple and Peanut Butter Rustic Tart
---
20 ounce

can apples in water (unsweetened)

1

refrigerated pie crust

8 oz

cream cheese, softened

1/2 cup

peanut butter

1/4 cup

powdered sugar

2 tablespoons

raw sugar

2 tablespoons

powdered sugar

1 teaspoon

apple pie spice

1

egg
---
Preheat oven to 400 F degrees.
Place a piece of parchment on a cookie sheet and roll out the pie crust.
Drain the apples and combine with 1 tablespoon of raw sugar and apple pie spice. Then, set aside.
Combine the softened cream cheese, powdered sugar, and peanut butter. Mix until smooth.
In the middle of the pie crust spread a layer of the cream cheese/peanut butter mixture about 7-8 inches in diameter.
Layer the apples on top of the cream cheese mixture.
Fold the edges of the pie crust inward around the apples.
Beat the egg and then brush it over the pie crust.
Sprinkle 1 tablespoon of raw sugar over the pie crust and over the whole tart.
Bake for 30 minutes or until the crust is a golden brown.
Cool before serving.
Recipe Card powered by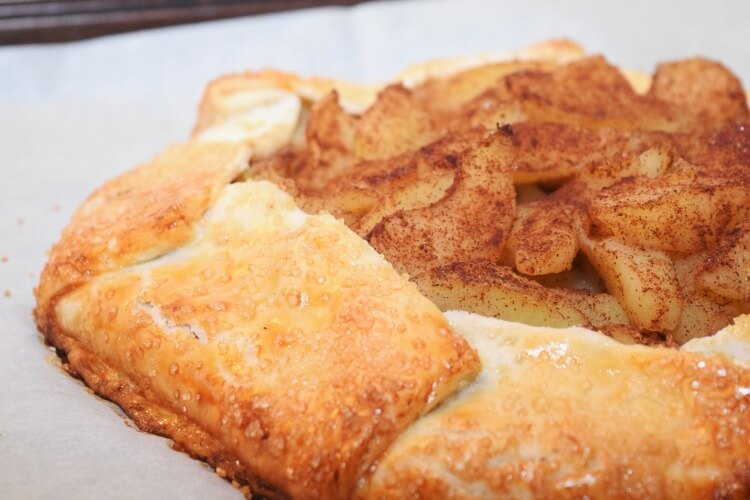 Store the leftovers in a sealed container in the fridge. It heats up beautifully for breakfast.

If you're a blogger and would like to join the Peanut Butter Bash. You can do so HERE. If you're not a blogger but are looking for some great Peanut Butter recipes, join our Facebook group HERE.
Here are some more Peanut Butter & Cereal recipes. Check them out!
Slow Cooker Apple Peanut Butter Crisp from Cookie Dough and Oven Mitt
Peanut Butter Upside Down Apple Cake from Bake Then Eat
Apple Peanut Butter Rustic Tart from The TipToe Fairy