I discovered the most amazing and EASIEST Banana Bread ever. If you love to bake something up for gift giving, this is it! It really is the moistest, most delicious banana bread I've ever had. One bite, and you'll just melt.
And, you'll never guess the secret ingredient to make this such a delicious banana bread! It's Miracle Whip! Can you believe it? Me neither! Who knew Miracle Whip could make banana bread truly amazing. You can find the recipe HERE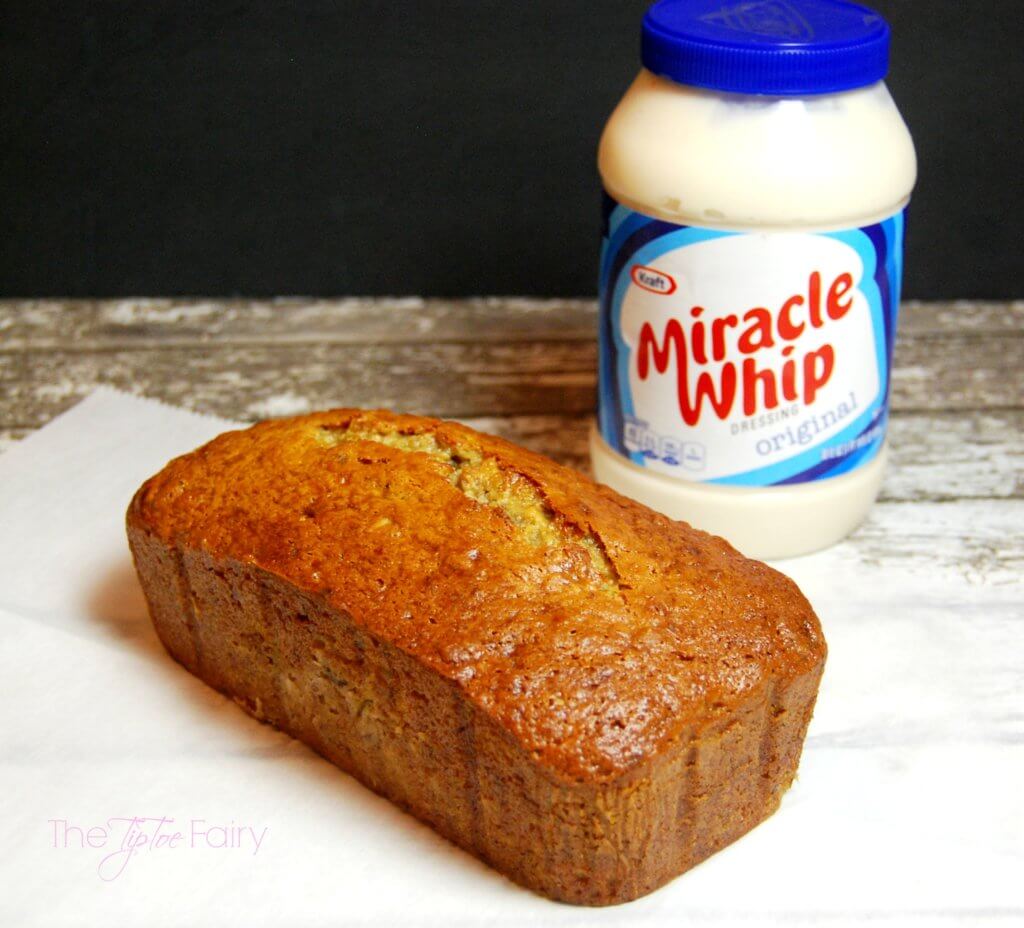 I saw this recipe and had to try it, but I didn't have any Miracle Whip. I did have bananas that were perfectly ripened for banana bread, and I didn't want them to go to waste. So, I braved the holiday shopping at Walmart because I just had to make it. My husband is a HUGE banana bread lover, so I wanted him to try it and see if he could identify the secret ingredient.
Let's just say he melted into a puddle while he was eating a slice of this for the first time, and he had no clue what made it so good. He said it was the most delicious banana bread. He and Miss Em practically finished off an entire loaf by themselves as soon as it was cool enough to slice.
This recipe is so simple to make. You don't even need a mixer. The hardest part is mashing the bananas. Just mash the bananas, mix with Miracle Whip and an egg. Then, just throw the rest of the ingredients into the bowl and mix just until moistened. Then, pour it all into a loaf pan and bake for about an hour. Simple, right? Check out just how simple it is:
Mine took exactly 1 hour to bake and came out gorgeous. Serve this up at your next holiday party. Everyone will absolutely love it, and no one will believe the secret ingredient!
More Banana Recipes
More Bread Recipes
Yield:

1
The EASIEST Banana Bread
Total Time:
1 hour
5 minutes
The most delicious and moistest banana bread - ever! And you'll never guess the secret ingredient!
Ingredients
1 egg
1/2 cup MIRACLE WHIP Dressing
1-1/3 cups mashed fully ripe bananas (about 3)
1-1/2 cups flour
1 cup sugar
1/2 cup chopped PLANTERS Walnuts
1 tsp. baking soda
1 tsp. salt
Instructions
HEAT oven to 350ºF.
BEAT egg, dressing and bananas in large bowl with whisk until blended. Mix remaining ingredients. Add to banana mixture; stir just until moistened.
POUR into 9x5-inch loaf pan sprayed with cooking spray.
BAKE 1 hour or until toothpick inserted in center comes out clean. Cool in pan 10 min.; remove from pan to wire rack. Cool completely.