I love making new holiday wreaths each year. This Burlap Christmas Tree is my absolute favorite, but I also love this Santa Gnome Wreath and this Candy Cane Reindeer Wreath, too.
This project was made with burlap ribbon from BurlapFabric.com. It is probably the best quality burlap ribbon I've ever used. It doesn't shred or fall apart, and I love that it comes in gorgeous colors. This post contains affiliate links.
Years ago I saw this lovely pumpkin wall hanging made of swirls of mesh ribbon. I think it's been going around Pinterest forever. One of my neighbors even made that pumpkin. It's gorgeous, but it inspired me to use burlap ribbon and make my own version as a Christmas Tree.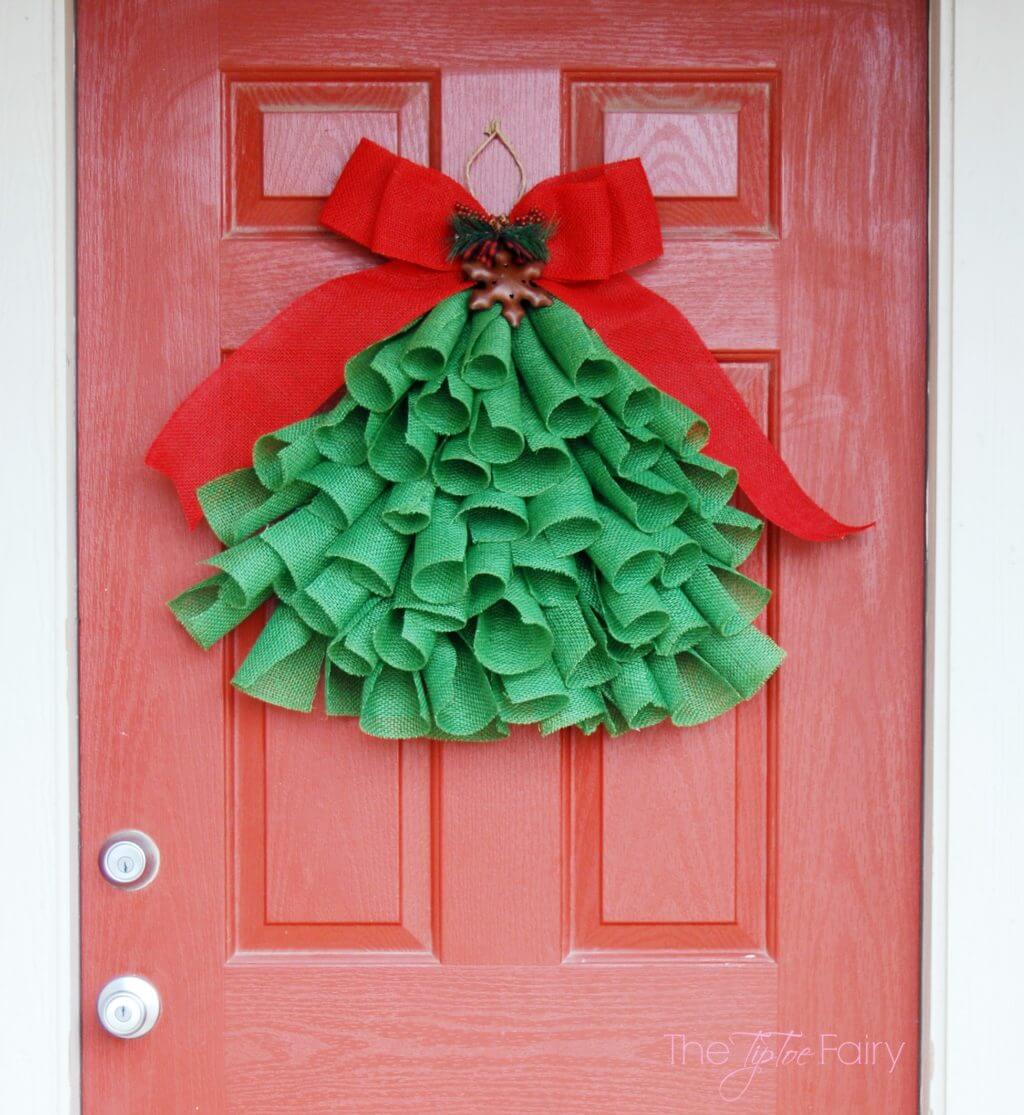 I love the homespun look that burlap gives, and I thought it would be lovely to hang on the front door instead of a typical Christmas wreath.
DIY Burlap Christmas Tree Wall Hanging
Supplies
Directions
This is the measurements I cut my original cardboard backing, which I just got from ripping up a box. This was the perfect size because it used up nearly the entire roll of green burlap ribbon. The finished measurements for my tree are about 24 x 25 inches.
How do you make a Burlap Christmas Tree Wreath?
This is a great project that takes less than a couple hours to complete. You can watch a Christmas movie and drink hot chocolate as you work.
Once the cardboard triangle is cut, you'll cut 6 inch pieces of the green burlap ribbon. I used my rotary cutter and mat and cut about 10-15 at a time as I worked.
Take a 6-inch piece of burlap, roll it up, and glue just one end of the roll together. Then, add another squirt of glue and place it on the cardboard. I recommend starting at the bottom of the triangle and working your way up. In the tutorial below, you can see I started in the middle because I had no idea what I was doing. But, after placing those three in the middle, I began working from the bottom up, so that each layer's raw edges were covered by the next upper layer.
Here is a picture tutorial to visually explain:
It was pretty exciting to see how it was coming out as. I could see the the tree taking shape as I was adding more and more rolls of burlap ribbon. It was exactly like I pictured in my head, and I love it when a project comes out that way.
How do you make a Burlap Bow?
To finish off the tree, I added a red burlap bow and coordinating homespun ornament I found at a local craft store, for 50% off!
Looking for more DIY Holiday Decor?
Looking for more DIY Christmas Crafts?