Three years ago we adopted a Boxer dog from our local pound. He is a sweet boy, but he also didn't really know how to play with toys. Now, he's an expert at playing with his toys. Recently, I made him a Snuggle Mat for foraging treats. He loves it, and I can't wait to show you how easy this is to make your own pet. It works for both cats and dogs!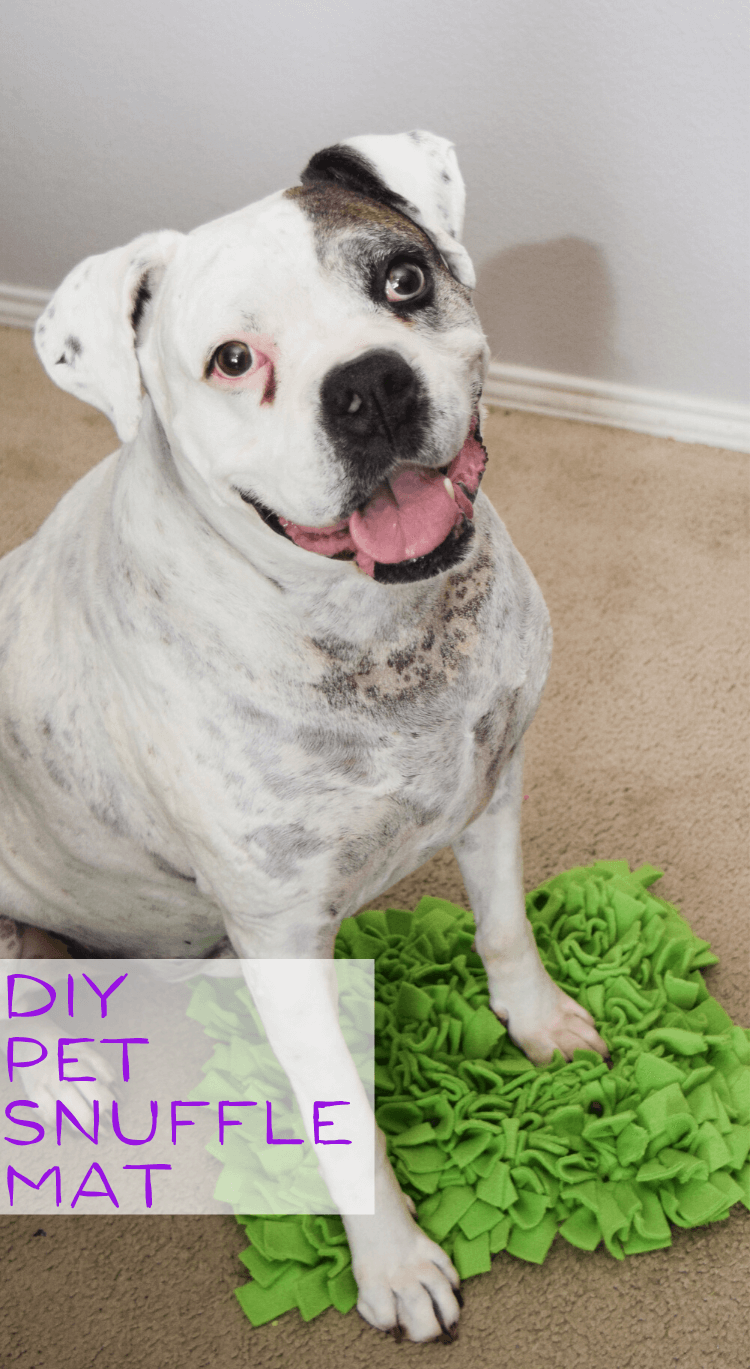 Our Boxer is Hank, and he spends most days laying on the bed and watching out the front window, guarding our home and backyard with every fiber of his being. The minute he sees something out the window, be it a cat, person, leaf, whatever, he flies off the bed and runs as light speed to the back door, all the while barking his head off to let us know that an intruder is approaching.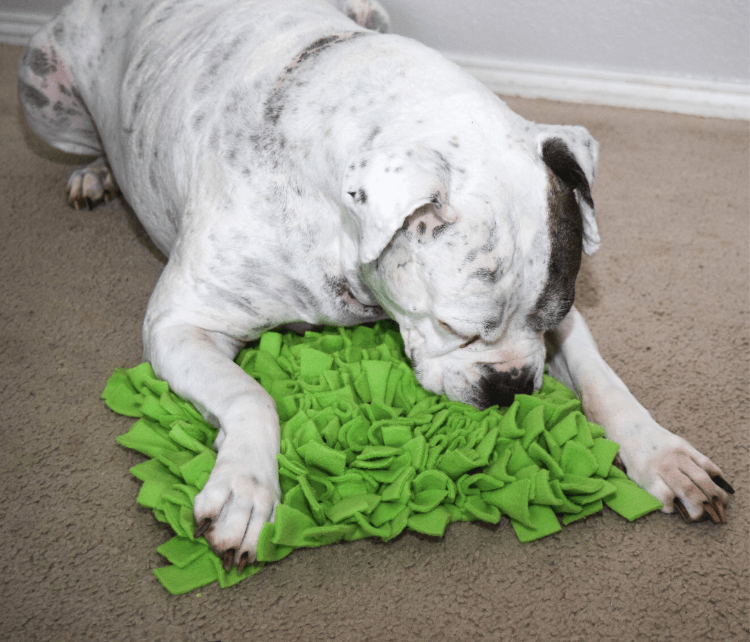 I love to keep him busy. He doesn't always like the toys I buy him, but he often loves the toys I make him. I bought him this expensive puzzle game where you hide treats under these little blocks he's supposed to nose off, but he just wants me to move the blocks. However, he loves to nose around the carpet and lick the fuzzies, so I thought a Snuffle Mat might be the perfect thing for him.
What's a Snuffle Mat?
It's a mat made to simulate grass and how they would need to snuffle for food if they had to scavenge outside. Million of years ago before dogs were domesticated and fed by humans, they would have to scavenge their food, and part of that scavenging was snuffling the ground.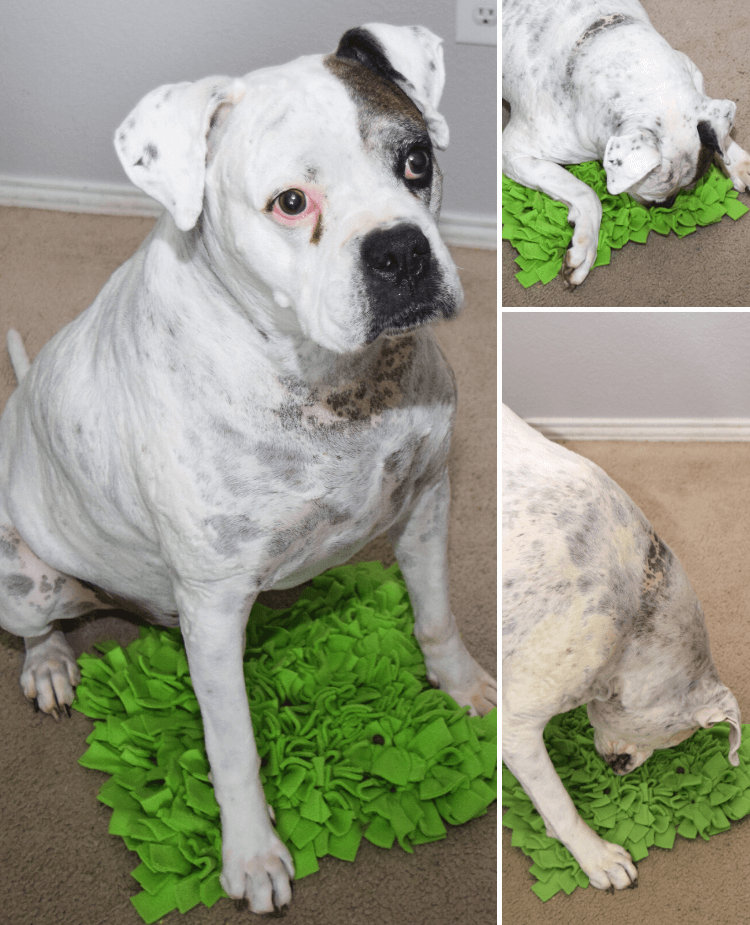 What do you use to make a DIY Snuffle Mat?
I found a dollar store plastic sink mat was perfect for the base. They are clear and just $1 at the Dollar Tree.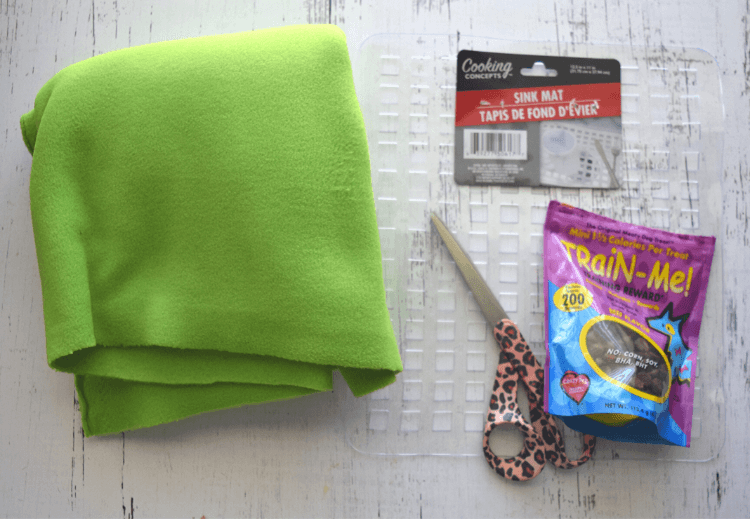 Now for the fabric, I recommend fabrics that don't fray. You don't want to make this out of something like flannel or cotton quilting fabric because they fray and your dog could snuffle up some fabric with their treats.
I like to use polar fleece or cotton knit. Cotton, bamboo, or hemp knits would also work well. You could totally cut up old t-shirts into strips to make this.
How do you play with your pet with the DIY Snuffle Mat?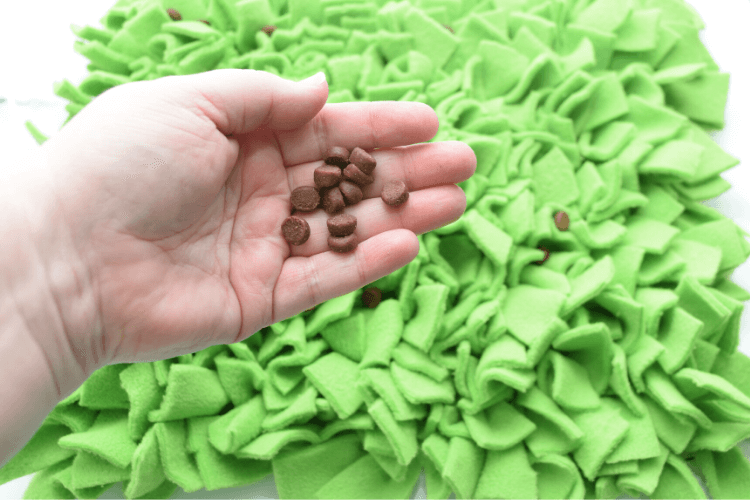 I buy training treats that are little bitty treats and hide them in the layers of the fabric strips in the snuffle mat. It will really keep your pet busy. My Boxer, Hank, will spend 30 minutes or more snuffing out all those treats. I usually give it to him to play with in the afternoon when he's a bit restless. He has even started to ask for it himself some days.
More DIY Pet Stuff
Yield:

1 snuffle mat
DIY Pet Snuffle Mat
Total Time:
1 hour
30 minutes
Materials
1 yd fleece or knit material
1 plastic dish mat
training treats
Tools
scissors
rotary cutter and mat (optional)
Instructions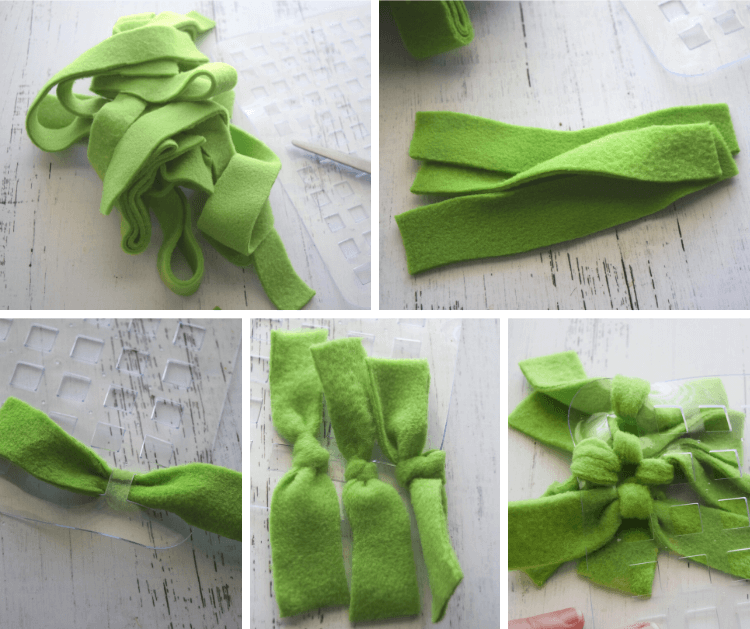 Cut the fleece into 1-inch strips.
Cut the strips into about 6-inch pieces.
Knot the 6-inch pieces to the dish mat until it's completely covered.
When the mat is finished, take training treats and hide them in the fabric strips for your pet to "snuffle" out.