This shop has been compensated by Collective Bias, Inc. and its advertiser. All opinions are mine alone. #NudgesDogTreats #CollectiveBias
Did you know it's National Pet Month? We've had our rescue Boxer, Hank, for almost 3 years now, and I could not ask for a better dog. He is just amazing, and I love giving him special treats for being such a great dog.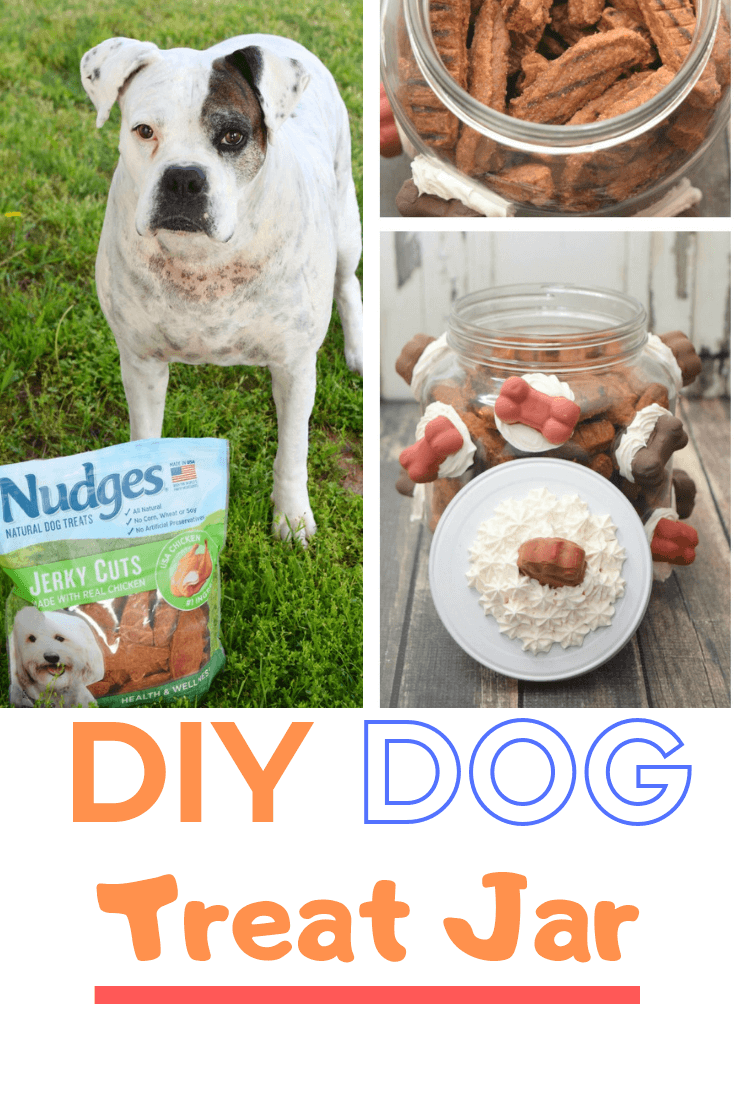 One thing that's important to me is the quality of his food and treats, so we always look for products with simple and natural ingredients that are made in the USA.

Nudges® Dog Treats
I feel good about giving him Nudges® Chicken Jerky Dog Treats and Nudges® Steak Grillers Dog Treats. They have no artificial flavors or fillers. Both are made in the USA, and I love being able to find them at Sam's Club.
The Chicken Jerky dog treats are made with real chicken as the #1 ingredient and are all natural with no corn, soy, or wheat. The Steak Grillers treats are inspired from our favorite grilled foods, and they're made with real steak and beef as the #1 ingredient.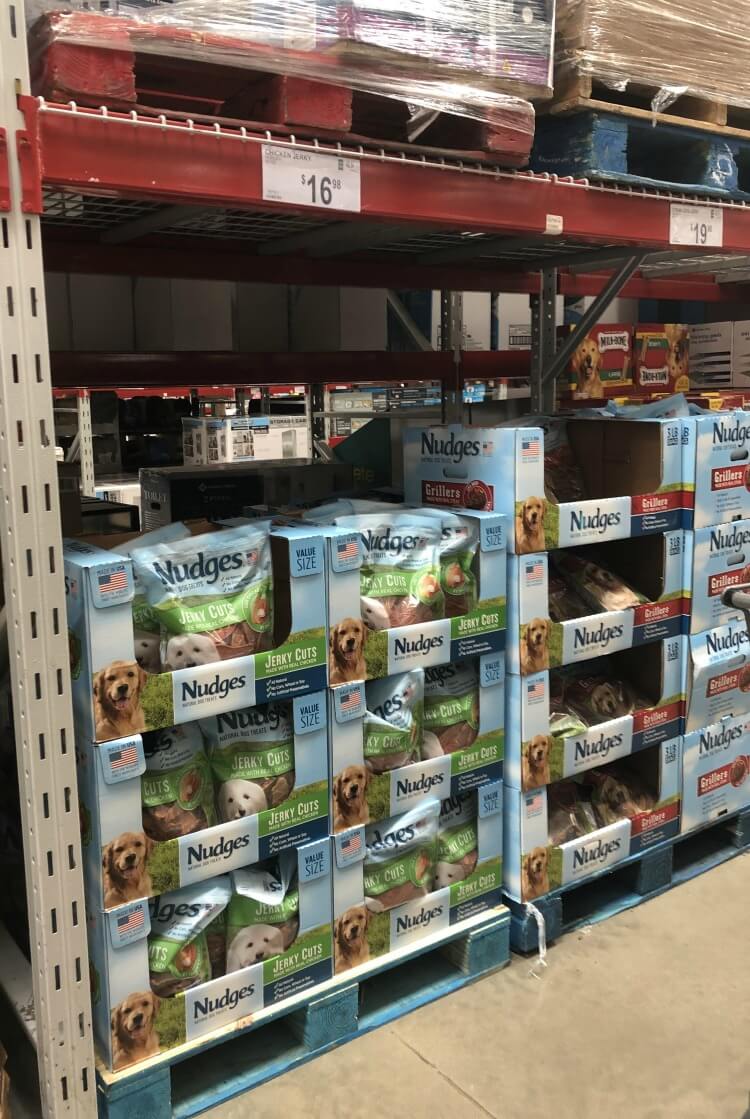 Our Hank just loves them. He will go through all of his tricks for some Nudges dog treats. He has a very sensitive stomach, and these are some of the few treats that don't bother him at all.
Due to his tummy sensitivities, he also can't have any kind of chew bones or rawhide, so instead he gets a Nudges Chicken Jerky Treat to chew on. He takes his treat and trots off to find the perfect spot to chew on his chicken jerky treats.
Click the Nudges dog treats in the image below to buy your own!
DIY Decoden Dog Treat Jar
When you buy all those treats where can you store them?
I love to make fun jars and containers for storing things like dog treats. This is a really cute DIY dog treat jar you can make in the Japanese style of "decoden." Decoden started out as a way to decorate smartphone cases, but it's now morphed into decorating all kinds of things with paint that looks like whipped cream or frosting with little trinkets in it.
With this jar, I used molds in dog bones and paw shapes made from model magic clay and then put them on the jar with the whipped cream style paint. Here's how you can make one too:
Supplies:
64 oz jar with screw top lid
deco whipped cream paint
brown, tan, and/or dark red model magic clay
1 to 1.5 inch dog bone and paw print molds
Directions:
First, warm the clay in your hands with some friction by squishing it. You may need to mix colors to get the typical dog treat colors. I used a bright red clay and mixed it with an army green and a bit of gray and black to get some of the dark red colors.
Then, pinch off a small amount and make the molds of the dog bones and paw prints.
I found it works best to let them sit in the molds for a couple hours or so and then pop them out and let them sit for about 24 hours to harden. When they harden, they are very lightweight like foam. You may need to trim off some excess of the clay that may be sticking out on the sides.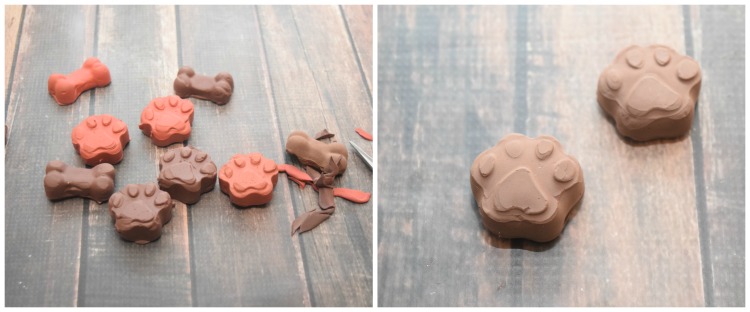 Then, it's time to decorate. Some people use silicone caulk in a disposable frosting bag with real frosting tips to look like the deco whipped frosting paint. I find it better to just get the actual "deco" whipped cream or whipped frosting paint because those paints come with screw on frosting style tips such as the star tip that make it easier without ruining my real frosting tips for food.
When it comes to decorating in the "deco" style, you can go crazy. There is no right or wrong way, and often the more trinkets or molded items that are on your item, the better it is. It's all about over the top decorations.
For the lid, I like to make a big swirl and then just add some of my fake treats to the top, like they're sitting in frosting. Then, I added some extra stars with the frosting paint.
After I'm done with the lid, I set it aside and let it dry for 24-48 hours. Sometimes it can take up to 3 days to dry, so put it in a safe place.
Then, I start working on the jar itself. The nice thing about deco whip paint is that you can keep the jar upright and the paint doesn't run. I make swirls like when you're decorating cupcakes with frosting. Then, I place my fake little treats in the center of each circle all the way around the jar.
And that is all there is to it! It's simple to do, so much fun, and adds a little kitsch to your dog treat jar. Then, when it's totally dry, you can fill up your new treat jar with some Nudges Chicken Jerky Dog Treats and Steak Griller Dog Treats.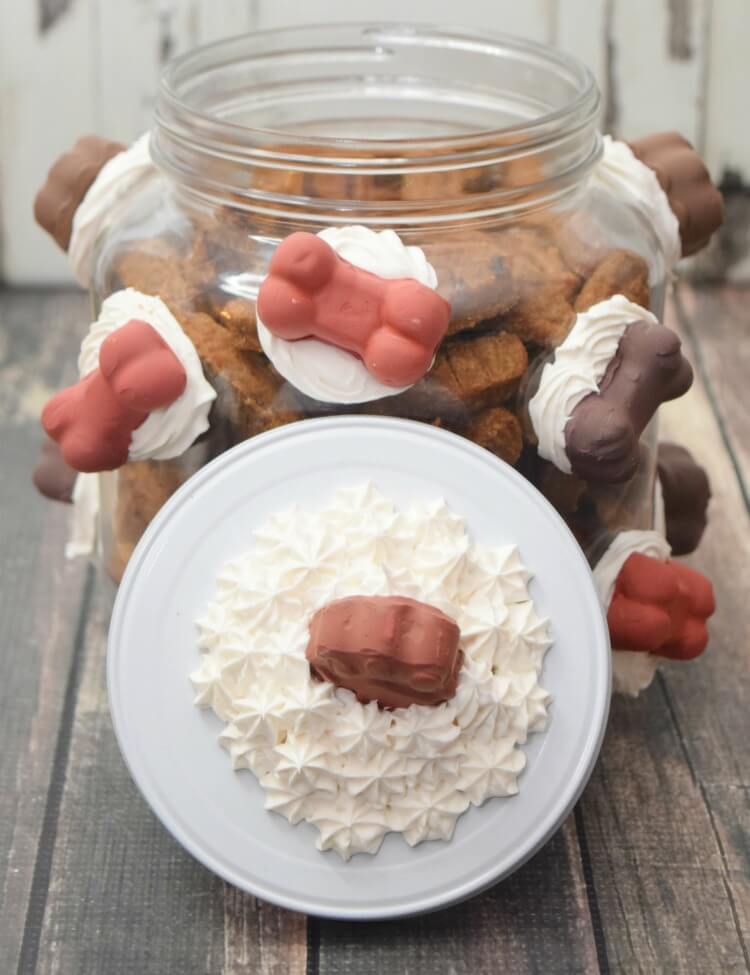 Save Money at Sam's Club
Sam's Club has great prices, but did you know Shopkick is one of the few ways you can save even more there? Want a free gift card? Download the Shopkick app today and get rewarded for purchasing Nudges dog treats!