These are my dog's favorite treats, so I wanted to share them with you. They are so easy to make, and your dog will love them. Plus you know exactly what's in these dog treats. It's just sweet potatoes!
Print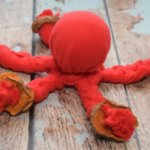 Sweet Potato Dog Treats
---
---
Preheat oven to 250 F degrees.
Wash the sweet potato and cut off the ends.
Slice the sweet potato as thinly as you'd prefer. I usually do about 1/3-1/4 inch thick.
Lay out on a cookie sheet.
Bake for 45 minutes.
If you're adding them to a toy, use something circular to cut circles in the middle of each slice. But, this is optional if they're just treats.
Bake for an additional 45 minutes and flip over.
Bake for an additional 1 1/2 hours.
Then remove from the oven and allow them to cool completely before sharing with your dog.
I like to keep them in the fridge for freshness.
Recipe Card powered by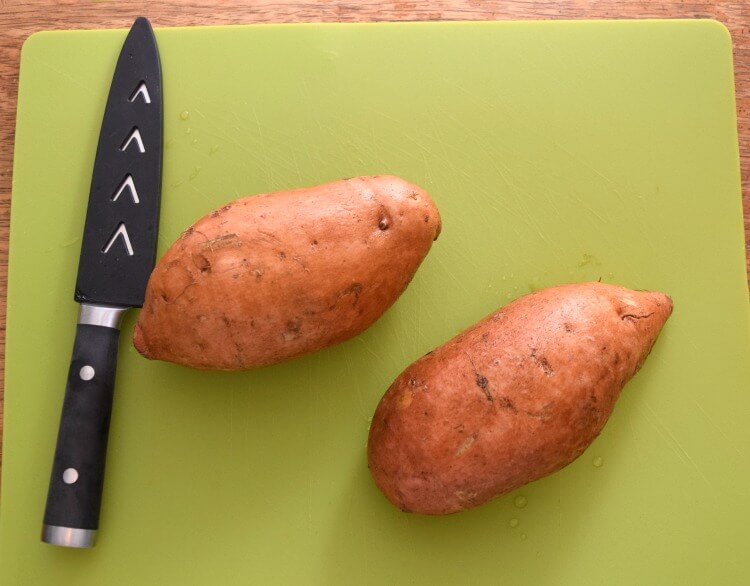 I like to make 2-3 sweet potatoes at a time when I make these treats. I can usually fit the slices from two large sweet potatoes on one cookie sheet.
Wash the sweet potato.
Remove the ends and slice the sweet potato. The thinner you cut it, the more "chip-like" the treats will be. I try to cut mine about 1/4 inch thick to 1/3 inch thick.
Lay them out on a cookie sheet. And bake for 45 minutes.
I add these to my dog's toys I make him, like this one. If you are doing that, then remove the pan after 45 minutes of baking and they are tend enough to cut holes in the slices. I use a large cupcake icing tip to do it.
Then bake for an additional 45 minutes and flip the treats. Bake them for another 1 1/2 hours and then let them cool completely.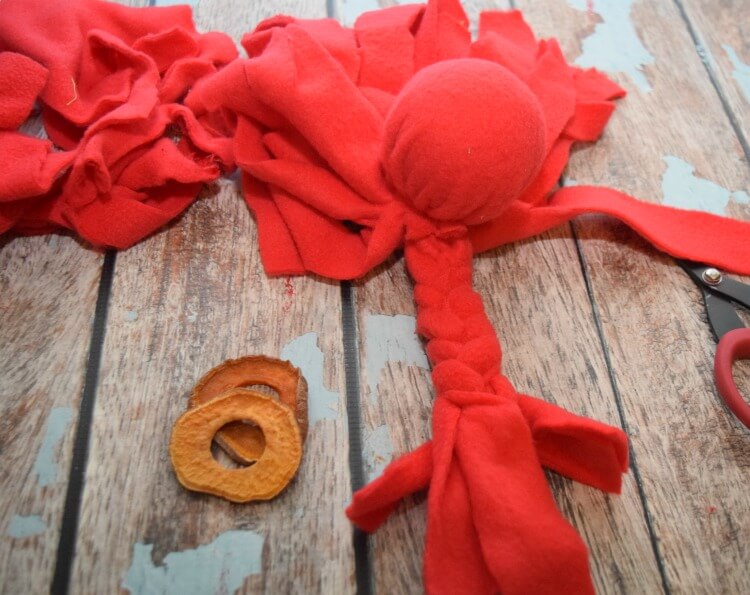 Once they are totally cool, add them to your dog's favorite homemade toy. He'll love the challenge to chew them off.
This has quickly become Hanks favorite toy. I keep the sweet potato treats in a ziplock bag in the fridge and every 3-4 days, I'll add a few to his favorite toy. He just loves it.