This post contains affiliate links in which I earn a small commission if you make a purchase through those links.
When I'm in a hurry and need a dessert for a holiday party or get together, one of my favorites is the Sara Lee cheesecakes you can get in the freezer section. You can add so many toppings to them and make them look homemade and amazing.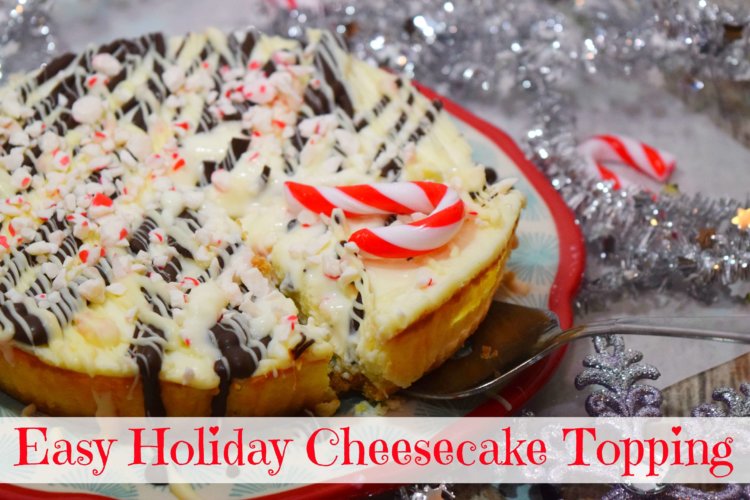 This particular one is my go-to winter holiday dessert when I'm in a pinch. It's a Peppermint and Chocolate Cheesecake. I just love peppermint and chocolate together in a dessert.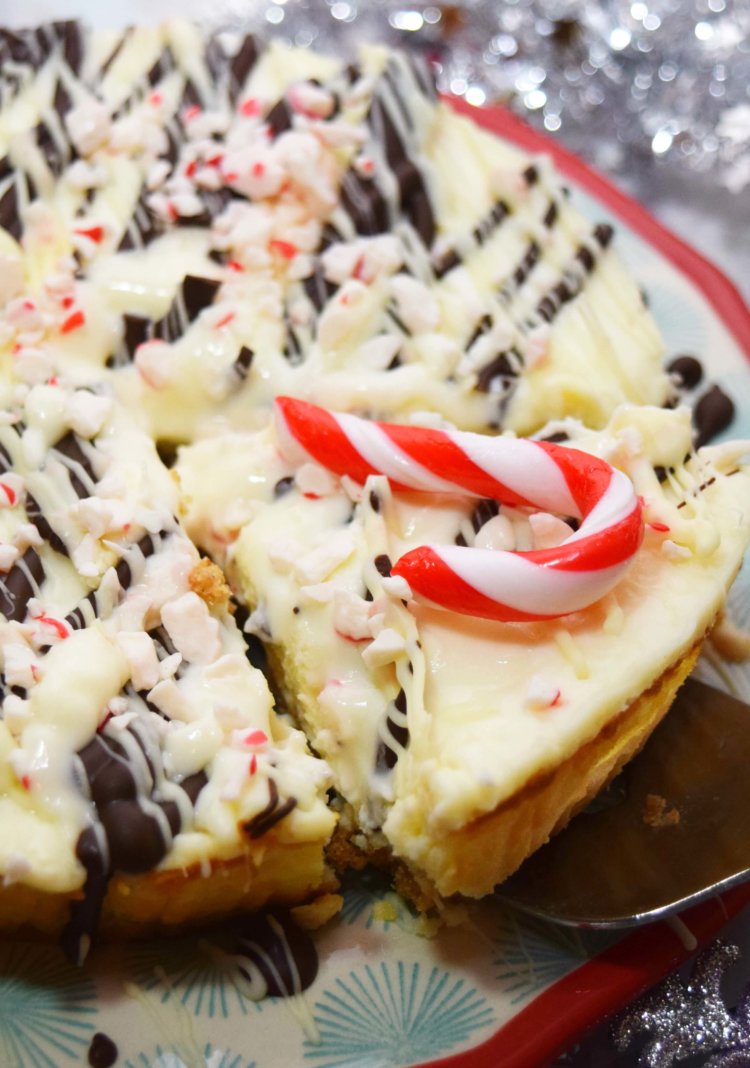 Peppermint and Chocolate are my favorites, but you can totally make this your own with so many topping ideas:
Crushed candy bars
Cookie butter
Peanut Butter
Pie Filling
Colored candy melts
and more!
I love Ghirardelli chocolate melting wafers, so I melted those and drizzled them over the top. I also melted some Andes Peppermint Crunch Baking Chips to drizzle get that peppermint flavor. Lastly, I crushed small candy canes to and sprinkled them over the top. Then, I added a candy cane to the top of each slice as I served it.
Print
Easy Cheesecake Topping
---
Description
You can easily make a store bought cheesecake look amazing by adding an amazing easy cheesecake toppings. Here's how I make one with Peppermint and Chocolate.
---
1 store bought cheesecake

1 package of Ghirardelli Dark Chocolate Melting Wafers

1 package of Andes Peppermint Baking Chips

1 box of small candy canes
---
Take the cheesecake out of the freezer to defrost.
Save about 8 candy canes and then crush the rest using either a food processor, or by hand in a zipper baggie.
Melt about 3/4 cup of the dark chocolate wafers. I like to melt them in 30 second intervals and stir until they are smooth and completely melted.
Drizzle the dark chocolate over the top of the cheesecake.
Melt the Andes Peppermint Baking Chips the same way as the dark chocolate wafers.
Drizzle the melted peppermint chips over the chocolate on the cheesecake.
Immediately after drizzling, sprinkle the crushed peppermint over the top so it will stick to the melted chocolate as it hardens.
When you're ready to serve, add a whole candy cane to the top of each slice.
Recipe Card powered by
Watching the video, you can see it takes just minutes to make this. And it comes out absolutely delicious! My family devoured this dessert.
Need some more ideas to turn store bought goodies into something fabulous? Check these out!