This is a sponsored post written by me on behalf of Gorton's Seafood . All opinions are 100% mine.
My husband grew up on the coast and just loves seafood, so I try to make it for him as often as I can. My son is quickly following in his footsteps. His favorite is salmon, and he gets it whenever we go out. Now with Gorton's Gourmet Fillets I can easily make it at home. Recently, I whipped up Salmon Alfredo Pasta to rave reviews!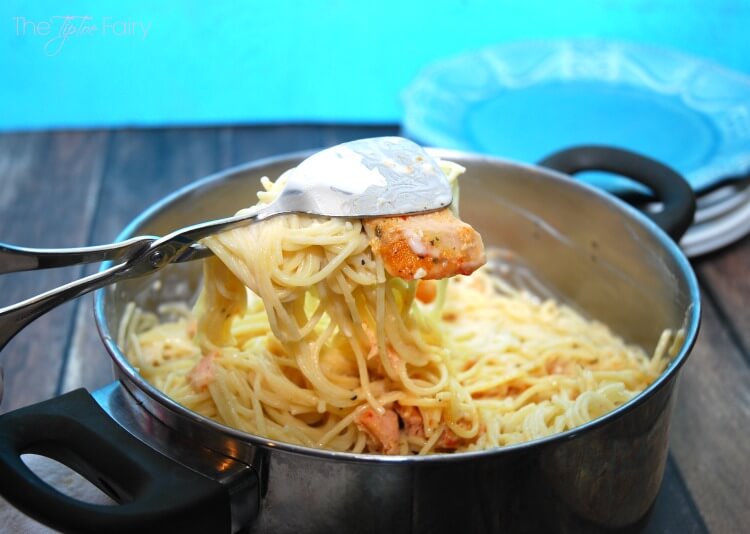 There are so many reasons why seafood is a great addition to your diet. It contains natural omega-3 fatty acids, lean protein, and important vitamins and minerals that can aid brain development, promote heart health, help fight obesity, improve arthritis and joint pain, and improve overall health. Did you know that the USDA, American Heart Association, American Cancer Society, and American Diabetes Association all recommend eating seafood at least twice a week?
I've been wanting to make more seafood at home, but I have been a little scared of fish fillets. My dad was not a fan of fish when I was growing up, so my mom never cooked it. I didn't really learn how to prepare it. But now, it's so easy with Gorton's Gourmet Fillets. This past weekend I picked up Gorton's Signature Seasoned Salmon and Pub-Style Beer Batter Cod. Using the salmon, I made Salmon Alfredo Pasta, and my family just loved it.
The salmon was so easy to prepare. Eack package comes with two fillets. You leave it frozen until you're ready to cook it, and then just follow the directions on the box. It cooked in just 16 minutes and was perfectly tender and flaky. I think I've found my son's new favorite dish — Salmon Alfredo Pasta! While the salmon was baking, I made angel hair pasta and a Greek yogurt alfredo sauce. When the fish was ready, I sliced it up and combined it all for a delicious meal.
Print
Salmon Alfredo Pasta
---
1

package of Gorton's Signature Seasoned Salmon, prepared according to instructions

16 oz

angel hair pasta, cooked and drained

4 oz

plain Greek yogurt

2 tablespoons

flour

1 2/3 cup

milk

1 teaspoon

dried minced garlic

2 tablespoons

Parmesan cheese

1/2 teaspoon

salt
dash of pepper
---
Bake the fish according to instructions.
While the fish is baking, cook the pasta.
While the pasta is cooking, in a separate saucepan over medium low heat, combine yogurt, flour, and milk.
Whisk together until no lumps.
Add the garlic, cheese, salt and pepper.
Continue stirring gently until sauce thickens.
Remove from fire.
After the pasta has been cooked and drained, pour the alfredo sauce over the pasta.
When the fish is done, cut it into thin slices and mix it into the pasta gently.
Serve immediately.
Recipe Card powered by
Learn more about the Signature Seasoned Salmon in this video:
Gorton's makes it totally easy to add fish to any meal with their easy to serve, wild-caught seafood. You can find four kinds of chef-inspired Gourmet Fillets in the frozen food section. They're all made with real ingredients like roasted garlic, parmesan, butter, and oregano. Plus, they have no artificial flavors or MSG.
Parmesan Crusted Cod
Pub-Style Beer Batter Cod
Tuscan Garlic & Herb Tilapia
Signature Seasoned Salmon
GoGortons.com has some amazing recipes from seasonal side dishes to simple salads and more that are easy and delicious any night of the week.
Plus, Gorton's is offering a 1$ off coupon to make it even easier to try their new Gourmet Fillets! Don't forget to like Gorton's on Facebook , Twitter, Pinterest and Instagram for more delicious recipe ideas! What's your favorite way to serve fish?