When it comes to cooking and baking, I'm usually up for the challenge to try something new — except pie crust. I've always been afraid of making my own pie crust. I'm not sure why, but I think it's been about the pastry knife. Anytime I've attempted to use one, I just didn't feel like I was cutting the butter into the mix the right way. And, with pie crust, there is a lot of that.
Then, I discovered I could use my food processor to make pie crust. Well, that did it. My fear was gone, and I was ready to make my own pie crust. The first one I made was this amazing peach cream cheese pie. OH. MY. GOD. I could have eaten the entire thing all by myself. It was that good. The pie crust came out deliciously flaky and buttery. I was thrilled! I made a pie crust all by myself!
There is this pie store in a town about 30 minutes away from us. It's pretty well known if you're driving up to the Winstar casino in Oklahoma or if you're headed to the Frank Buck Zoo. It's called the Gainesville Fried Pie Company. It's a restaurant, too, but we always just stop and buy a bunch of pies. They are delicious pies, and they have all kinds of flavors. I think my favorite is apricot.
So after my success making a regular ol' pie, I wanted to make mini pies like those fried pies. I've been searching and pinning all kinds of mini pies and hand pies the past few weeks. I think my favorite one is this one. It's the one I settled on to try.
I will admit, I need to work on the prettiness of my hand pies. These are not picture perfect pies. It was my first time making them, and I had a 3 year old as an assistant. I didn't know what I was doing, and I wasn't too happy with how they looked going into the oven. Next, time I'm going to pretty them up a bit. However, the taste was delish! Flaky and buttery, and they were just perfect as a little treat or an on the go breakfast. Very soon I plan to make a batch of apple hand pies for Nate to grab one on the way to work.
First things first. If you are new to baking with peaches, you might not know how to peel peaches super fast. I learned this trick years ago, and it's still amazing to me. Fill a saucepan with water and let it boil. Then score an X (just like the picture) in the skin of the peach at the very bottom. Drop it in the boiling water for 30 seconds. After that, pull it out and let it cool for a couple seconds. Then, start peeling the skin from where you scored the bottom. It will just peel right off.
Peach Hand Pies
Yields: 8 hand pies
Pie Crust
Ingredients
2.5 cups of flour
1 tsp salt (if using salted butter, decrease to 1/2 tsp)
1 cup of butter (2 sticks), cold
1/3 cup of ice water
Add flour and salt to food processor and pulse for a couple seconds. Next, take butter from fridge and cube it. Add it to the flour/salt as you pulse the food processor. You want a coarse, crumbly mixture. Next, as you pulse the processor, add the water. Your dough will comes together in a big lump. Pull it out, and separate it into 2 equal balls and wrap each in plastic wrap. Refrigerate for 30 minutes.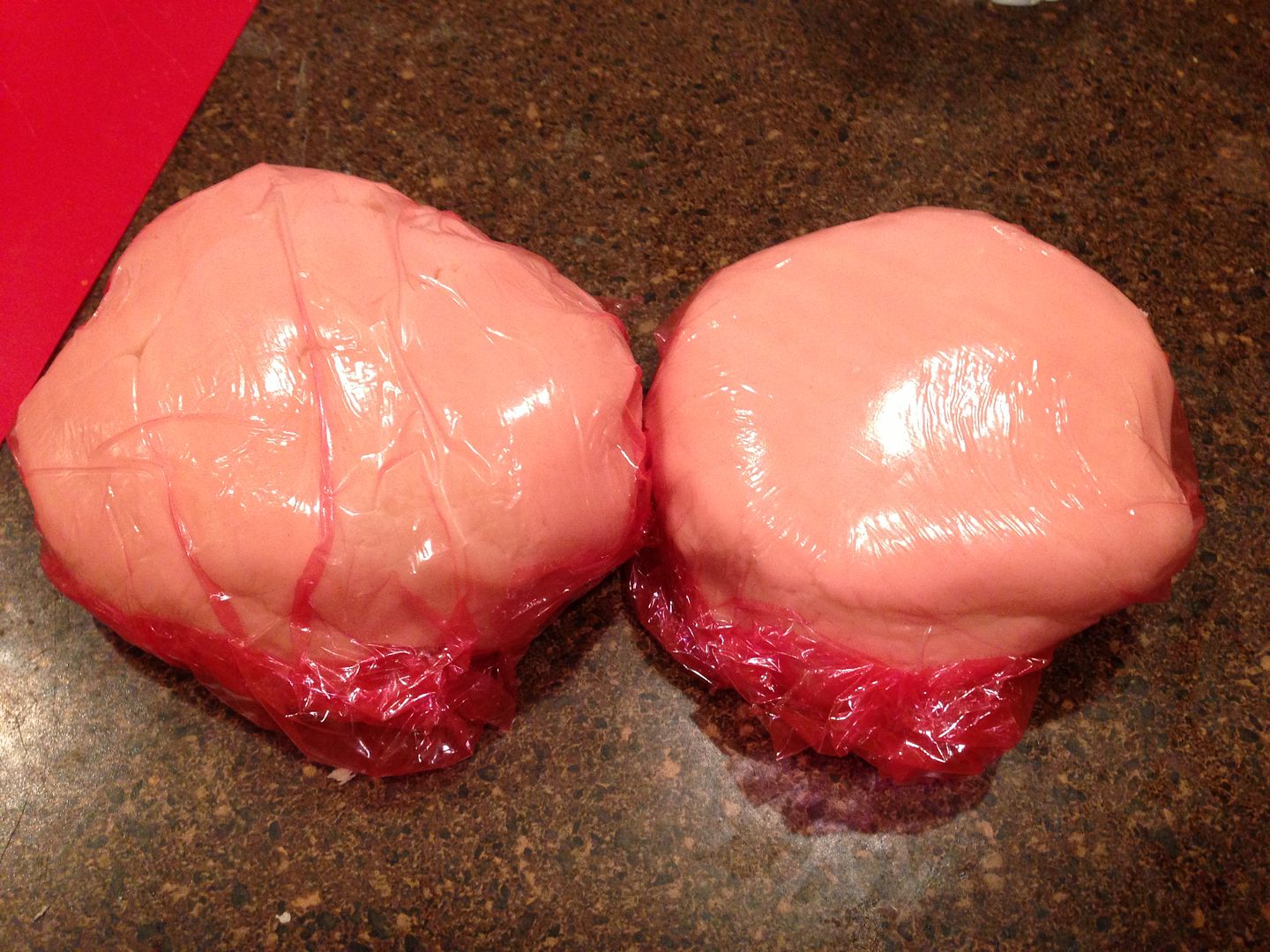 Peach Filling
Ingredients
2 large peaches
1 tsp cinnamon
1 tbs cornstarch
1/4 cup sugar
After you have peeled the peaches, cut them into slices about 1/8 inch thick. In a bowl combine the peaches, cinnamon, cornstarch, and sugar. Allow it to pull the juices out of the peaches while you wait for the dough to set.
Making the Pies
Preheat oven to 400. Line a cookie sheet with parchment paper.
Now that your dough is ready, pull out only one of the wrapped balls. Divide it into fourths. Place 3 of them back in the plastic wrap, back in the fridge.
Take your small ball of dough and place it between 2 pieces of wax paper. Then using a rolling pin (or cup), roll it out to approximately 4-5 inches in diameter. The pictures below show what this process.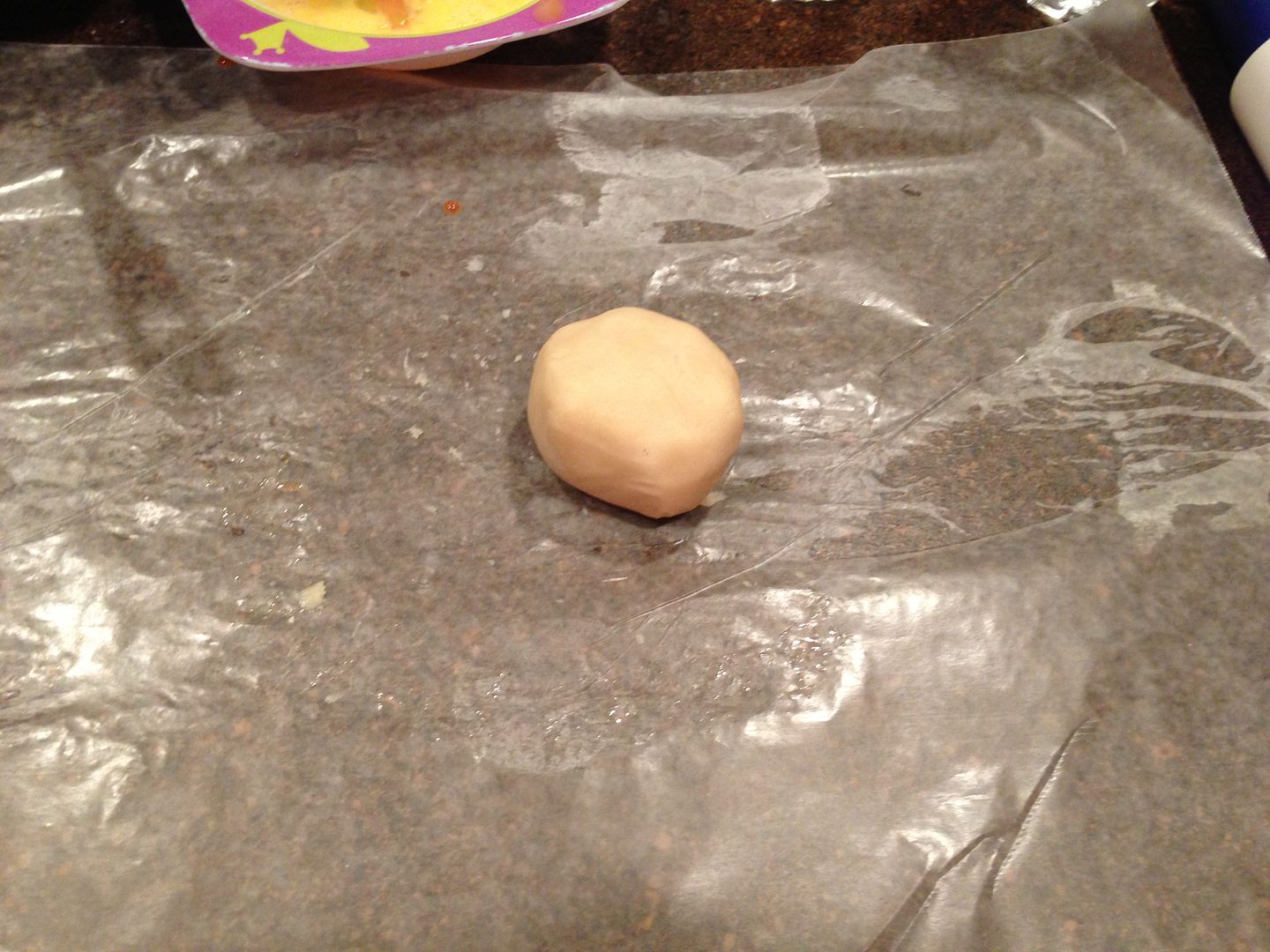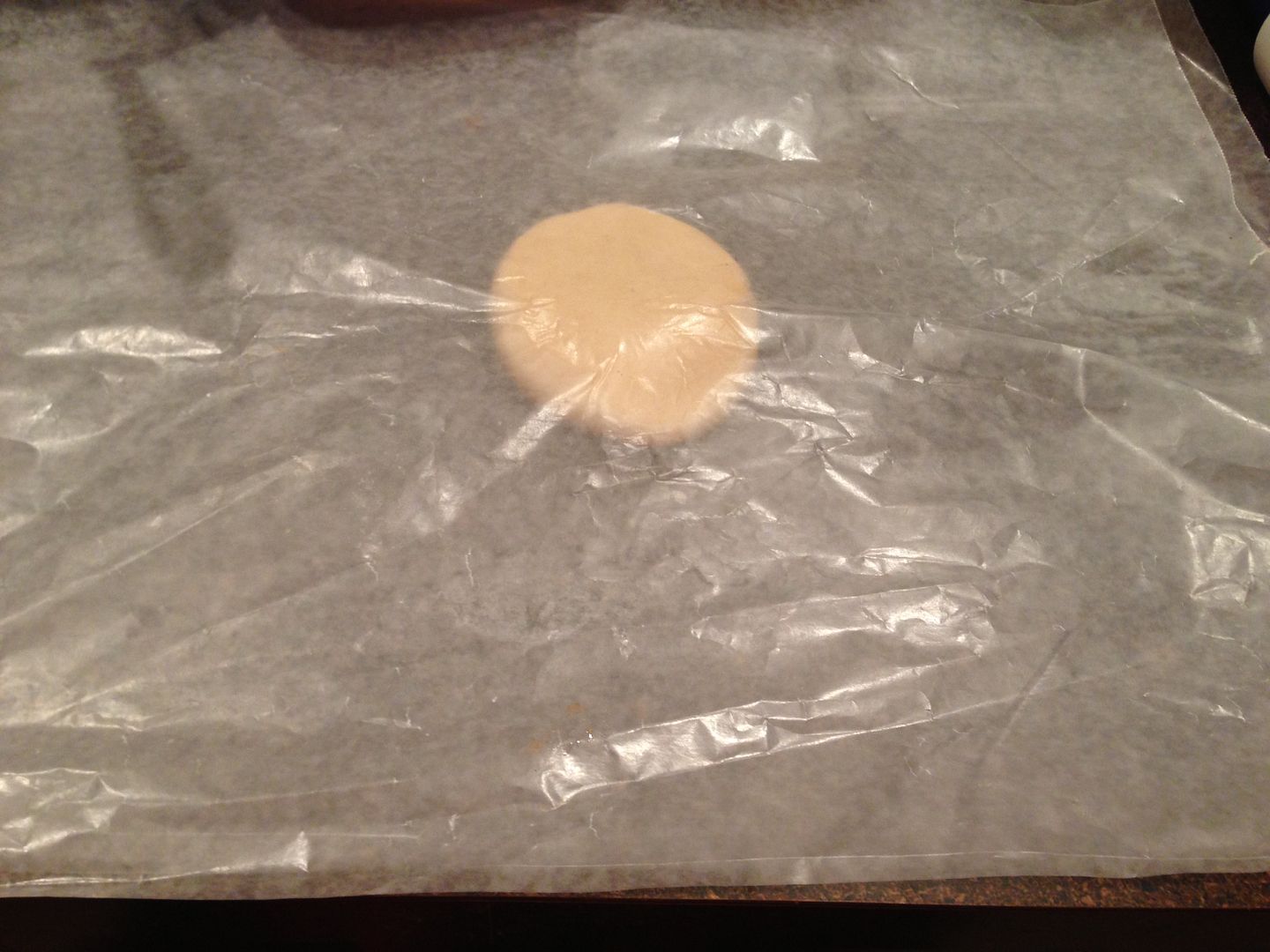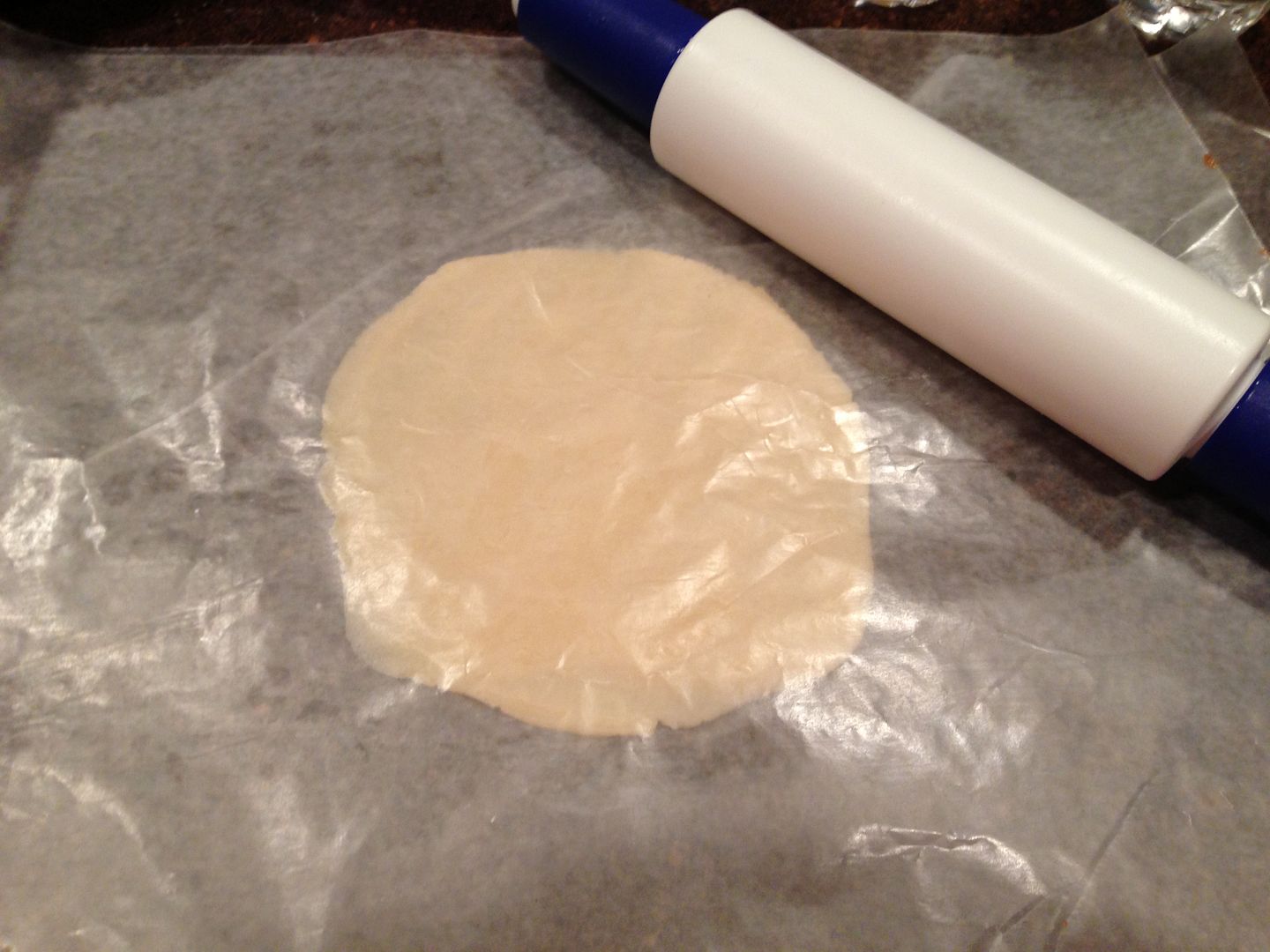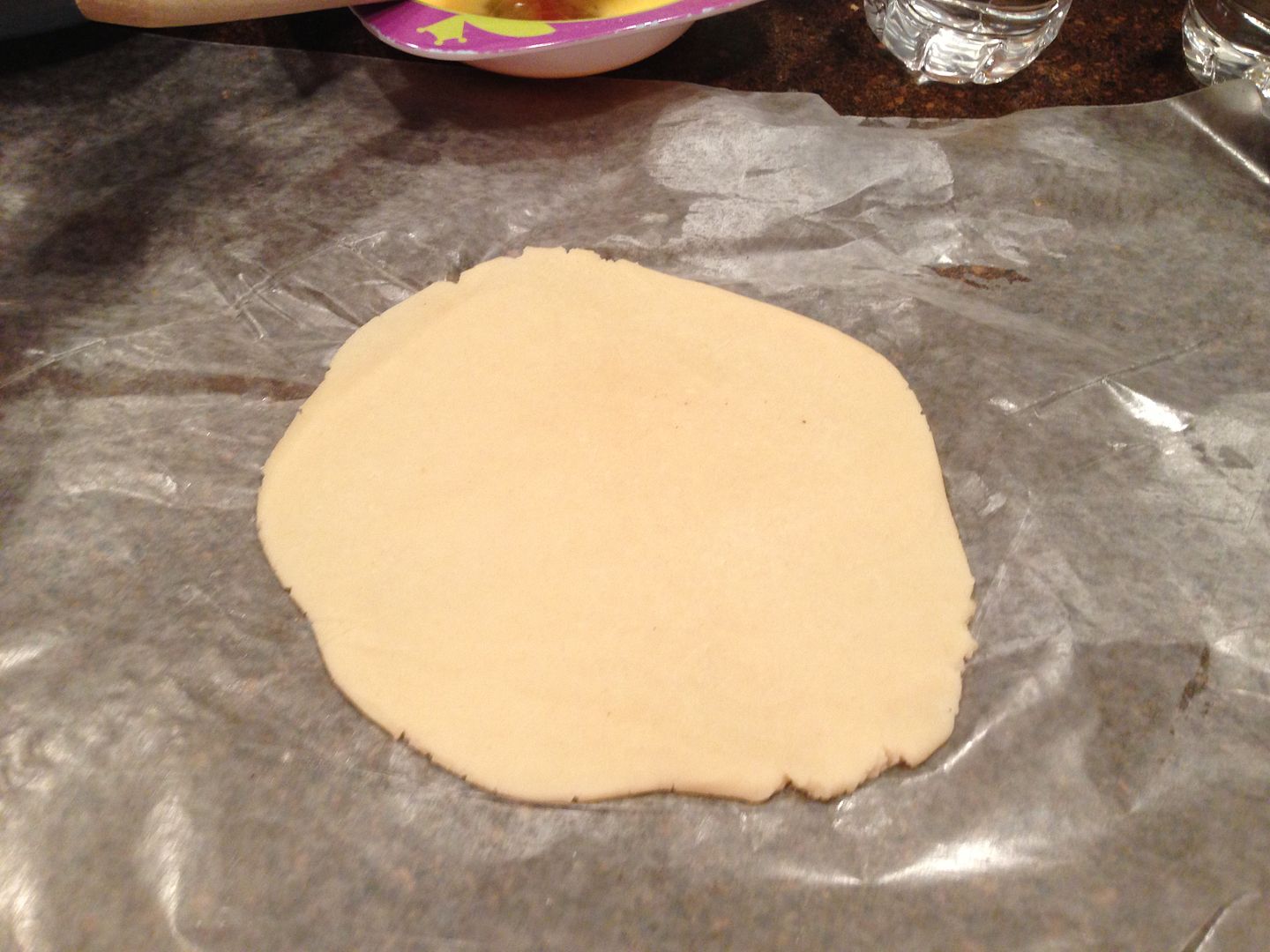 I forgot to get a picture of adding the peaches. Take about 3-4 slices of peaches and place them slightly left or right of center. Try to not add very much juice because it will go everywhere!
Take an egg and beat it.
Fold over the pie crust, then brush egg over the edges of the crust to help seal them. Then, you can do fancy things to the edges. Pinch and fold them over, press them closed with a fork. Press them closed with your thumb and forefinger or knuckles. Whatever you like.
Add your pies to the cookie sheet.
Take the rest of the egg and brush it over the tops of each pie.
Bake for 20 minutes or until golden brown. Allow to cool before eating. These can be served warm or at room temperature. They will last 2-3 days in a covered container on the counter.
Adapted from Paint the Town Pretty mini peach pie recipe.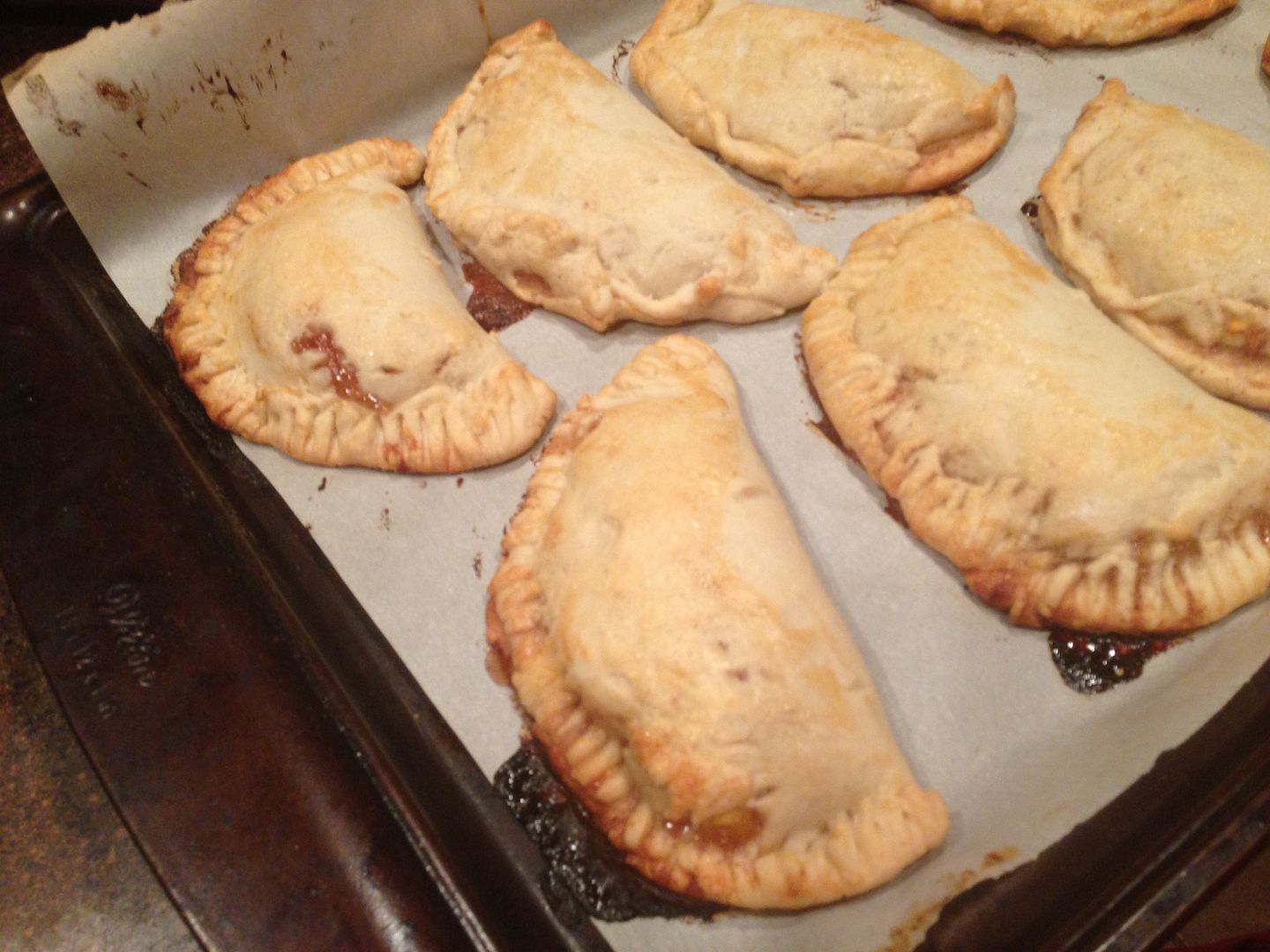 Enjoy!
I have an awesome new sewing tutorial coming in the next few days. I just need to finish it. I'm having a bit of crafter's block with one last part of it. That is driving me nuts, and the reason why I've been baking. Trying to clear my mind to finish up the last of the outfit for the sewing tutorial. But, I had some inspiration tonight, and I think I have the perfect idea to finish it.