I just love school class parties. You are probably rolling your eyes, but it's where I can let my creativity fly. I love the excitement the kids have when I pull out a fun activity for them to try or bring some fun unexpected treat to the class parties. These Valentine Bear Cupcakes will definitely thrill the kids!
Fun Kid Food
Every kid I have ever met loves what I like to call "Fun Kid Food." This is basically treats and eats that are whimsical and fun and especially made for kids like these Valentine Bear Cupcakes to Polar Bear Milkshakes to a Pirate Treasure Map you can eat!
If you're looking for more ideas for Fun Kid Food, then download my free eBook! Click below:
How to make Peanut Butter Cup Valentine Bears
I'm including instructions for basic cake mix cupcakes and chocolate frosting, but you can totally make these adorable little Bear faces and just get store bought cupcakes with chocolate frosting and use them as a topper. I have totally done that myself!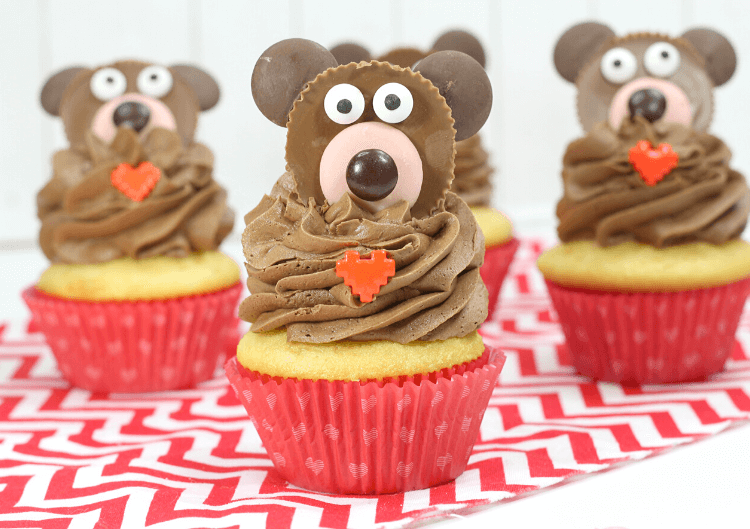 Scroll on down for the recipes and how to. If you're looking for more Valentine's Day treats and party ideas, check these out:
More Valentine's Day Treats
More Valentine's Day Party Ideas
Yield:

22 cupcakes
Valentine Bear Cupcakes
Additional Time:
10 minutes
Total Time:
1 hour
1 minute
Ingredients
Peanut Butter Cup Bear Ingredients:
Cupcake Ingredients:
1 box of French vanilla cake mix
1 cup whole milk
1/2 cup unsalted sweet cream butter, softened
3 large eggs
Chocolate Frosting Ingredients:
1 cup unsalted sweet cream butter, softened
3 1/2 cups powder sugar
1/2 cup cocoa
2 teaspoon vanilla
3-5 tablespoons heavy whipping cream.
Instructions
Cupcake Directions:
Preheat oven to 350 F degrees and line cupcake pan with cupcake liners.
Using an electric mixer, beat together all cupcake ingredients until combined.
Scoop cupcake batter into liners, filling about 3/4 way full and bake in the oven for 18-21 minutes.
Allow to cool completely.
Chocolate Frosting Directions
Using an electric mixer, beat together the butter, powder sugar, cocoa, vanilla and heavy whipping cream until combined and stiff with peaks.
Scoop the frosting into the piping bag and set aside.
Peanut Butter Cup Bears Directions
Remove 42 chocolate wafers from the Ghirardelli bags and place onto a cutting board.
Using a microwave safe bowl, melt 1 cup of the chocolate wafers in increments of 30 seconds, mixing after each time until melted and smooth.
Scoop into the piping bag and set aside.
Place one unwrapped Reese peanut butter cup onto the cutting board.
Cut the tip off the piping bag and pipe a small dollop of chocolate onto the lower center of the peanut butter cup.
Place a pink wafer onto the chocolate dollop. This is the mouth and nose of the bear.
Pipe two dollops of chocolate above the pink wafer for the eyes.
Place two eyes onto the two chocolate dollops.
Pipe a small dollop of chocolate onto the "M" side of the "M&M" and then place onto the center of the pink wafer.
Using the small round fondant cut out a half shaped moon out of the bottom of the chocolate wafers.
Pipe a line of chocolate onto the cut part of the chocolate wafer.
Place the chocolate wafer onto the upper left and right corner of the peanut butter cup for the ears.
Repeat steps with remaining Reese cups.
Allow to dry for 10 minutes.
While the bears are drying, pipe frosting onto the cooled cupcakes.
Once the 10 minutes is up, carefully place the bears onto the middle of the frosting and lightly push down into the frosting.
Enjoy!
Nutrition Information:
Yield:

22
Serving Size:

1
Amount Per Serving:
Calories:

925
Total Fat:

45g
Saturated Fat:

24g
Trans Fat:

1g
Unsaturated Fat:

10g
Cholesterol:

75mg
Sodium:

482mg
Carbohydrates:

126g
Fiber:

4g
Sugar:

105g
Protein:

11g
Any nutritional information on thetiptoefairy.com should only be used as a general guideline. This information is provided as a courtesy and there is no guarantee that the information will be completely accurate.
Get this FREE Journal for Kids
Guess what?!? I wrote a book!
Would you like help your kids improve their writing skills? Did you know the best way to do that is to practice, practice, practice? But, when you're a kid, who wants to do that?
This free printable journal will get your kids excited about writing! There are no rules. They just answer one question every day or every couple of days and write as much or as little as they want.
They'll love answering all kinds of interesting questions, and months or years from now, they'll love reading their answers and seeing how much they've changed.
Click below to get on the list to preorder this FREE journal! In February, you'll receive an email with the journal to print out!