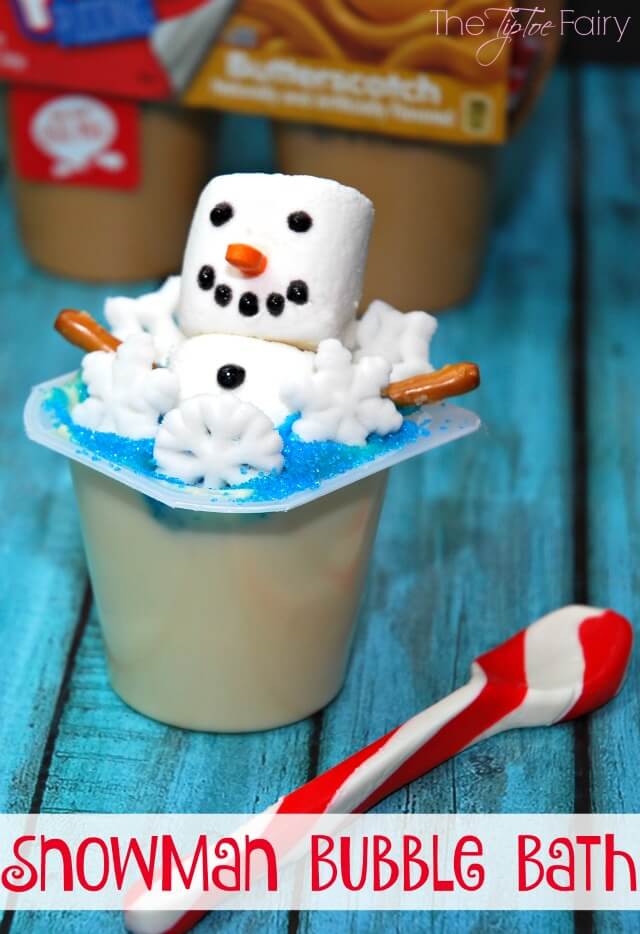 We rarely get snow in North Texas, so we hardly ever get to make a snowman. But who doesn't love making a snowman? I like to get creative with my kids, so we make snowmen from all kinds of things, like play dough, mashed potatoes, and marshmallows.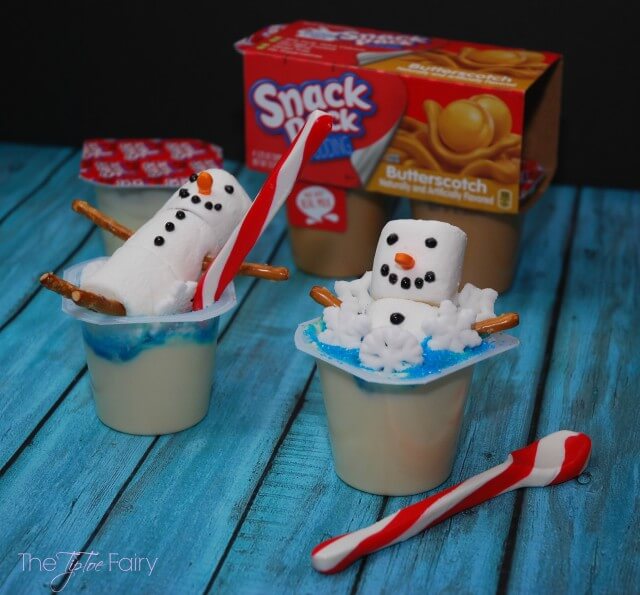 A few days ago, as I was grocery shopping, I picked up some vanilla pudding and butterscotch pudding (my fave!). Then, I raided the leftover Christmas aisle. You never know when that stuff will come in handy. I found the cutest little snowflake sugar decorations and peppermint spoons. They inspired me to make Snowman Bubble Bath!
We made snowman marshmallows and turned our pudding cups into bathtubs with blue sugar crystals. We dunked the snowmen down into the pudding and topped them off with snowflake bubbles. The snowflakes were perfect to keep the bath at a frosty temp for our snowmen!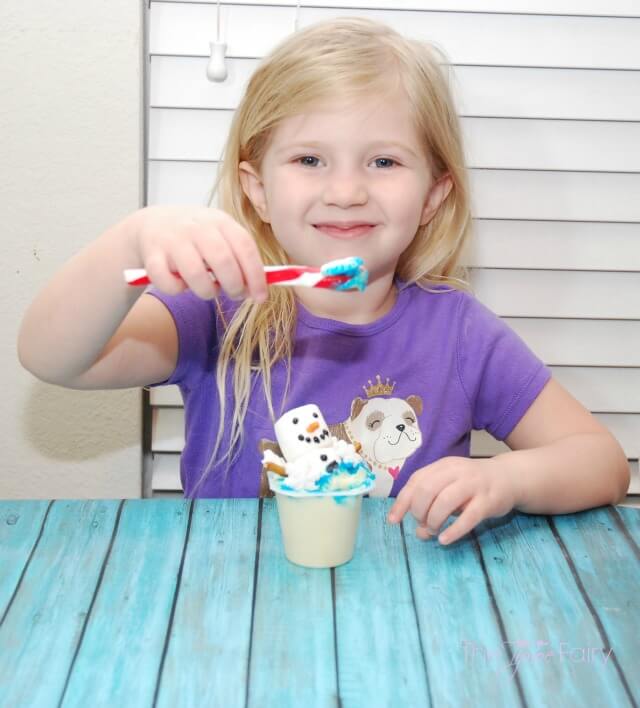 We used pretzel sticks to make our snowmen. One pretzel stick was enough to hold three marshmallows together.
We used a piece of candy for the nose. You can use anything orange-colored, such as a candy corn or fruit chew. When I raided the Christmas candy, I found candy light bulb decorations, so we used the orange ones for the noses.
We also gave him arms by breaking a pretzel stick in half and putting one piece in each side.
Decorating the face is probably the most fun! We used black glitter gel frosting for the eyes, mouth, and buttons. My 5-year-old did such a great job all by herself.
After decorating the snowmen, you can do all kinds of things, like turn them into puppets, create a landscape with snowmen and blocks, or you can do what we did and give them a bath. We chose a snowflake bubble bath to keep them frozen!
We used vanilla pudding, but you can use any Snack Pack flavor. We just covered the top with blue sugar crystals for the water (blue sprinkles are great, too).
Finally, it was time to give our snowmen a bath. Some of our snowmen wanted to sink right in. Others wanted to just rest on top.
Once they were in the bath, we added sugar snowflakes as the "bubbles" for the bath.
Then it was time to dig in! I found peppermint spoons in the clearance aisle and I thought they would be a perfect addition to enjoying our Snowman Bubble Bath.
Go ahead and play with your food! Make this fun winter craft with your kids and have snack time at the same time with Snack Pack pudding!
This winter, take a moment to slow down and enjoy a tasty and fun treat with the kids.