This post gets a little racy about intimacy. For a less naughtier version, check out these Love Coupons. This post contains affiliate links.
My husband and I love our time alone. We both look forward to being together as often as possible. He is amazing at keeping our intimate times exciting. He's always coming up with new ideas.
I've had a few good ideas here and there, but he's the kind of guy who stops at the "toy" store to surprise me instead of bringing home flowers!
So this year for Valentine's Day, I've got a little surprise for him. I've whipped him up a Valentine just for guys. It's a DIY Naughty Coupon Book with 10 sexy coupons just for him along with a mason jar full of little alcohol bottles.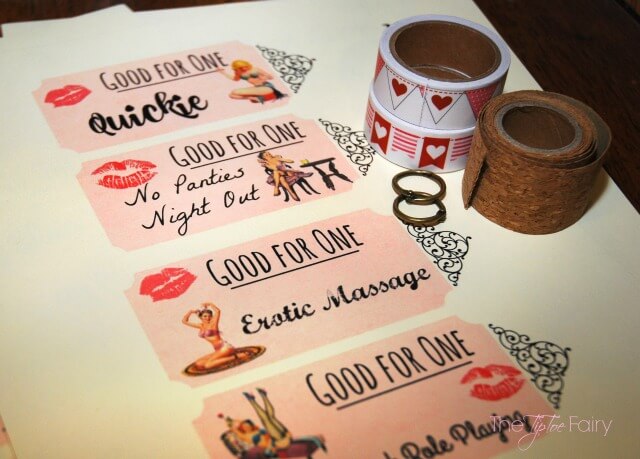 Download the Naughty Coupons
What do you need to make this Naughty Valentine's Day Gift?
Here's the supplies I used:
6 mini alcohol bottles
off white card stock – 3 sheets
After you print the coupons, use a paper cutter to cut them down to size. Make sure to leave about an extra 1 inch on the left side, so you can make them into a booklet.
Cut the title ticket to just at the edge of the ticket. When cutting the rest of the tickets, cut the edges on the right side into triangle shapes, so he can easily pull them out of the booklet.
I forgot the hole punch step in the pictures, so I had to pull the tape off and punch the holes. Then, add the tape back on, just like these pictures below. Make sure to cut the hole punch in the tape as well.
I placed the booklet halfway in the middle of the tape. Then, I cut it lengthwise, so it would be easy to fold over. I added an extra piece of tape, cut to about 5/8 inch in size, to the back of the tape just for added security.
After it was taped, I folded each coupon against the binding, so it would be easy to tear out.
Then, mark on the tape where the hole is already punched in the cards, and then punch that hole.
I found these mini rings at Michael's, and I thought they'd fit perfectly for the coupon booklet. You can find them in the scrapbook section.
I went to Total Wine where they have TONS of mini bottles for 99 cents and 1.99. They have a quite a few shelves right in front of the checkouts full of mini bottles. I found six of them will fit nicely in a quart-sized wide mouth mason jar.
After screwing on the lid, I just wrapped baker's twine around and around and then tied the coupon book on. Now it's ready for the big V-Day! I can't wait for my husband to read through all his fun coupons.
Here are a few more ideas for V Day: