This post contains affiliate links in which we make a small commission if you make a purchase through these links to help keep this blog free.
A few days ago I shared with you how to decorate the yard with some Halloween inflatable finds I found at Wayfair. We just love to spook the yard up for Halloween each year. This year I also made some easy DIY scary outdoor oalloween sign decorations. You can totally make these, too!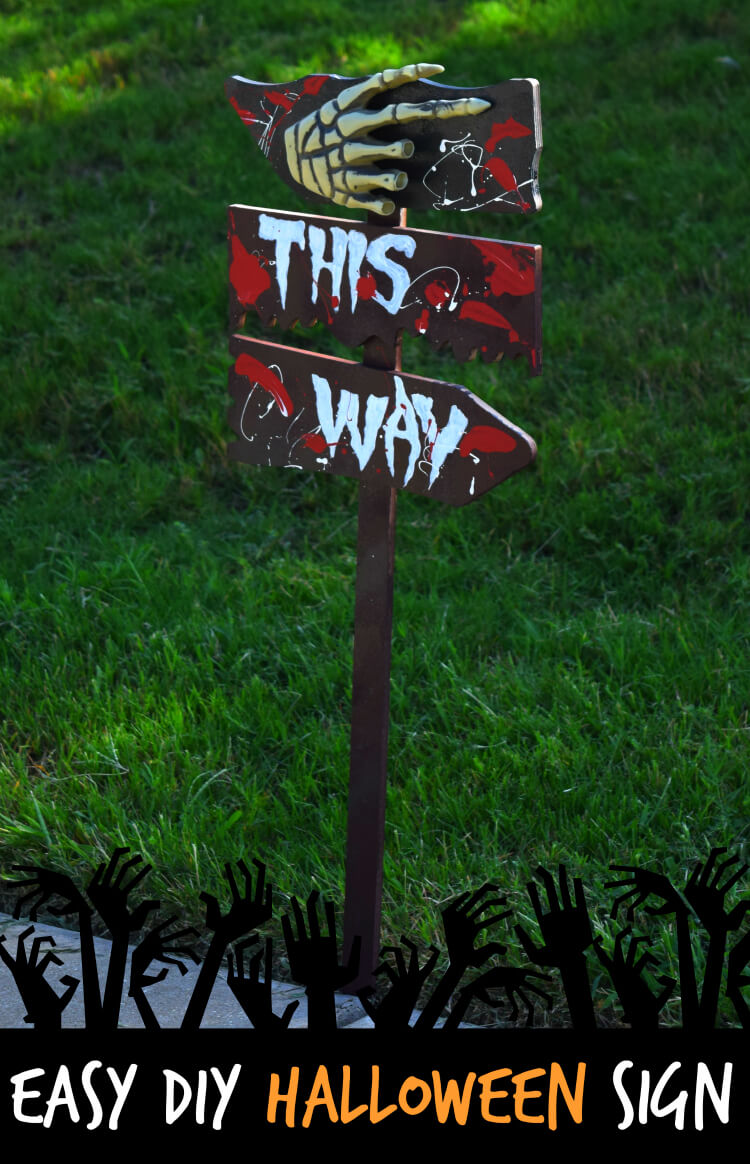 I got these plastic hands from the Dollar Tree. For the actual signs, I made the single row signs with some small pieces of wood and dowel rods from Michaels. The three-row sign, I found at Michaels in the Halloween aisle to make your own DIY sign.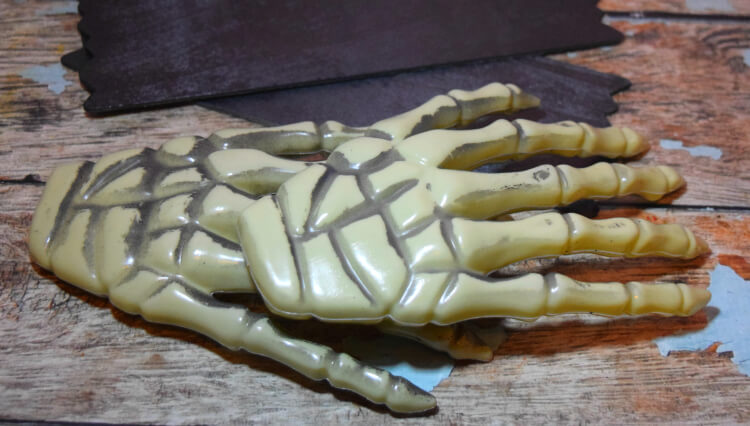 If you can find some old pickets or even a pallet, then, I'd just recommend buying some 1/2 inch diameter dowel rods and making the signs completely yourself. I scoured our neighborhood for anyone getting a new fence or a pallet in the trash, but I couldn't find a single one. So, that's why I bought new stuff.
How to make Easy DIY Outdoor Scary Halloween Sign Decorations
Supplies:
2 pieces of scrap wood
2 dowel rods 1/2 inch in diameter
1 DIY Wooden Halloween sign from Michaels
1 can brown spray paint
1 can black hammered spray paint
craft paint in red, brown, and white
professional hot glue sticks
glue gun
Directions:
First, spray paint the dowel rods, scrap wood, and the Halloween sign. I used a combination of the brown and black to just give it some dimension.
When the signs are dry, then cut three fingers off each of the Dollar Tree skeleton hands.
I put these signs together with hot glue as opposed to hammering nails. I chose to use professional hot glue and not just the cheap stuff because these signs are going to be outside in the heat of Texas, and I did not want them falling apart.
I hot glued the hands to the signs pointing in the right direction. Make sure you pay attention to the direction you want them to point. These hands are a little weird in that the pinky finger and thumb are pretty much interchangeable so you can decide if you want them pointing to the left or right.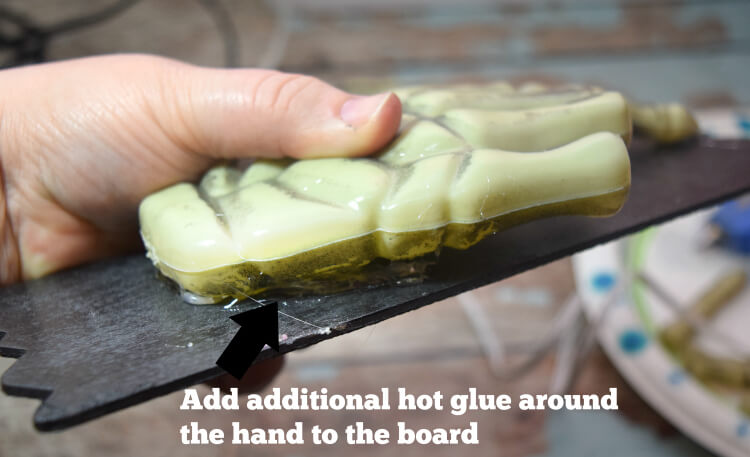 Once they were glued, then I went around the hand and filled in any additional spots I could add hot glue just to get it good and stuck on the sign.
For the signs without words, I set them aside while I finished the three-row sign. For the wording, I printed out a creepy font in PicMonkey that said "This Way." Just click the image below to download.
I traced each word with a pen, pressing hard, so it would maintain the outline when I painted it. Then, I outlined it in a pastel colored pen just to see it easier. I used white acrylic paint to create the letters. Originally, I wanted to make the words in blood red by mixing the red and brown paints, but I felt the lettering would "pop" more if I used white.
After the lettering dried, then I put a small amount of white on a paper plate. I also added black and red to another paper plate to mix together to make a blood color.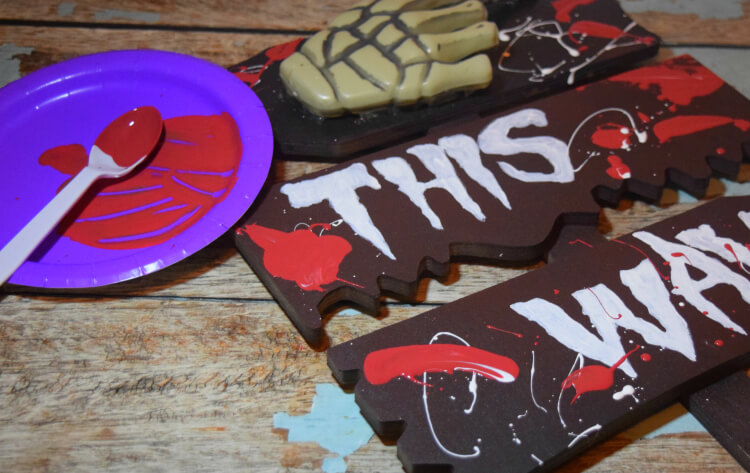 To finish off each of the signs, I used the back of a plastic spoon to flick and splatter white paint over the signs. Then, I did the same thing with the "blood" paint over various parts of the signs. I also dropped big drops of the "blood" paint and used my fingers to sweep them away.
Once the single-row signs were completely dry, I used a generous amount of hot glue to glue them to the dowel rods. I put them at different levels on each dowel rod just to give a haphazard and creepy feel to them.
Then, it was time to go outside with our signs. I love how these came out. They look very creepy in the yard and perfect for Halloween.