I just love decorating for Halloween, both inside and out. It's my most favorite holiday. Trick or treating is a big deal in our neighborhood, so I love to do it all up with some easy Halloween Yard Decor. This is a sponsored post on behalf of Wayfar. All opinions are my own.
Our small town is very rural, and we live in one of the few neighborhoods with lots of houses. This means Halloween night is a big deal and tons of people drive into our neighborhood to bring their kids trick or treating.
I love that everyone comes here! Quite a few neighbors also decorate their homes and some even have have haunted houses in their garages. There's even a house a street over from us who has a huge cookout for the whole neighborhood.
It's a lot of fun and really busy on Halloween night. We decorate the yard with various store bought and DIY decorations, and we set up a spooky trick-or-treat table with lights, music, and fog.
We live on a corner lot, so I like to decorate the front yard as well as the side of our house. This year I decided to do some big inflatable decorations to mix with our DIY for the side of the house. I like mixing inflatables with DIY and easy Halloween decor. It can really can make your yard stand out.
I got our new inflatables from Wayfair this year, and I can't wait to show you what we got! They have so many great easy Halloween yard decor items for the yard. If you want cute Halloween or spooky Halloween decor, Wayfair has so many choices.
Here's what we chose:
First, I ordered this Animated Zombie. He shakes! My husband thought it was hilarious. To add some flair to him, we're putting a pile of bones right in front of him, like he just had a meal. Plus, we added some of those "caution" tapes around him,the trees, and streetlight for a little creepier effect.
Near our zombie I've added some creepy signs that point which way to go for trick or treating. I just love how great they go with our new inflatables. Get the tutorial HERE!
Next, I ordered an 8-ft inflatable Spider. It's huge! We've made him a bit creepier by placing him in a big nest of spiderwebs. We love putting the big stretchy spiderwebs out on the trees and bushes for a festive Halloween look, and this spider just adds a finishing touch.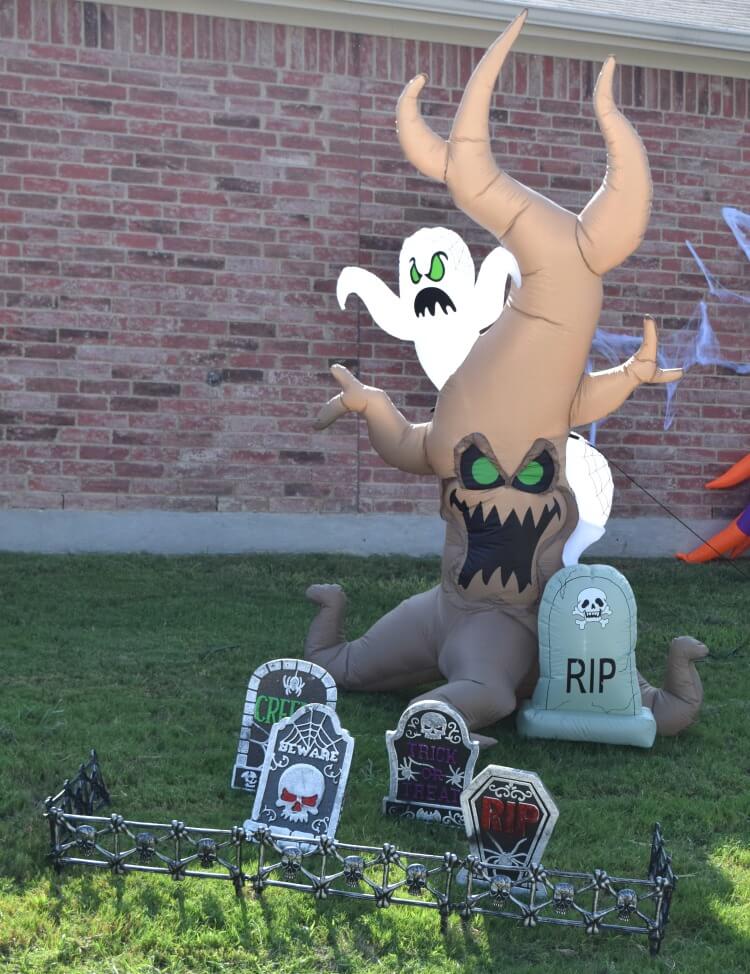 Lastly, along the side of the house, we created a creepy little cemetery with this inflatable Tree Monster. He has an attached ghost and a headstone. To finish the look, we made a small cemetery complete with additional headstones and a small creepy fence around it from the dollar store.
Each of these inflatables also have lights inside to light them up at night. I am so pleased with how they all came together and can't wait to "spook it up" for Halloween this year!
More Halloween Decor Ideas