I was at Hobby Lobby a few weeks ago looking for plastic spiders for another project I'll be sharing soon, when I happened upon these white pumpkins. Hobby Lobby has quite a few white pumpkins in different sizes and shapes in the fall floral picks area. These pumpkins immediately said they needed to be ghosts.
There is one lone hold out mini white pumpkin on the craft table who insists she is a unicorn and not a ghost. She chose not to participate in this wreath.
So, I decided my ghost pumpkins needed to be on a hybrid Fall/Halloween burlap wreath. My plan was to go for something that looked kinda windswept, like the wind just formed this wreath from some burlap and dead leaves and stuff, and then some ghost pumpkins and jack o'lanterns decided to hop on.  I just love it!Then, to top it off, I found the perfect sign for The Society of Black Hats over at the Dollar Tree. It coordinated just wonderfully to the colors.
Mini White Pumpkins Ghost Burlap Wreath
Supplies:
1 wire work wreath with fronds (pipe cleaners already attached) – 16 inches
2 rolls orange burlap 6-inch ribbon
2 rolls brown burlap 6-inch ribbon
4 white pumpkins
3 orange pumpkins
black acrylic paint
hot glue
The Society of Black Hats Dollar Tree sign
Yellow Fall floral with leaves
Directions: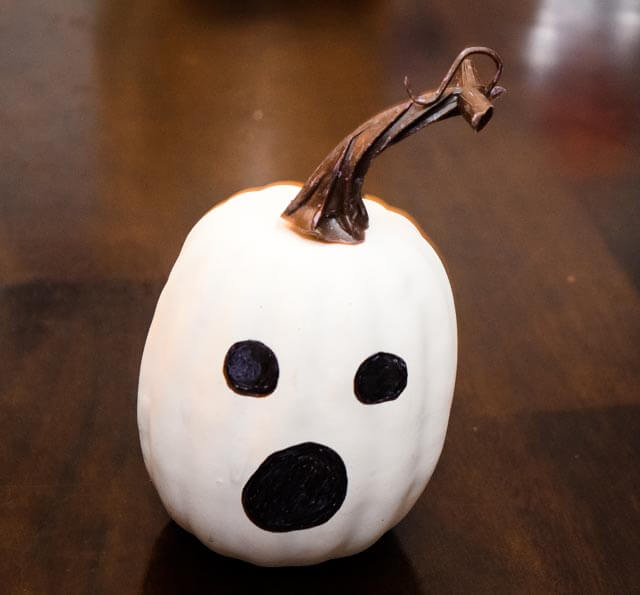 For the ghost pumpkins, I thought a sharpie would work well, but whatever these white pumpkins are made, they suck the life out of sharpies. It would dry out very quickly and become extremely frustrating. So, I switched to black craft paint, and it worked so much better. I recommend painting a couple of coats per ghost face.
I made the tiny pumpkin jack o'lanterns the same way with the craft paint.
While the ghost pumpkins are drying, make the burlap wreath. I used 2 rolls of 6-inch orange and brown burlap ribbon. I alternated and added one orange and then one brown and then one orange and one brown.
I laid everything out on the wreath and then hot glued it. Once the hot glue was dried, I flipped it over and hot glued the sign in place.
Then, it was time to put it outside. I hot glued a leftover piece of brown burlap ribbon to the top to hang on the nail on the front door.