This post is sponsored by The Brand Connection/Pentel, all ideas and opinions are my own.

I'm definitely a 90s kid. One of my greatest pleasures in school was writing in pretty colored inks. I just hated when they forced you to write in blue or black. I wanted purple, pink, or turquoise.
But guess what? The pens we all loved are now back, only better! Pentel Pop pens now come in all kinds of amazing colors from pastels to sparkle ink and even neon colors! I've just stocked up and put a whole collection of colored pens on my desk.
Creating Rock Art
My kids love to create and craft, but often their go to activity is video games. So, this past weekend, we got them off the computers and figured out how to create Rock Art with the new Pentel pens.
Supplies:
Smooth river stones (3-5 inches in diameter)
Chalkboard spray paint
Pentel Milky pastel pens
Pentel Sparkle pens
Directions:
You can find river rocks at your local craft store. You can get light and dark rocks. We chose dark river stones, and then I decided to make them even darker with a layer of black chalkboard paint. I spray painted our rocks the night before we created our rocks.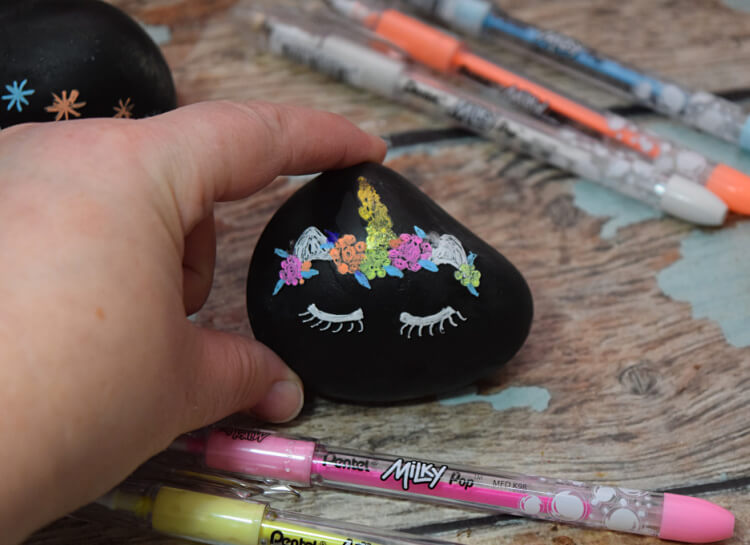 We did a search online to check out various rock art from painted rocks to pen drawing rocks. Then, we just went to town and created different rock art from astronauts to pineapples.
Hide the Rocks
We live in a very small town — like so small, we have no traffic lights. However, we live right next to a big college town where people love to paint and hide rocks. Even schools have gotten the kids in on it, and an entire class with create rock art and hide them.
I thought it would be totally fun for us to hide them around our small town. So, we went out today and hid them all around the town – near the library, a bank, one of the schools, etc. Then, I took pictures with my phone and posted a collage on the Facebook group for our town. Hopefully, more people will get in on the fun.
Pop of Color with Pentel
Pentel's Milky pens are the original ones from the 90s. They're back and the perfect way to add a "pop" of color with beautiful milky pastel colors. They have such a great smooth gel ink that can write on both light and dark colored paper, and they can write on photo paper.
Pentel Solar gel pens are perfect to add vibrant neon color accents. They write in medium lines, so they're great for getting that fine detail when drawing on a rock.

I love a little sparkle, so Pentel's Sparkle pens are my absolute favorite. I love the milky pastels, but the sparkle pens are where I'm at. They are these beautiful iridescent magical ink colors that write on black, white, and even photo paper. They are perfect for so many things from accents on rocks to cards, drawing, and doodling, and so much more.
Are you ready to get creative with Pentel? You can get even more inspiration with fun Pentel Pop crafts and ideas on the Pop by Pentel website! Don't forget to follow Pentel on Instagram, Facebook, Twitter, and Pinterest to see their latest ideas!