[disclaim]This shop has been compensated by Collective Bias, Inc. and its advertiser. All opinions are mine alone. #Wisk60 #CollectiveBias[/disclaim]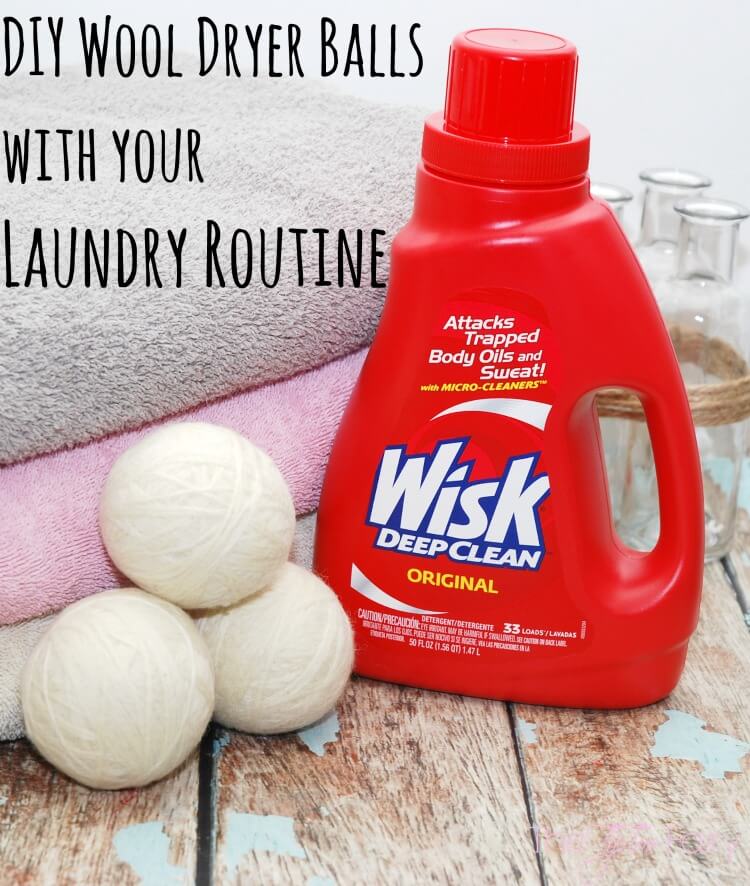 Did you know that Wisk was the very first liquid laundry detergent, and they're turning 60 this year?  For many years, Wisk has been a recognized leader in fighting the toughest stains included the dreaded Ring Around the Collar®.
Wisk Deep Clean® goes beyond just surface stains.  It penetrates deep inside the fabric to attack those hidden body oils and sweat some other detergents can leave behind.*  Wisk can still get you that powerful great clean today that it's been known to do for the last 60 years!
I've heard such great things about Wisk so when we ran out of our old laundry detergent last week, I picked up a bottle of Wisk Deep Clean® Original at Kroger when I was grocery shopping a few days ago.
Did you know the formula for Wisk Deep Clean® has a patented blend of Micro-Cleaners® that find and attack the those stinky hidden body oils and sweat that get trapped deep inside the fibers of your clothes?  I have to admit this is the one problem I've found with so many laundry detergents.  They just don't get that build up of sweat and oil out of clothes, and it can cause unpleasant odors. I put Wisk Deep Clean® to the challenge this weekend while I did loads and loads of laundry, and it did an amazing job!  Not only was it great at stain fighting, but the clothes and towels came out smelling wonderful.
One thing I love to use when doing laundry is wool dryer balls.  I've switched over to them from using dryer sheets.  You just throw them in with the wet clothes, and they help dry things faster and stop wrinkles.  Here's how to easily make your own.
Supplies: 
8 oz skein fisherman's wool yarn
1 old pair of pantyhose
pair of scissors
I find using 3 wool balls gets the best results in the dryer. Make sure you use 100% wool yarn. Do not get washable or super wash wool. It will not felt, which is what you need the yarn to do to form solid balls.  I like to use fisherman's wool. It comes in large 8 oz skeins. I can get 4 large balls out of one skein with a bit leftover yarn.
Wrapping the balls doesn't take much time. I'm able to wrap three balls this size in one 40 minute television episode.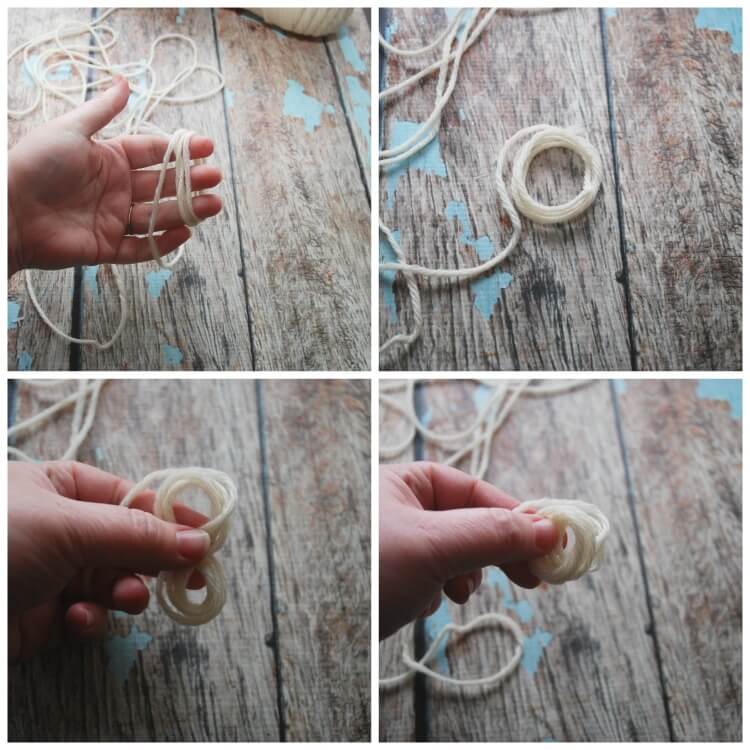 I start by wrapping a few strands around my fingers. Then I pull those off and form a figure 8 and fold the loops together and keep wrapping more yarn around them.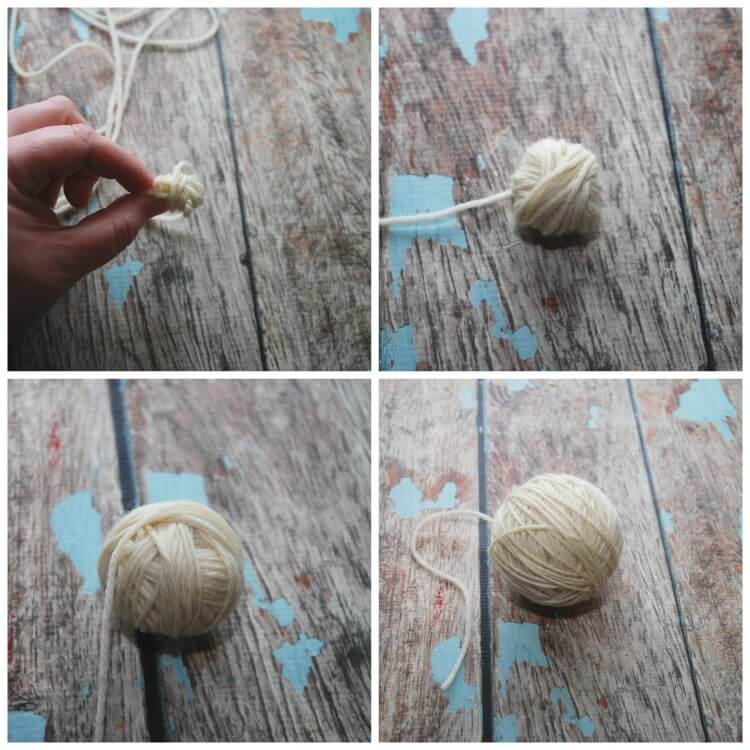 Slowly turn the ball of yarn around and around as you keep wrapping the ball so that it stays even. I keep wrapping until my balls are each about 10 inches in diameter. Once they are wrapped, tuck the yarn end I to the ball.
As the balls felt in the washer and dryer, they will shrink a bit.  These particular balls shrunk down to about 8 inches in diameter.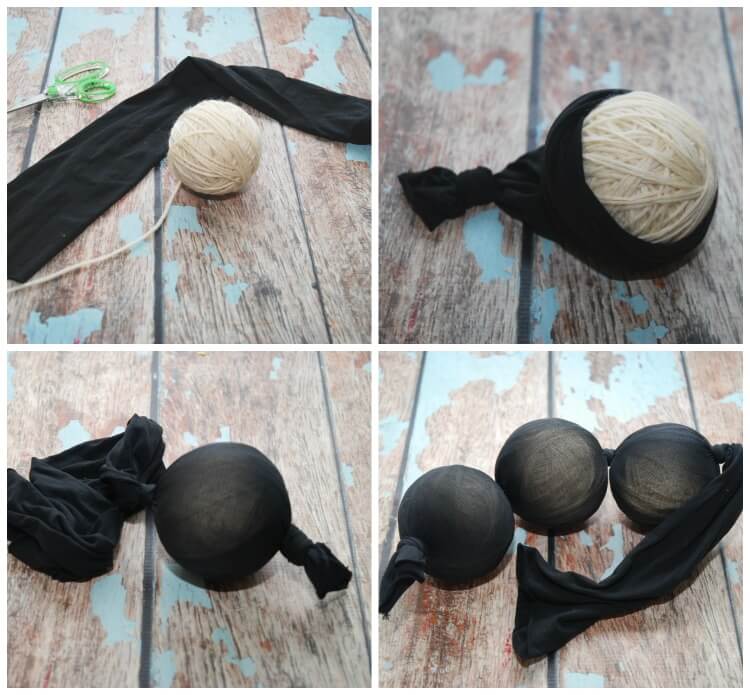 After the balls of yarn are the size you want, take an old pair of pantyhose and cut off one leg. Insert each ball into that leg.  Pull the pantyhose tight as you insert a ball, and then tie a knot right above it so that the ball is tightly in the pantyhose. Do this for the other balls.
Wash the balls in the hottest setting with some laundry detergent. The agitation along with the hot water and soap are what felts the balls. Do this for 2-3 washings.
Throw the pantyhose with the balls into the dryer on the hottest setting. This will finish the felting of your balls.
When they are thoroughly dry, remove the balls from the pantyhose. Usually I have to cut them out as the wool yarn has felted itself a bit to the pantyhose.
Now you're ready to use the dryer balls. When it's time to dry clothes just add the balls to the dryer. They soften clothes, decrease drying time, increase fluffiness, and help remove wrinkles.
How do they work?
They simply bounce around in the dryer separating the clothes, allowing more hot air to circulate.  As they tumble, the wool balls fluff your laundry, reduce wrinkles, and basically beat the laundry to make it softer. They also pull moisture out of your clothes so you don't have to run the dryer as long. In fact, the more dryer balls you have in a load, the shorter the drying time.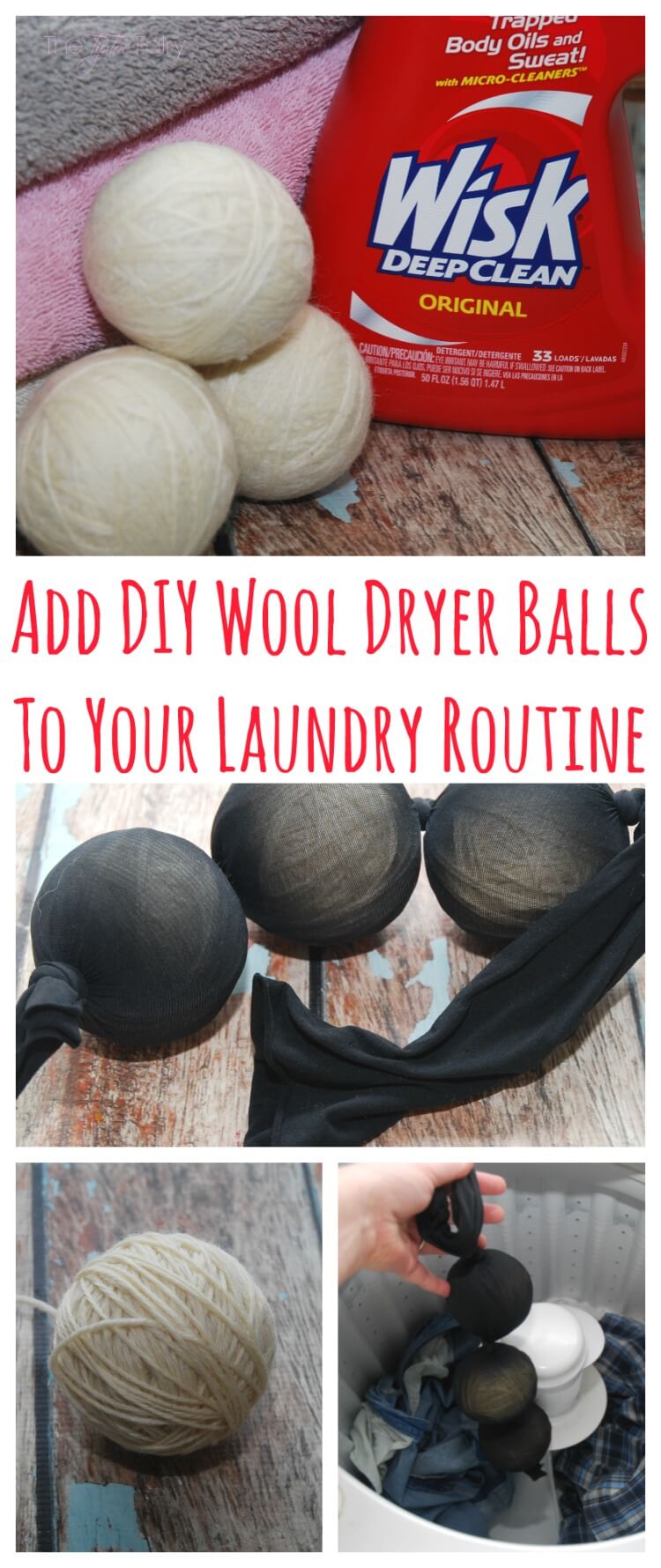 If you have sensitive skin, there's even Wisk Deep Clean® Free & Pure.  You can find it on Amazon.com HERE.
If you've got kids in sports and you're constantly trying to keep their clothes clean, then bring Wisk to the rescue!  Remember — Don't Just Wash it, Wisk it!
How do you get the tough stains out of your laundry?
*Compared to the leading variant of the top three liquid value brand