This post was sponsored by BUSH'S® Savory Beans as part of an Influencer Activation for Influence Central and all opinions expressed in my post are my own.
One of my favorite indulgences is a steak burrito bowl. Honestly, I never would have tried one without my husband convincing me. Now it's one of my favorite meals! We used to go out pretty regularly to get burrito bowls. Then, one night I changed fajita night into burrito bowl night, and now we love making them at home. They are so incredibly easy to make.
Steak Burrito Bowls
The best thing about burrito bowl night is that everyone can make it just the way they like it, so even the kids are excited about dinner.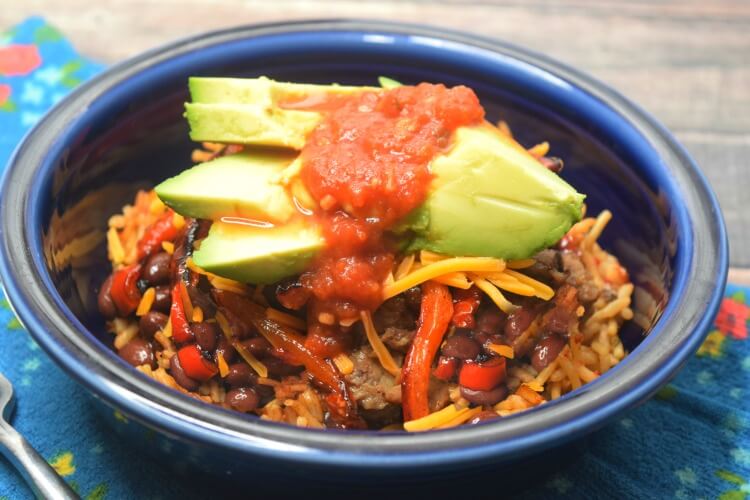 Every good burrito or burrito bowl starts with a base of delicious beans. Walmart now has BUSH'S® Savory Beans, and the flavors are amazing! My family loves both pintos and black beans, so I usually get two kinds of beans — BUSH'S Black Beans Fiesta™ and BUSH'S Southwestern Style Pinto Beans™.
My husband is still raving about the Southwestern Style Pinto Beans from a few nights ago. Not only are they great for burrito bowls, but both of these beans go great as a side dish for any TexMex night we have, too.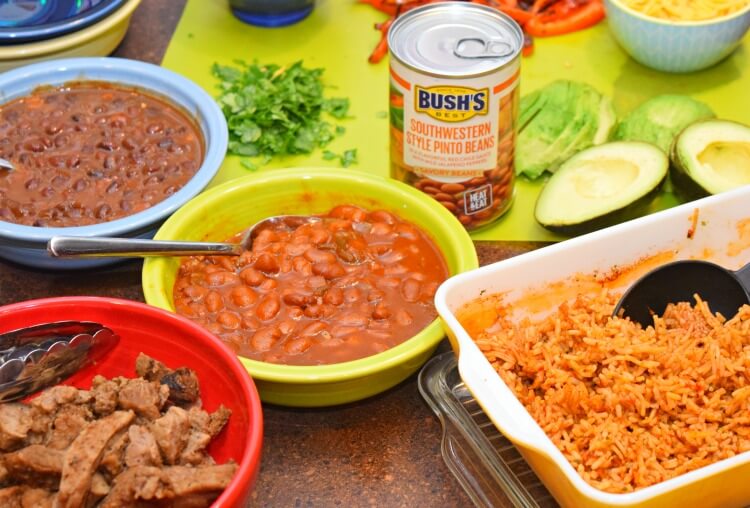 When we have steak burrito bowls, I can have dinner on the table in less than 20 minutes. Almost all of the ingredients are readily made in the microwave. While the rice is cooking in the microwave, I saute the veggies. I also use precooked frozen beef or chicken fajita meat so it's quick to heat up in the microwave to cut down on cooking time, too.
Next, I heat up the beans in the microwave for just a couple of minutes, and they are ready to eat. BUSH'S Savory Beans add wonderful flavor to a meal, and I love that you can just heat and eat them!
Lastly, I slice up some avocado or mash some guacamole and then set out a bowl of cheese and a bowl of salsa. Dinner's ready!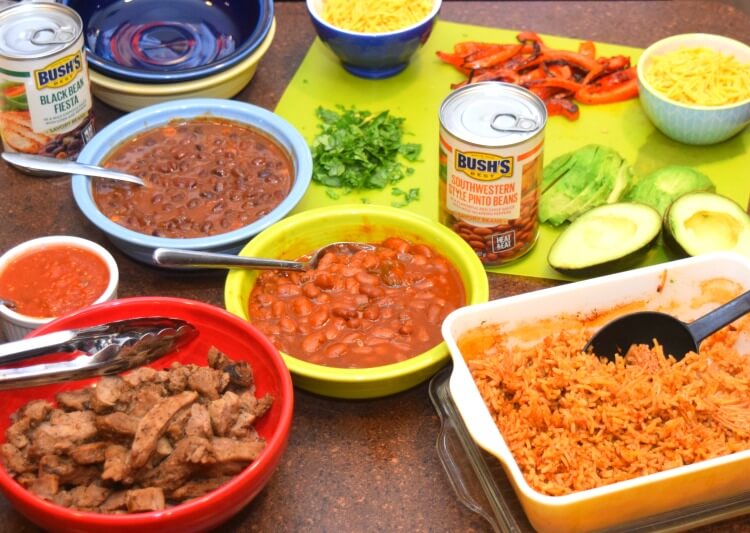 Our Favorite Steak Burrito Bowl Ingredients
Beans
Rice
Steak
Sauteed Veggies
Cheese
Salsa
Avocado / Guacamole
Cilantro
Roasted Garlic
You can add so many other ingredients like onions, cut tomatoes, and corn according to what you and your family like.
I set up everything buffet style on the kitchen island, and everyone grabs a bowl. It's easy fixin's and easy clean up.
If someone wants a steak burrito instead of a burrito bowl, I always heat up some flour tortillas to have on standby, especially for the kids. My younger kids usually prefer a burrito with a side of beans or rice.
One of the best things about steak burrito bowl night is there's usually enough leftovers for my teenager or my husband to make up some extra ones to take to work or school for lunch.
Next time you're as Walmart, pick up some BUSH'S Savory Beans. They're made from the best beans and simmered in delicious savory sauces in three different flavors, and they are a perfect side dish for a quick weeknight meal.