As an Amazon Associate I earn from qualifying purchases.
Apparently, I picked up a stack of unhinged books at the library. First we had Baby Teeth with the psychopath 7 yr old who wants to kill her mother. I just finished The Cabin at the End of the World by Paul Tremblay. Come join me on the crazy train of this apocalyptic horror novel.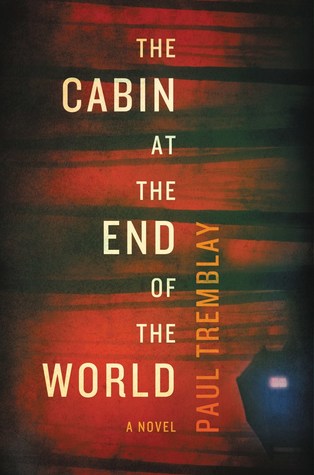 Have you ever seen the movie Hereditary? You know the cray cray ending that leaves you thinking "WTF did I just watch?" Truly, my oldest daughter and I stayed up late to watch that movie and had to re-watch the ending because we were so shocked. This book is fairly close to that same level of crazy.
The Cabin at the End of the World
The Cabin at the End of the World starts off with Wen, a 7 yr old Chinese girl, who is being raised by her two dads, Andrew and Eric. They're staying in a secluded cabin on a lake for a vacation. The dads are hanging out on the back deck relaxing, and Wen is out front catching grasshoppers when a man shows up. His name is Leonard, and he tries to befriend her and helps her catch grasshoppers. Wen realizes something is wrong, and she goes running to her dads. They hole up in the cabin trying to stay safe as three more people show up with some kind of bizarre weapon contractions they've made.
After a bit of a battle, they eventually get into the cabin and tie up Andrew and Eric and leave Wen on one of their laps. These strangers tell them that they aren't going to hurt them, but Andrew, Eric, and Wen have to make a choice to sacrifice one of each other. These strangers actually think this family is just going to decide between the three of them who they will sacrifice so the world doesn't end because these idiots say so. The strangers tell them if they don't do it, then everyone else in the entire world is going to die. Who would ever believe this, right?
Who would you choose?
If your family was tied up and your captors told you needed to make a decision as to which one of you was going to die or the world would end, what would you do? Would you not laugh in the faces of your captors? I know I probably would. Like the rest of us sane people, Andrew and Eric tell them they aren't sacrificing anyone, and the captors are just beside themselves that this family doesn't just believe them right off the bat.
Next thing you know some crazy stuff starts going down. Stuff I don't even want to tell you about. Eric was injured pretty badly during the initial invasion and now has a bad concussion, but an inkling of doubt (or maybe belief?) starts to fester within him about what these people are telling him.
Without giving away too much, this is a train wreck that's just going down in flames. As I was reading, I kept thinking how much worse can this get? Much worse. While there are no hidden twists to the story, things happen that are totally surprising and shocking. You can't quit reading because you have no idea what is going to happen next. Then, you start to doubt yourself, and what you would choose as you go through the story. Is this really the end of the world?
My only issue with the book was the ending. I wish it had been tied up neater. I'm not sure if it's setting up a sequel, or the author just wanted something a little ambiguous.