I make a lot of cupcakes. It's one of my passions in life. I sell them. I give them as gifts. And, frequently, I send them off to work with my husband (because my children do not need a daily cupcake 😉 ). They are one of my little passions in life to make the world a happier place. Really who doesn't get even the tiniest bit happier when they find a box of cupcakes?
I share a lot of cupcake recipes here. Among those are many recipes based on using box cake mixes. I love to share ways to make things a little easier — like cupcakes — with all of you! Yet, there is nothing like made from scratch cupcakes, so for my clients, gifts, and family birthdays, I usually stick to made from scratch.
Cotton Candy | Blood Sucking (Strawberry) | Lemon Blueberry | Bubblegum
This is my basic made-from-scratch white cupcake. All of the cupcakes you see pictured, I have made at different times with this basic cake recipe. The secret ingredient is the folded in whipped cream. It makes this recipe so moist and delicious — you can never just eat one.
With this basic recipe, it's so easy to vary it with flavorings, fillings, drinks, and more. Use food coloring to change them into any color, including rainbow! Use soda pop or koolaid mixes to create amazing creations like cola, root beer, grape, and more flavored cupcakes.
Caramel Apple | Rainbow | Fluffernutter | Vanillope Dream
It's super easy to add just about any type of flavoring to create amazing cupcake flavors. Use Duncan Hines Flavor Creations like cotton candy, raspberry, bubblegum, etc (readily available at most grocery stores.) to create amazing flavors. Those mixes are usually dyed to make pretty colors, too! Or, use flavor oils like LorAnn flavor oils such as apple, bubblegum, watermelon, etc to get great flavors, too (I've seen these at Hobby Lobby and Walmart).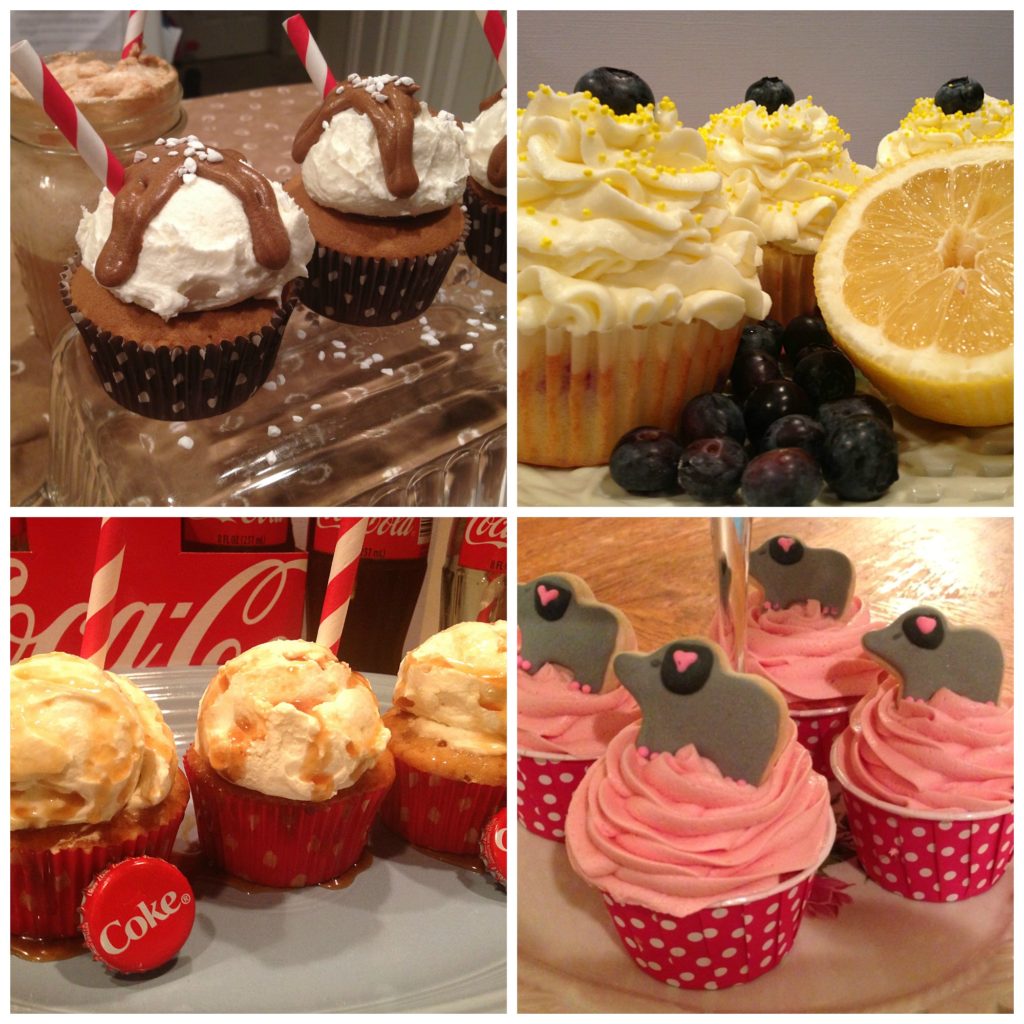 Rootbeer Float | Lemon Blueberry | Coke Float | Bubblegum
Another way to make these cupcakes your own is to stuff them with all kinds of things from cheesecake to peanut butter to jams and so much more. It is so easy to turn this basic recipe into something completely different and amazing, and make it your own!
Don't forget the frosting! This basic cream cheese frosting can be turned into all kinds of delicious flavors and colors using the same flavorings and food dyes I've mentioned above. Have fun and I'd love to see what you come up with!
Ingredients
Cupcakes
1/2 cup of heavy whipping cream
1 stick of butter at room temperature
1 1/2 cups of white sugar
2 1/2 cups of cake flour
1 tbs baking powder
1/2 tsp sea salt
1 cup whole milk
3 egg white at room temperature
Buttercream Frosting
1 cup butter at room temperature - 2 sticks of butter
8 oz cream cheese at room temperature
4-5 cups powdered sugar
3 tbs heavy cream
Instructions
Chill the mixing bowl in the freezer for 5 minutes, and then beat whipping cream until soft peaks form. Scrape it into another bowl and set in the fridge.
Preheat the oven to 350°F. Line 2 muffin/cupcake pans with standard cupcake liner. Rinse out the mixing bowl.
Cream the butter and sugar on medium until it's very creamy, about 5 minutes.
While that's mixing, sift the flour, baking powder and salt into a medium-sized bowl.
Whisk together the milk and egg whites in another bowl.
With the mixer still on medium, switch between adding the flour mixture and milk mixture. Make sure you start and finish with the flour mixture.
Add your flavoring.
Then continue mixing on medium for 2 minutes.
Lastly, using a rubber spatula, fold the whipped cream into the cake batter.
Fill your cupcake liners about 2/3 full. Then, bake until a toothpick comes out clean or with a few crumbs. It's about 15-16 minutes.
Beat butter and cream cheese until creamy.
Slowly add a cup of powdered sugar at a time.
After about 2-3 cups, add the heavy cream.
Add flavoring.
Once all powdered sugar is added, beat for an additional 5 minutes until light and fluffy.
Frost once cupcakes are thoroughly cooled.
Nutrition Information:
Amount Per Serving:
Calories:

0
Total Fat:

0g
You can always just stick with plain white cupcakes and plain cream cheese frosting. But, it's good to change things up, too!
Rainbow | Raspberry Champagne | Cherry Limeade | Grape Soda