The other day I was wishing that cinnamon rolls weren't so hard to make. I hate making them — really I do. I've tried "quick" and "easy" cinnamon roll recipes. They are one thing I'd rather not make.
I started thinking how I could make it easier for myself. And then, I was thinking about cinnamon rolls and cupcakes, and I wondered if I could make cinnamon rolls as cupcakes. I went to check Pinterest, and other people had already had this idea, too! But…they made them from scratch. I decided to see if I could turn a box cake mix into cinnamon roll cupcakes.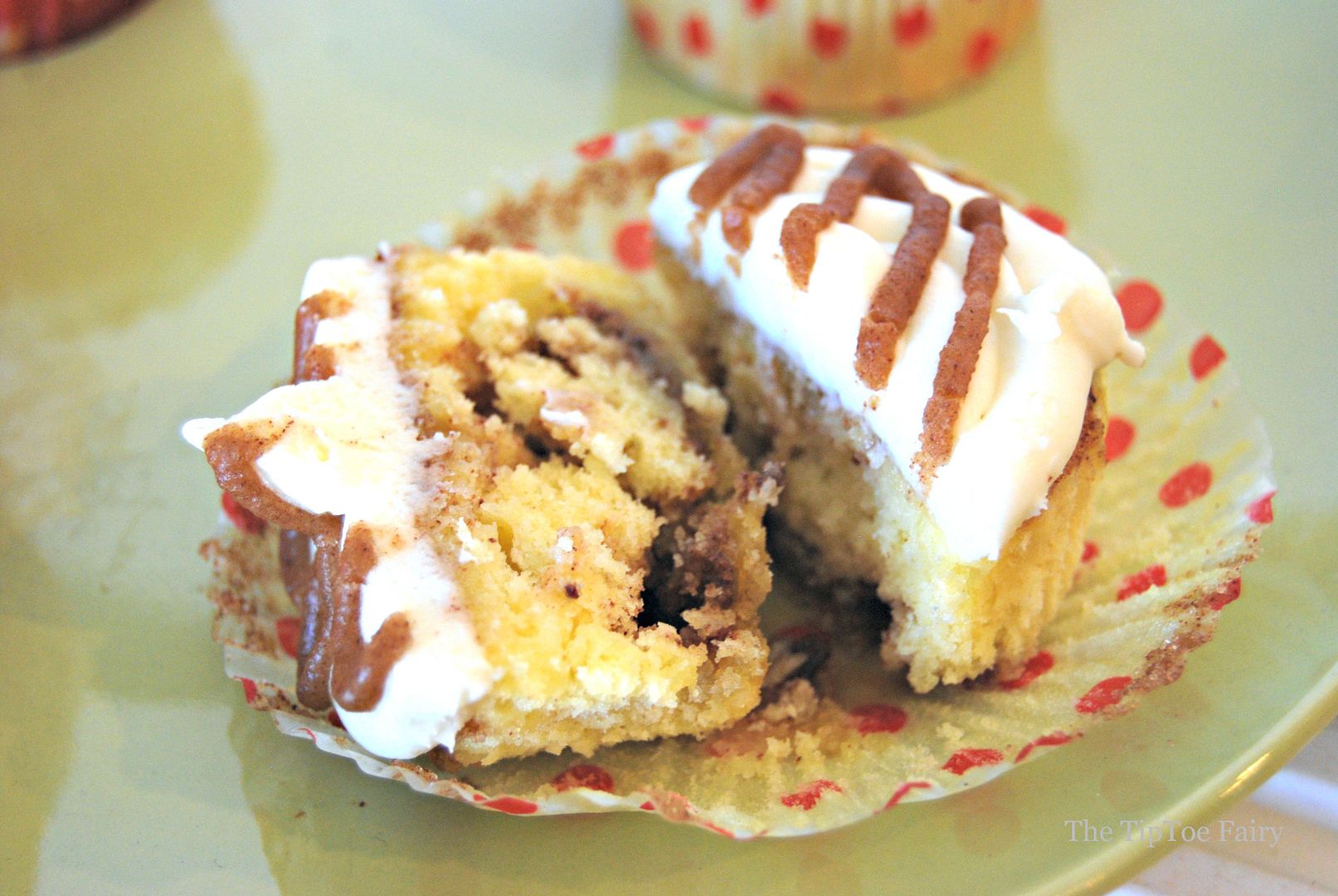 Guess what? it worked! And, they are amazingly delicious! They taste like a cupcake, but like a cinnamon roll as well — like eating a really soft and fluffy cinnamon roll. So now we have another fun Crazy Cupcake flavor from a Box!!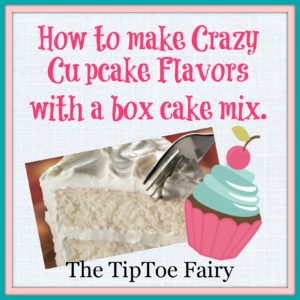 This recipe made 24 cupcakes, so I sent the majority of them to my husband's office on Friday. They were a big hit! In fact, Nate thinks they might have replaced the Pumpkin Cheesecake cupcakes as the all time favorite at his office. He got a lot of compliments and a few requests to move in with us 😉 I think you will love these and so will your recipients.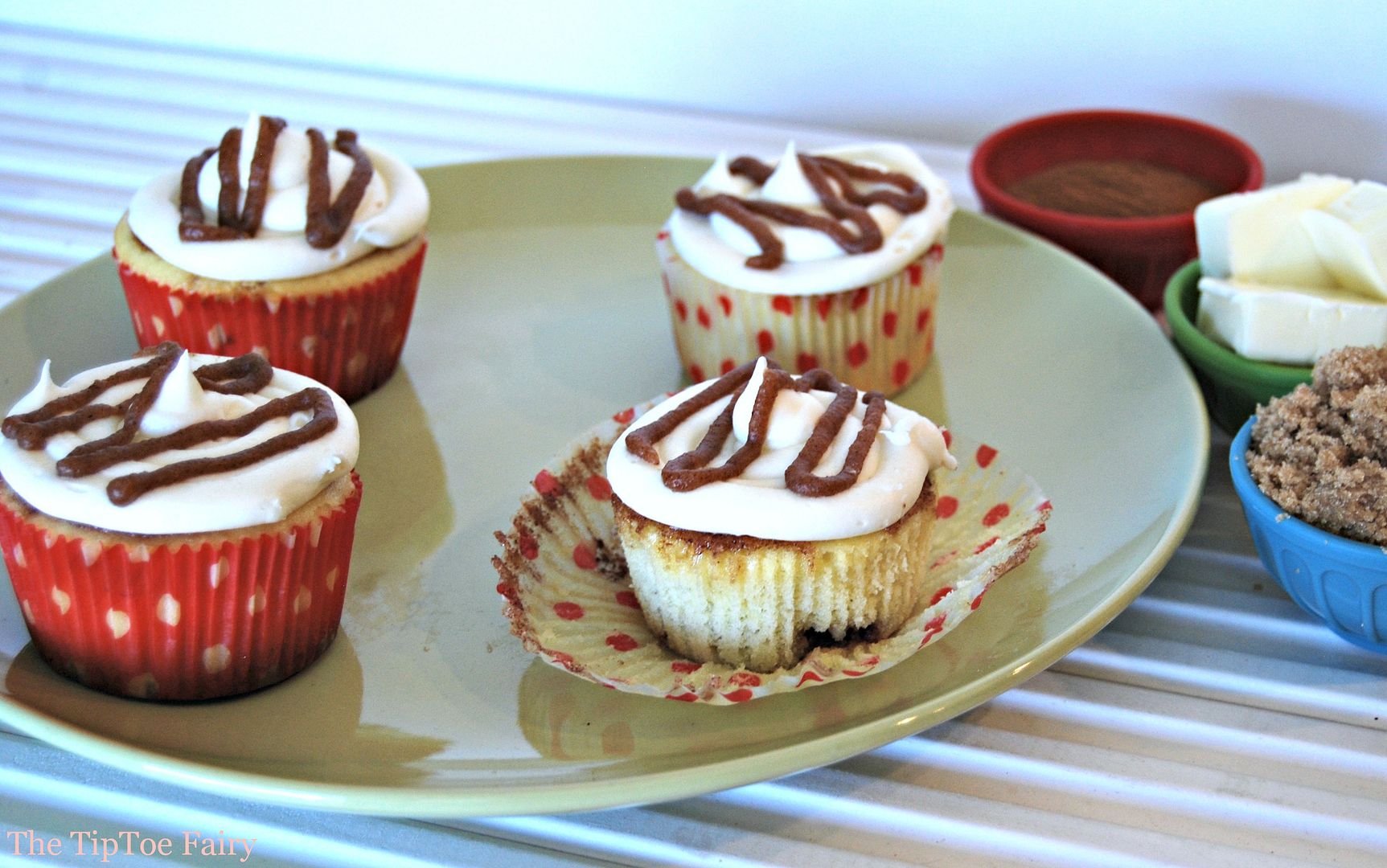 They are super easy to make and just wonderfully moist and delicious. Make sure you use a yellow or butter cake mix. Adding sour cream to the batter thickens it up so the cinnamon/sugar mixture doesn't just completely fall to the bottom of the cupcake. There will be extra cinnamon/sugar mixture left over that you can put into a ziplock bag, snip a tiny corner that you can squeeze over the frosting for a cinnamon-y taste.
Print
Cinnamon Roll Cupcakes
---
Total Time:

45 minutes

Yield:

2

4

1

x
1

butter or yellow box cake mix

3

eggs

1 cup

of water

1/3 cup

of oil

1 cup

of sour cream

1 cup

brown sugar

3/4 cup

of butter, melted

3 tsp

cinnamon
---
Preheat oven to 350
Prepare cupcake liners in cupcake pans.
Melt butter and add brown sugar and cinnamon. Mix thoroughly and set aside.
Mix cake mix, eggs, water, oil, and sour cream until moistened. Then, mix on Medium speed for 2 minutes.
Fill cupcake liners 1/3 full. Then, add 1/2 tsp of cinnamon/sugar mixture. Swirl with knife or toothpick.
FIll cupcake liners 2/3 full. Then, add an additional 1/2 tsp of cinnamon/sugar mixture. Swirl with knife or toothpick.
Bake for 15-17 minutes until done.
While still hot, spoon over each cupcake about 1/2 tsp of cinnamon/sugar mixture and smooth over the top of each cupcake.
Allow to cool before icing.
Prep Time:

20 minutes

Cook Time:

15 minutes
Recipe Card powered by
To finish your cinnamon roll cupcakes, make a cheesecake buttercream frosting. I used the frosting from my Pumpkin Cheesecake cupcakes, which you can find here. I made a small swirl to look like a cinnamon roll on each cupcake, then I piped the last of the cinnamon/sugar mixture to finish them off.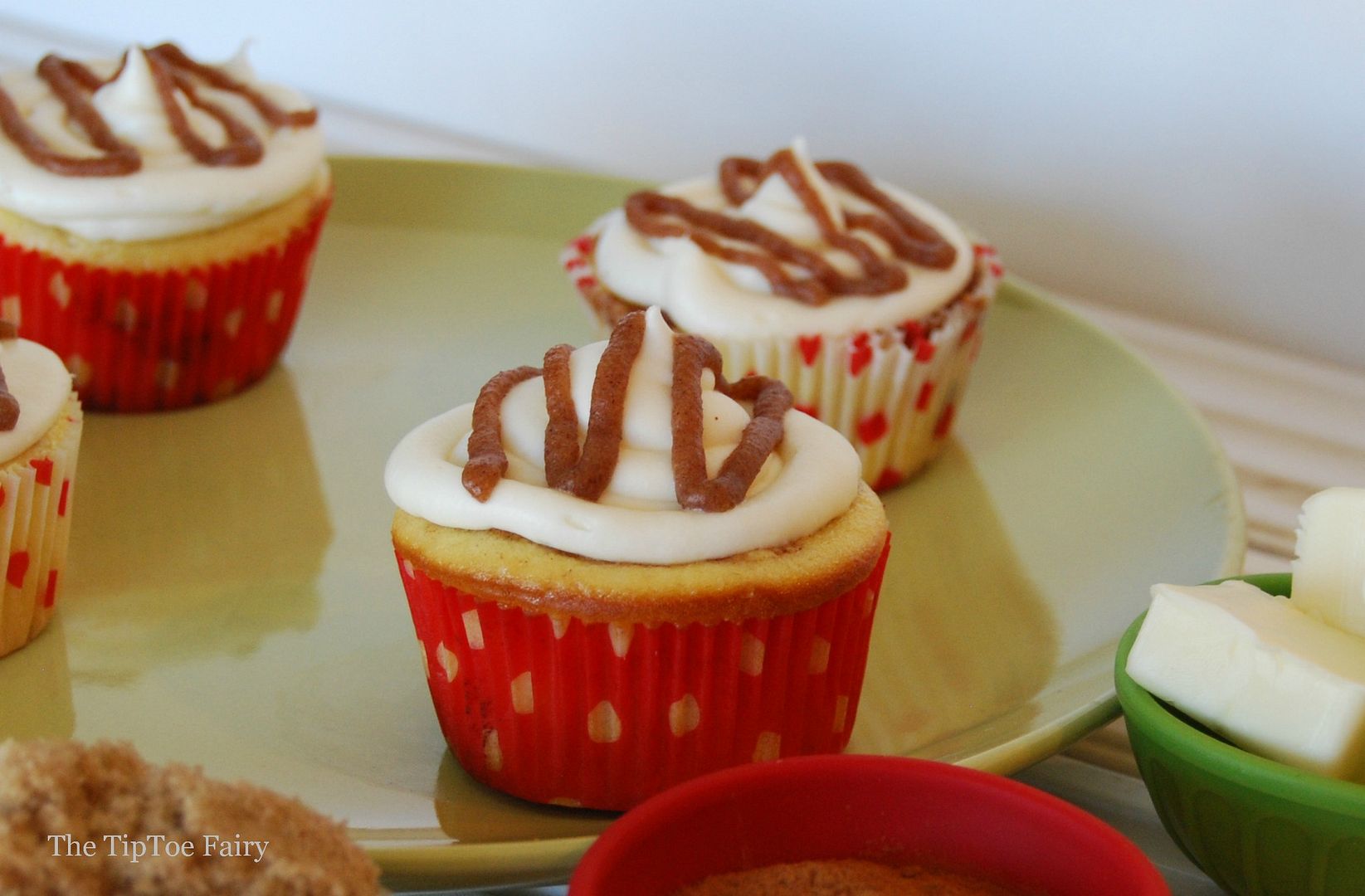 Enjoy!!