Are you planning a fun-filled Halloween party this year? These Halloween Party Favors Surprise Balls are so fun to make the kids as party favors. You can get all the supplies at the dollar store, and they wrap up pretty quickly.
The kids will have quite the time unraveling all their candy and prizes. It's a great way to keep the kids busy when you need to. They'll be unwrapping excitedly to see what they got. This post contains affiliate links.
What do you put in Halloween Surprise Balls?
I like to get a variety of fun-size candy and Halloween trinkets like stretchy spiders, eyeball bubbles, etc. to make these surprise balls. Then, I also get Halloween-themed stickers to tape the ends closed on the surprise balls.
How do you make Halloween Surprise Balls?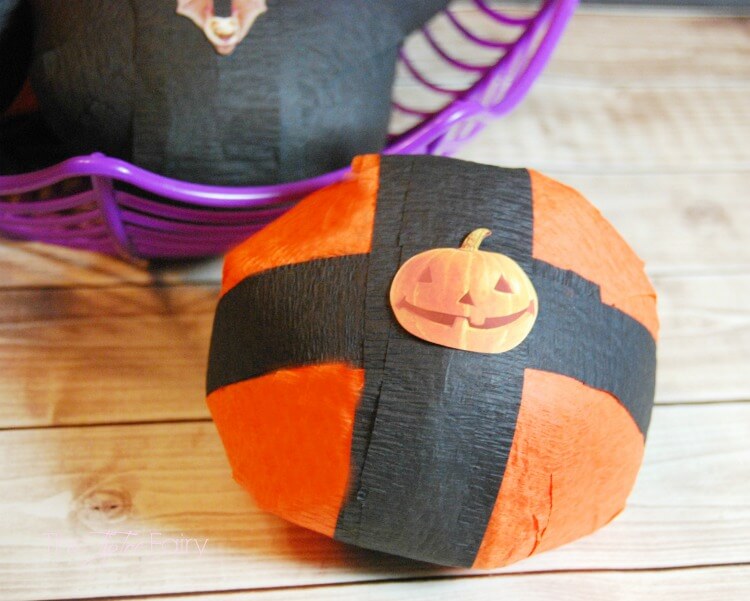 Yield:

12 surprise balls
Halloween Surprise Balls Party Favors
Get all the supplies you need at the dollar store for these fun Halloween surprise balls perfect for party favors!
Materials
6 rolls crepe paper in orange and black
2-3 bags of fun-size candy
2-3 bags of Halloween trinkets and prizes
Halloween-themed stickers
Instructions
Begin by wrapping the crepe paper several times around 1-2 of the larger trinkets.
Then add 2-3 pieces of candy and wrap the crepe paper at a 90 degree angle to the first wrapping several times.
Once you have a ball beginning to form, continuing adding a couple trinkets or candy at a time and wrapping several times at a 45 degree angle to the last wrappings.
Once you've added about a dozen items, then wrap the surprise ball a few more times at various angles to get a rounded shape.
Cut the crepe paper.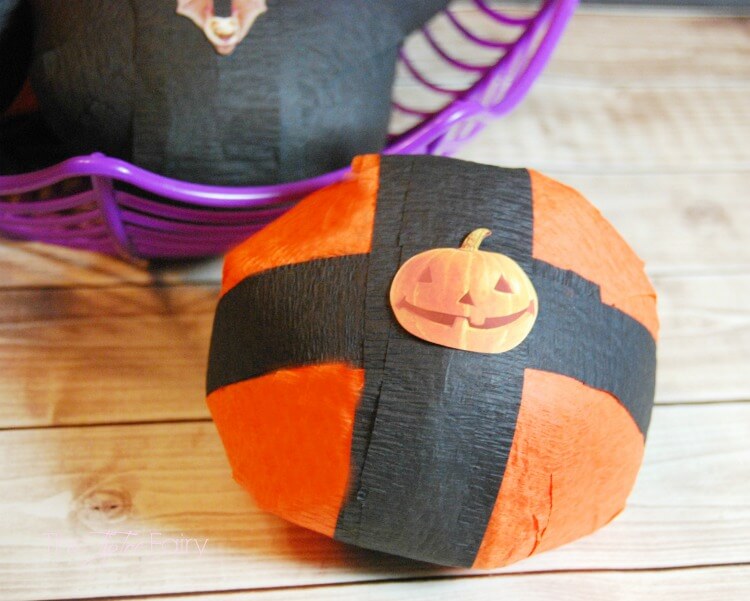 Attach a Halloween sticker to keep the loose end closed. Then, add a piece of clear tape to keep it secure.
More ideas for your Halloween Party
Are you hosting a Halloween party this year? I've got tons of ideas for you from party favors to delicious treats and creepy punch recipes, plus so much more! There are a few of my favorites listed below, but there is lots more Halloween fun.
Halloween Party Favors
Halloween Treats
Halloween Decorations
Come Join Us!
Liked this article and want more? Follow along on Instagram, Facebook, Twitter, Pinterest, TikTok, and YouTube!
Come over and join us on Facebook in the group Recipes, Crafts, and more with TipToe Fairy or Sewing and Crafting with The TipToe Fairy!
Visit Our Other Blogs!