I've been saving jars for months now in anticipation of making these Flickering Spider Lights. This post contains affiliate links.
I had this grand plan to create a walkway of Flickering Spider Lights on Halloween night.
What do you need to make these Flickering Spider Lights?
You will need jars. You can use mason jars or just save old pasta jars or pickle jars, etc. You'll need as many as you want to light up your pathway.
You'll also need some rubber spiders. These are the spiders most like these spiders I used in the tutorial.
When I began planning this, I knew I wanted to use lights inside the jars. I also wanted to find something easy to turn off and on. I did not want to have to open each jar to turn the lights off. Then, I started to wonder if there was such a thing as remote controlled tea lights. There is!! And, they aren't even that expensive! They have them in sets of 12.
Now I just saw a new set of remote lights that actually are rechargeable instead of having to use those annoying little batteries. I just ordered some, so I'm hoping they work as good.
You'll also need black spray paint and frosted glass spray paint.
Lastly, you'll need fake spider webs or some polyfil stuffing.
How do you make Flickering Spider Lights?
The supplies listed below are what you need to make a dozen flickering spider jars, which is what I need to line my walkway, but you can cut that down and just make a few for a tablescape.
Supplies:
12 upcycled jars – labels removed (or mason jars)
Directions:
If using upcycled jars, fill a sink full of hot soapy water and let them soak to easily remove the labels. I soaked my jars for about 15 minutes and then scrubbed the labels off with my scrubbing brush. They come right off.
Make the Spooky Jars
At least a couple days before you want to create the flickering spider jars, you'll need to spray paint. Spray the lids black or brown.
Spray the inside and outside of the glass jars with this frosted spray paint. Allow them to dry for 1-2 days. When the frosted glass spray paint first goes on, it won't seems very frosted, but as it dries, it becomes more opaque.
How do you add the spiders and spider web to the jars?
When they are dry, put a remote control tea light into the bottom of each jar.
For the spiders, I tried all kinds of things to glue them to the jars, but nothing worked. E-6000 wouldn't work, hot glue wouldn't work, glue dots wouldn't work. I finally figured out to stick them on spider web and shove it into the jar. And, it made the spiders just pop!
Cut 4-5 inch lengths of the spider web. Fluff it up a little, and add a spider to two different sides. Then, slide the spider web down into the jar above the light.
Screw the lid on and light them up!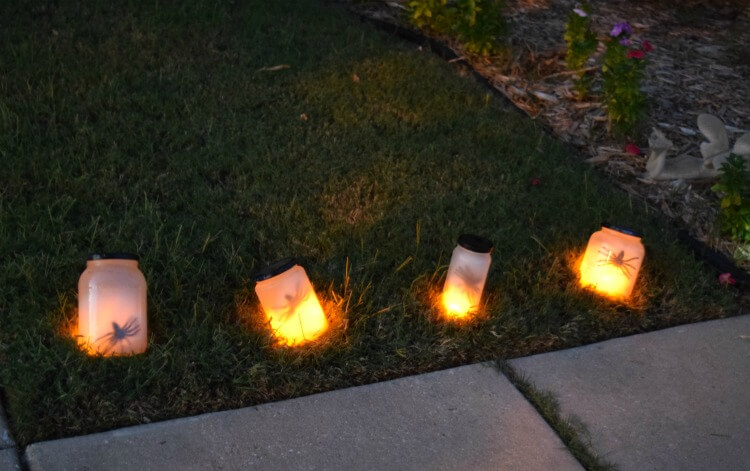 Line your walkway, and light them up on Halloween night!
More DIY Halloween Decor Ideas
Halloween Treats to Make
Yield:

up to 12 jars
Halloween DIY: Flickering Spider Lights
Total Time:
2 hours
30 minutes
Materials
12 upcycled jars - labels removed (or mason jars)
12 remote control tea lights
2 bags of white spider webs
2 dozen rubber spiders (dollar store spiders)
1 can of frosted glass spray paint
1 can of black spray paint