Will your family be skipping trick or treating this year? We will be and instead will be having a Halloween Treasure Hunt. We are still decorating it up for Halloween and will set out a bowl of candy for neighbors, but we feel safer having our own treasure hunt as well as doing the Neighborhood Halloween Scavenger Hunt in the car.
Our family LOVES a good treasure hunt. I have posted quite a few right here on the blog for kids and adults.
Download the Halloween Scavenger Hunt File
How do you have a Halloween Treasure Hunt?
You'll need to download, print, and cut out the clues for the Halloween Treasure Hunt. The final two clues, you will glue back to back.
You'll also need some treasure candy or Halloween-themed trinkets and toys. Scroll down for some more ideas!
Follow the instructions in the treasure hunt to hide clues to go along with the riddles.
Just before they get to the final clue, have someone covertly place their treasures on the front porch to discover.
Halloween Music Playlist
Most of the clues for the Halloween Treasure Hunt will be for the house. So, if you'd like to set the mood, grab this Spotify playlist for some fun Halloween tunes. You could even download our other game — Halloween Name That Tune!
More Halloween Games
Halloween Treats
Make some fang-tastic and delicious Halloween recipes. My personal favorite is the Monster Mash Cheesecake Bars. They are so fun and colorful and taste amazing! But, we've got so many more:
What do you do for the Halloween treasure?
I get each of my kids a candy bucket and then fill it with all their favorites. But, we've got some other ideas as well. You can create Pumpkin Goody Bags full of surprises. If you want to keep them guessing make some easy Halloween Surprise Balls. Or, check out these store bought ideas for prizes and party favors:
Get the Halloween Game eBook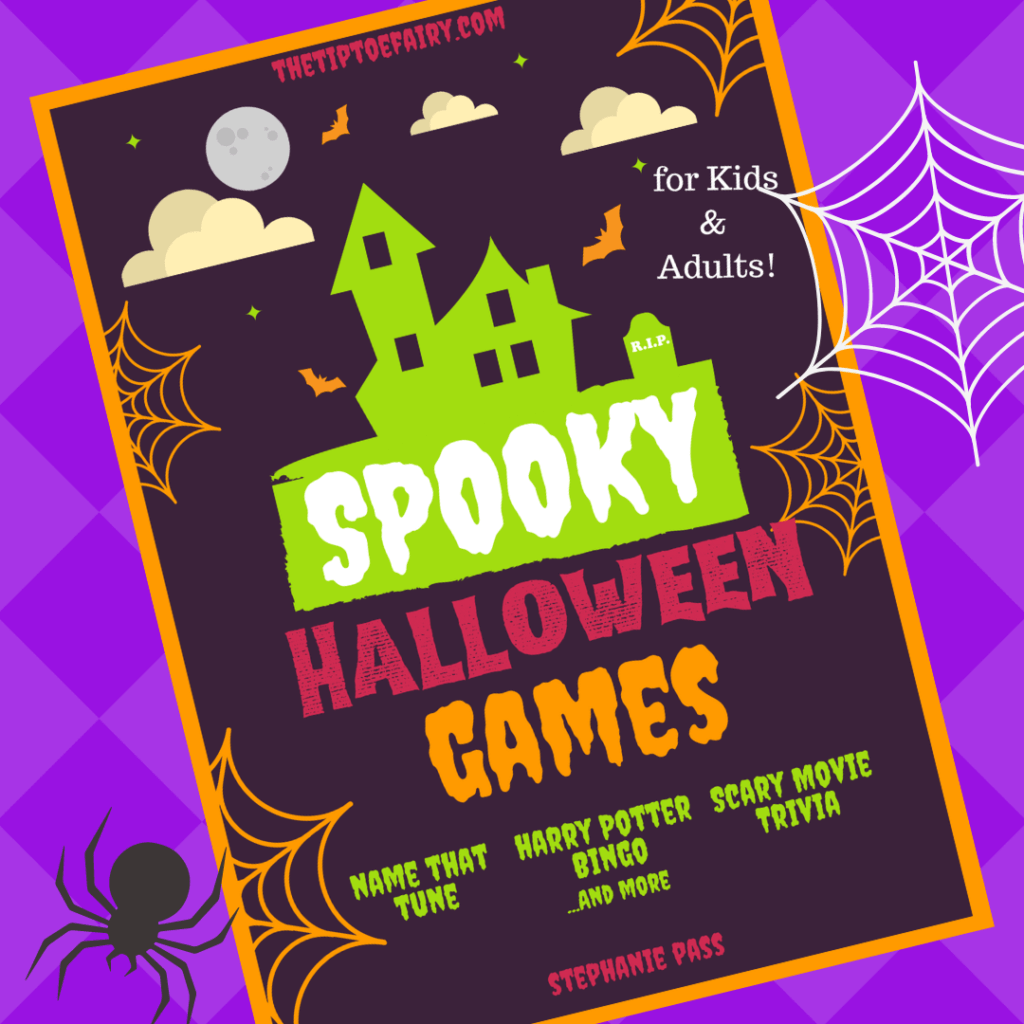 Want all the Halloween games? Instantly download a 45-page Spooky Halloween Game eBook with all the fun games from The TipToe Fairy for just $5! You'll get:
Halloween Scavenger Hunt
Halloween Treasure Hunt
5-pack of printables Halloween games – word search, crossword, maze, and secret messages!
Scary Movie Trivia Games for kids and adults
Halloween Pictionary
10 Harry Potter Movie Bingo Cards
12 Halloween themed Bingo Cards
3 I Spy Games