This is a sponsored post on behalf of Tampico. All opinions are my own.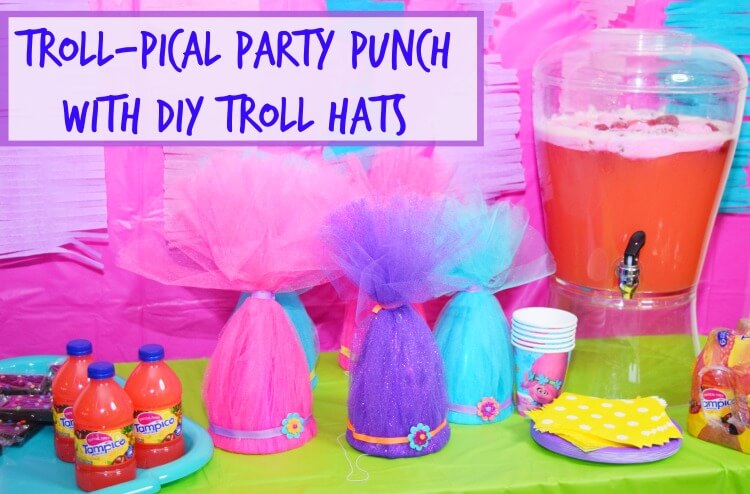 My middle daughter loves the DreamWorksTV's animated series "Trolls: The Beat Goes On." Since I had previously worked with Tampico, I was happy to learn they are partnering with the show and have a "Tampico Flavor Hunt" contest going on to support them. To celebrate the release of the third season coming August 24th, we decided to join the fun with our own Troll party hats and some "Troll-pical Party Punch."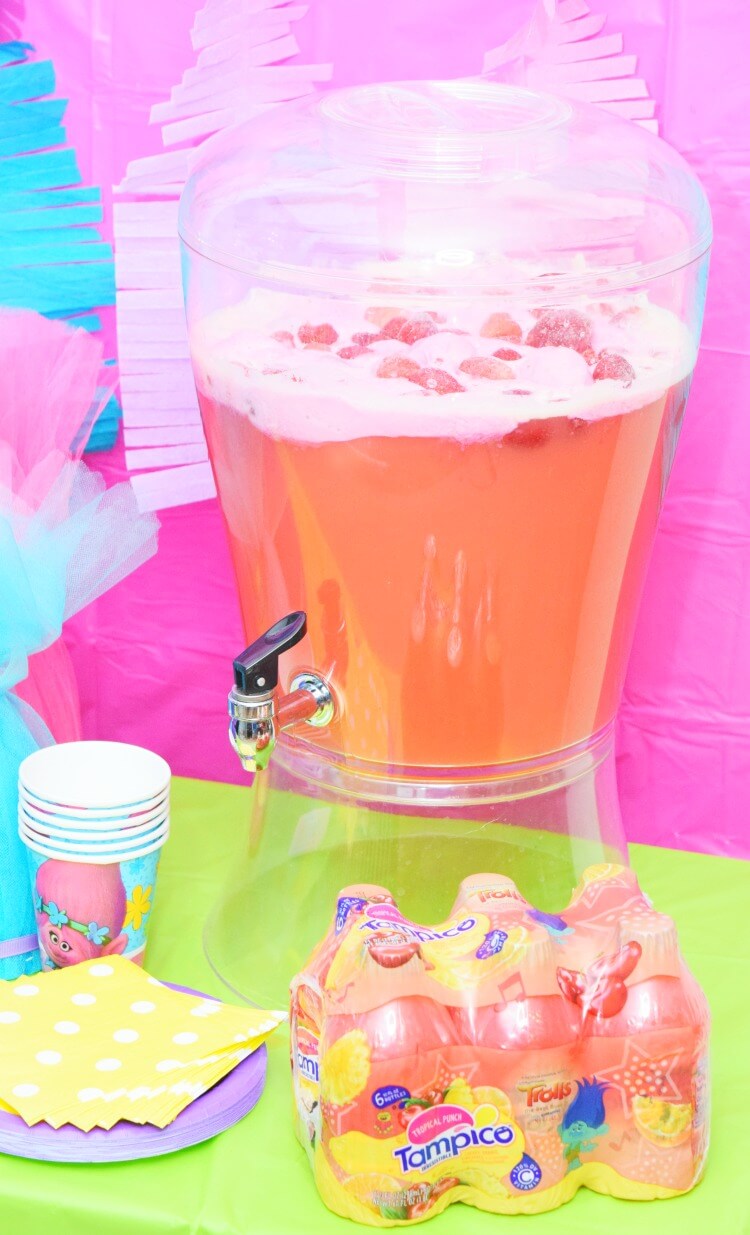 When we were gathering ingredients, we found that Tampico now has a great assortment of Troll themed six packs in Tropical Punch, Citrus Punch, and Blue Raspberry. These are just perfect for snack time, the lunch box, or any time.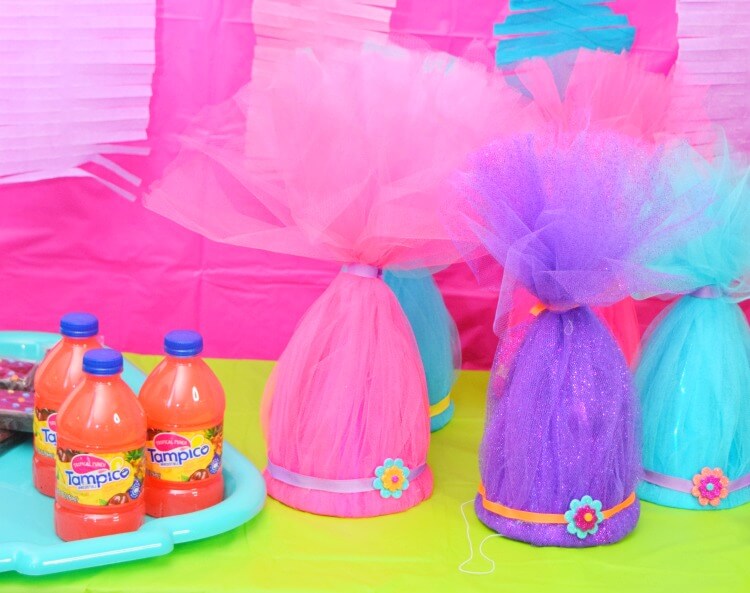 First, we turned some birthday hats into Troll Party Hats.
Troll Party Hats
Supplies:
Solid color birthday hats
1 roll of tulle per 2 hats
1/4 inch grosgrain ribbon
foam flower stickers
glue gun
stapler
Directions: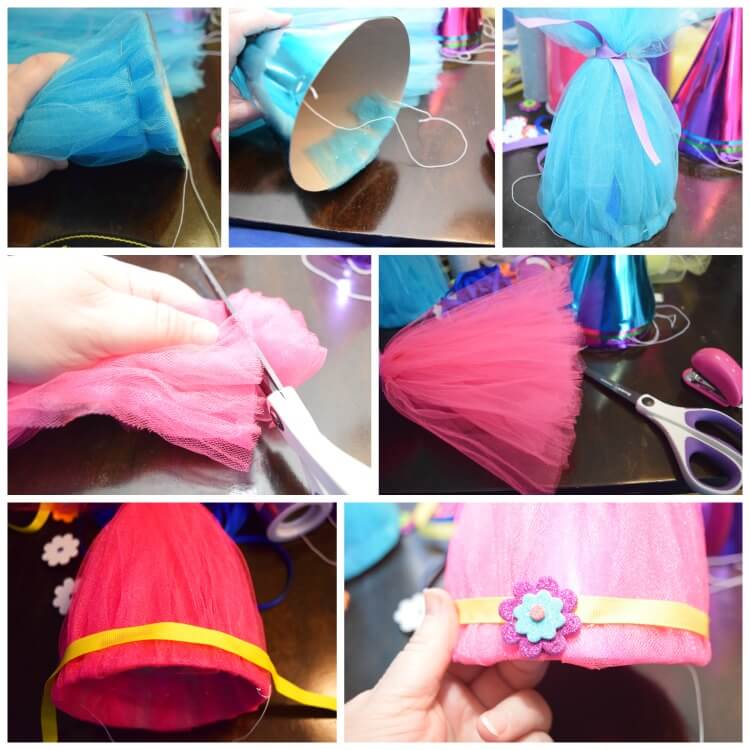 Cut 20 pieces of tulle in 18-inch lengths. I just measured out one 18-inch piece and then unrolled it and measured out 19 more pieces. Then, I cut all the pieces at one time.
Next, I used the same color party hat as the tulle. I folded under about 1.5 inches of the raw edge of a piece of tulle under the party hat edge and stapled it and went around the entire hat this way. With extra pieces, I added them around the same way to bulk up any part that looked thin.
Then, I took a small piece of ribbon and tied the tulle just above the point of the hat and added a dollop of hot glue to the knot.
Next, I gave the tulle a "haircut."
Around the staple line, I hot glued a piece of ribbon.
Lastly, I finished off each hat with an off-centered foam flower.
Troll-pical Party Punch
After the hats, we whipped up some Troll-pical Party Punch, and it came out delicious! This is such a great party punch for a kids' party.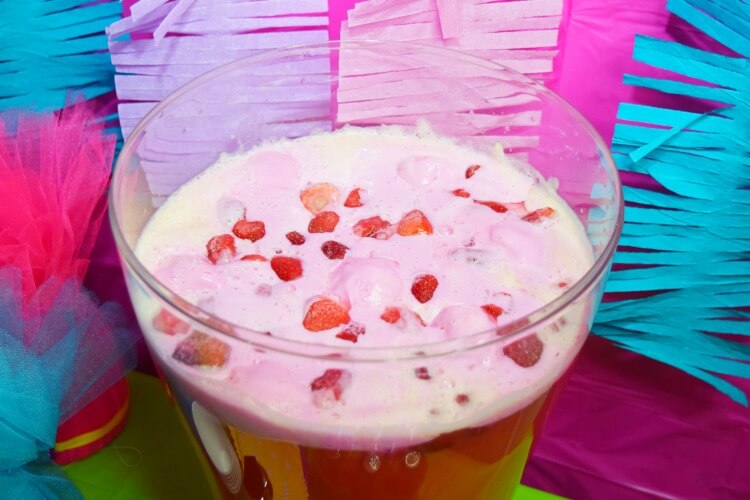 We used Tampico Tropical Punch, pineapple juice, ginger ale, raspberry sherbet, and frozen strawberries. We like to chill all the drinks ahead of time. It doesn't matter what order you add all the drinks, just make sure to add the raspberry sherbet and strawberries at the end.
Print
Troll-pical Party Punch
---
Description
64 oz Tampico Tropical Punch
2 liter ginger ale
46 oz can pineapple juice
24-48 oz raspberry sherbet
16 oz bag frozen strawberries
---
This Troll-pical Party Punch is the perfect addition to any Troll-tastic party! It's fruity and delicious!
---
Chill the drinks ahead of time if possible.
Combine the Tampico Tropical Punch, ginger ale, and pineapple juice in a punch bowl or beverage dispenser.
Mix them together.
Add scoops of frozen raspberry sherbet to the drinks.
Top off with frozen raspberries.
Recipe Card powered by
In partnership with DreamWorksTV's animated series "Trolls: The Beat Goes On," Tampico Beverages is introducing its interactive Flavor Hunt on Instagram! Participants can enter the sweepstakes by finding the Tampico six-packs scattered throughout Troll Village, for a chance to win a $100 Netflix gift card. Don't miss out on all the Flavor Hunt fun, click this link to begin!