Need something fun for the preschoolers? Download our entire bundle of Preschool Alphabet Worksheets from A to Z! This post contains affiliate links.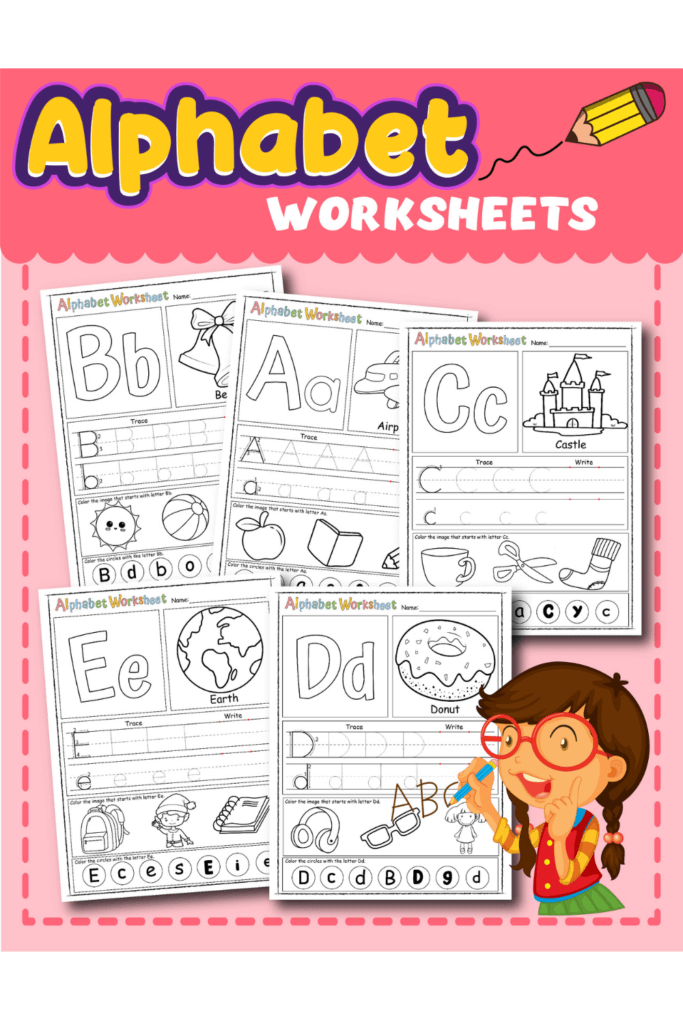 We have homeschooled all of our children since the pandemic. My oldest just graduated high school and got an associates degree at the same time at the local community college.
My youngest just turned 5, so we did a mixture of preschool/kindergarten this past year. We work on these exact alphabet worksheets and do some apps and games that focused on alphabet and phonics. We go to the library a lot, and I read to her a ton.
I don't know if it was the worksheets, and frankly, I'm still totally shocked by this and can't believe it. But, at the age of 4 years old, she taught herself to read. We worked on letters and phonics to an extent, but this girl can seriously read. At first it was sight words, where she memorized them, but now that it's been months of reading, she can read almost anything. We literally quiz her at the grocery store or with signs on the road, and any kind of random thing. It's crazy!
She is obsessed with reading. It's crazy how much she can read and text. It's like something just unlocked in her. I can't even explain it. I swear her motivation for reading was so she could text her big brother and sisters and me. Her biggest thrill is to grab my phone and write out messages to her siblings.
I have always been a huge reader and love reading, since I was a little girl. I probably read over 100 books a year, but none of my other kids have ever fallen in love with reading like me. I'm hoping she might be the one.
What's included in the Alphabet Worksheets?
Each worksheet is a different letter. They each include different activities from tracing and practicing letters to finding pictures that match that letter sound.
I bought myself a binding machine to make my own printable booklets for my kids and myself. It was fairly inexpensive, and I've actually found I use it all the time. My kids can make their own storybooks and I can create cookbooks for my family. It's just perfect to put together this bundle of alphabet worksheets as well as so many others of our printables!
Download the Alphabet Worksheets
This bundle includes 26 pages of activities.
More Preschool Activities
FREE Preschool Printables
Come Join Us!
Liked this article and want more? Follow along on Instagram, Facebook, Twitter, Pinterest, TikTok, and YouTube!
Come over and join us on Facebook in the group Recipes, Crafts, and more with TipToe Fairy or Sewing and Crafting with The TipToe Fairy!
Visit Our Other Blogs!