Bath teas are an easy and decadent bath and body DIY you can make for a gift or yourself like this Milk Chocolate and Rose Bath Tea. You can easily make this tub tea recipe in about five minutes. This post contains affiliate links.
If you're new to making DIY bath products, this recipe is a great starting point because it's so simple to make.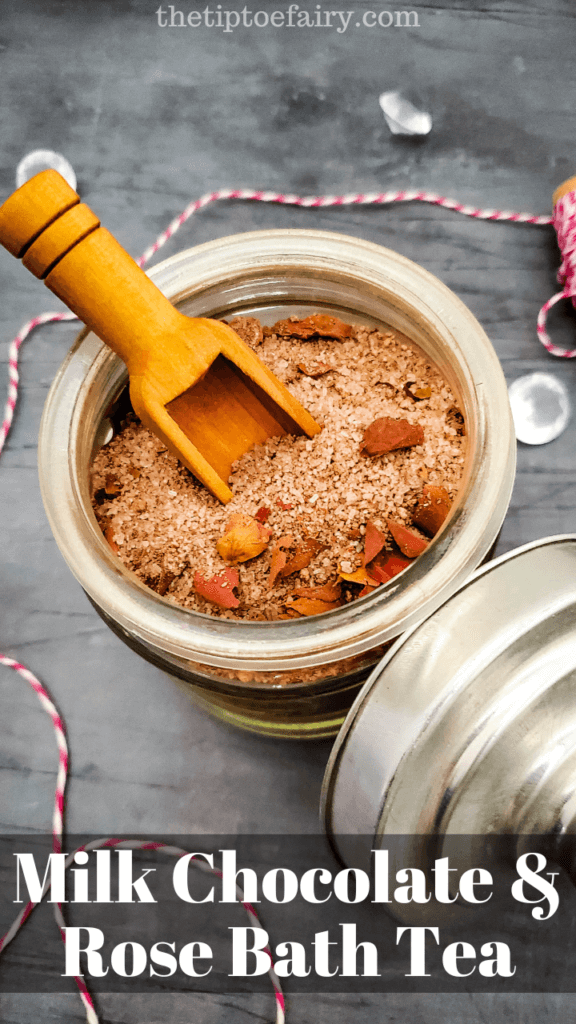 What is bath tea?
Bath tea, also known as tub tea, is a collection of ingredients used to steep in a hot bath to make a skin-benefiting relaxing bath. Usually when you make a bath tea the typical ingredients include herbs, salts, essential oils, and flowers with additions like rolled oats or citrus peels depending on the benefits you're trying to achieve. There are many upsides to taking an herbal bath.
Ingredients for Milk Chocolate Rose Bath Tea
This luxurious bath tea is made with Epsom salt, Himalayan pink salt, powdered milk, cocoa powder, dried rose petals, and rose essential oil to create the most delicious, invigorating aroma and silky smooth skin.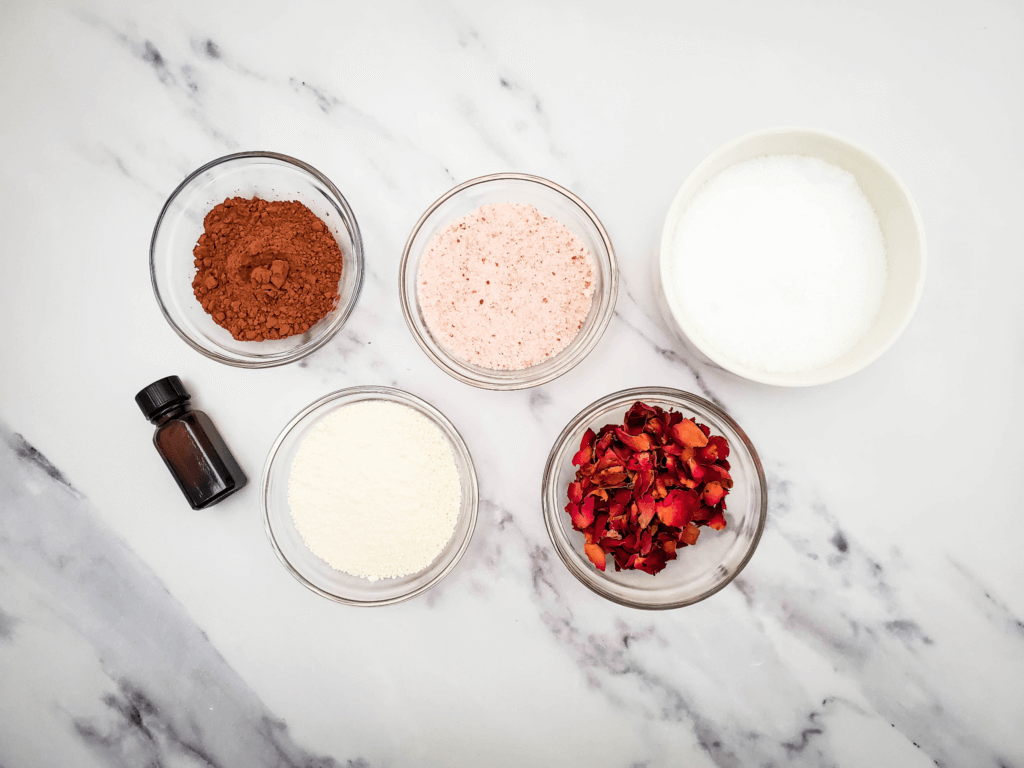 How do you make Milk Chocolate and Rose Bath Tea?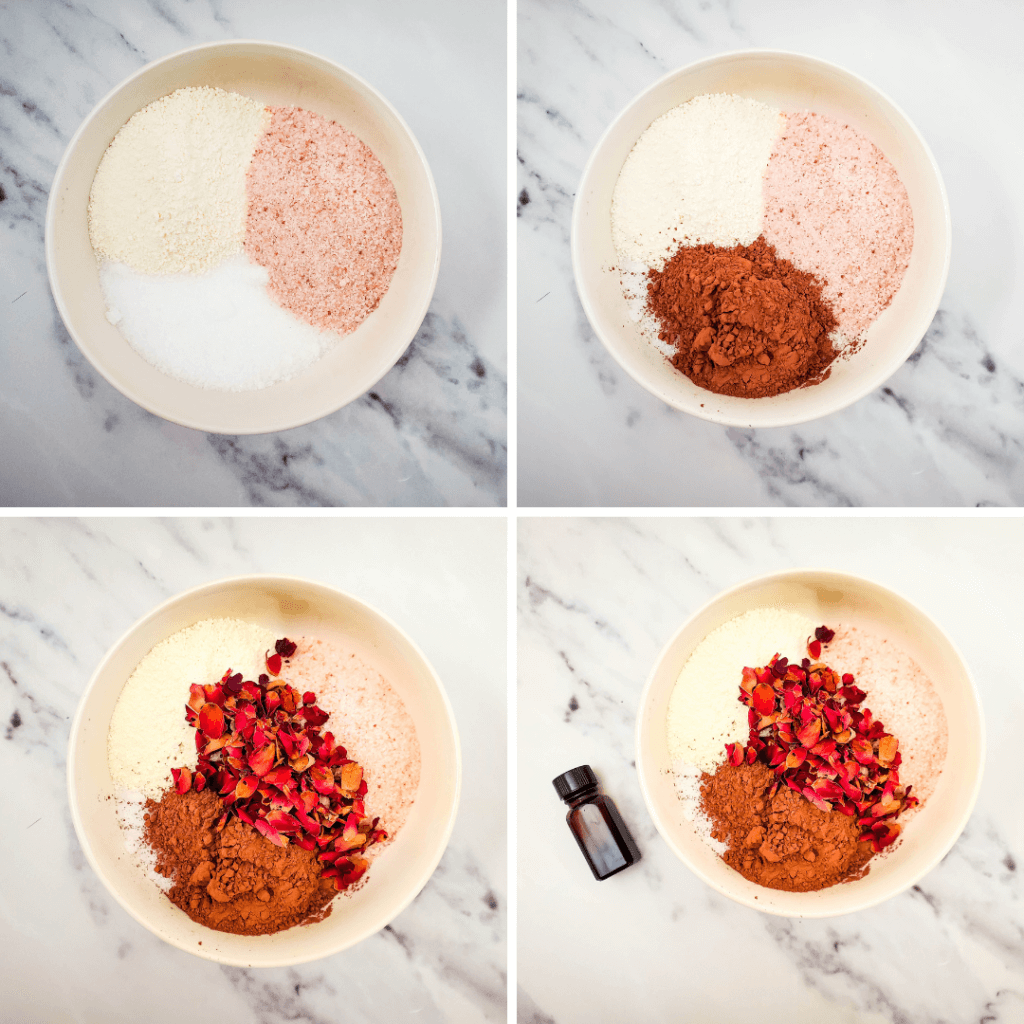 Add all of the ingredients to a bowl, and stir well.
Pour into a jar or other airtight container.
How do you use the Bath Tea in the bath?
You can do this one of two ways:
Place two tablespoons into a tea bag – biodegradable or muslin tea bag.
Hang the tea bag under the faucet so the hot water runs through the tea bag into the bath.
When the tub is full, remove the tea bag and let it float through the tub, continuing to steep in the water.
Or, you can also put the two tablespoons of bath tea directly in your bath.
How do you store a Bath Tea?
Store in an airtight container.
More Ideas to make for Mother's Day
How to make Milk Chocolate & Rose Bath Tea
Materials
3/4 cup Epsom salt
1/4 cup Himalayan pink salt
1/4 cup powdered goat's milk
1/4 cup dried rose petals
1-2 tbsp cocoa powder
10 drops rose essential oil
Tools
Mason jar with a lid
muslin tea bags or biodegradable tea bags
Instructions
Add all of the ingredients to a bowl, and stir well.
Pour into a jar or other airtight container.
Come Join Us!
Liked this article and want more? Follow along on Instagram, Facebook, Twitter, Pinterest, TikTok, and YouTube!
Come over and join us on Facebook in the group Recipes, Crafts, and more with TipToe Fairy or Sewing and Crafting with The TipToe Fairy!
Visit Our Other Blogs!