Have you ever sewn a Microwave Heated Corn Bag? These things are amazing! They use deer corn as the stuffing, and you heat up in the microwave. It works wonders for all kinds of aches and pains, including menstrual pain, too. Our whole family LOVES these things. This is a sponsored post.
My oldest daughter is growing up so fast. Next year she's going to be a senior, and then it's off to college. She has a very busy schedule which usually involves studying for her early college courses or winterguard practice and competitions on the weekend. Usually she has a free day at least once or twice a week, so we get to hang out together. Sometimes we watch our favorite shows and other times we do fun beauty stuff together.
The other day I was at Walmart and saw the new limited edition animal print Bioré Deep Cleansing Pore Strips. They are exclusive to Walmart, and I thought they would be perfect to put in a DIY Spa Kit for both of us to do together. My daughter loves animal prints, especially zebra, so she was excited to see these. These prints make cleaning your face a little bit more fun!
I put together some of our favorite things in the spa kits from nail polish for our toes to corn bags to these exclusive Bioré Cleansing Strips. We both love how well they clean out our pores.
In just 10 minutes, you can tame your wildest pores! They are able to get all the gunk out of clogged pores to get the deepest clean. With continued use, they can even reduce the visible appearance of pores. We both have a weird little fascination with pulling it off and looking at all the stuff that just came out of our pores.
For our spa kits, here's what I put together:
Bioré Cleansing Strips
nail polish
nail polish remover
gel bead masks
several peel face masks
DIY corn bags
Have you ever used a corn bag? We first found them at a fundraiser for my youngest daughter's school. One of the teachers was selling them. We bought one, and everyone in our family just loved it (and fought over who was going to use it next). So, I had to make a few more. These are super easy to make.
Supplies
1/3 yd of cotton flannel fabric
4 cups of organic non-popping corn
thread
Cut the 1/3 yd of fabric to 12 inches x 27 inches wide. (Save the excess piece to make smaller rice bags — DIY coming soon!)
Then, fold it lengthwise in half.
Sew the long side and one short side with a straight stitch. Keep one side open to fill with corn.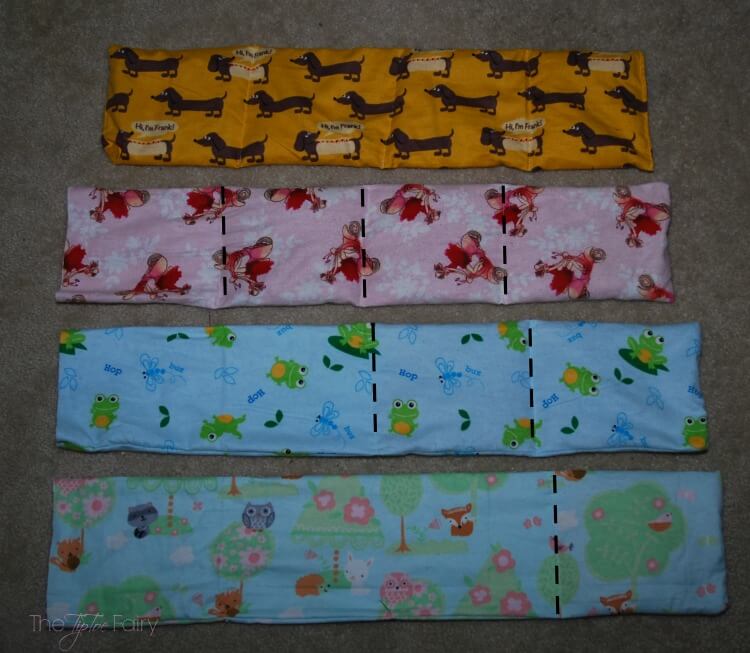 Divide the bag into fourths. I mark each fourth with a pin on the side.
Add 1 cup of corn, then sew up a fourth. Then, add another cup of corn, then sew up the second fourth.
Continue adding a third cup of corn and sewing the fourth, and then add the last cup of corn.
On the last fourth, fold in the raw edges inward, and sew a straight stitch closed.
I like to buy organic whole kernel corn to make corn bags. You need to buy corn that is not for popping because when you heat it in the microwave, you don't want it popping up like popcorn. The corn you want to buy is for feed for animals. Often, you can find it at Walmart or other stores labeled as "deer corn."
Lastly, you'll want to sterilize and dry out the corn inside the bags. To do this, heat one corn bag in the microwave on a dry paper towel for 2-3 minutes. When you remove the bag, check the paper towel and see if it shows moisture. If so, then heat the corn bag for an additional 2-3 minutes.
These corn bags are perfect for all kinds of aches and pains. Just pop it in the microwave for 2-3 minutes. They are amazing for menstrual cramps. My teenager and I both love to heat one up and put it on our laps while we watch television. It's a great way to keep yourself cozy.