This is the second part in my Rainbow outfit tutorial. It is a super easy headband with a knit rosette. I just love these. They come out so adorable and take just minutes to whip up.
You can make these in your sleep, they are so easy. You can even make this No Sew if you want.
Knit Rosette Elastic Headband Tutorial
Materials
1/2 yd ruffled elastic
2 x 18 inch piece of knit fabric
glue gun
1. Cut a piece of knit fabric approximately 2 inches x 18 inches from your leftovers from this rainbow set. This pink fabric is what I made the shorts that are under the skort.
2. Fold the raw edges together like so.
3. Heat up the glue gun. Begin twisting the fabric. Put a drop of hot glue at the end and then twist it.
4. Continue adding droplets of hot glue along the way as you twist and roll the fabric into a rosette.
5. Once you have twisted, rolled, and glued, leave about 1 inch undone. Take that piece and fold it back and glue it to the back of the rosette.
6. Take your ruffled elastic and measure your child's head and minus 1 inch. I found 1/2 yd worked perfect. You can overlap the ends and sew it closed or you can just use hot glue. I made headbands both ways, and for a toddler/baby, hot glue works just as fine. (Now for an older child, I would definitely sew it closed.)
7. Hot glue the rosette to the elastic headband. I glued mine a little off center so the seam where I joined the elastic would be hidden in the back of her hair.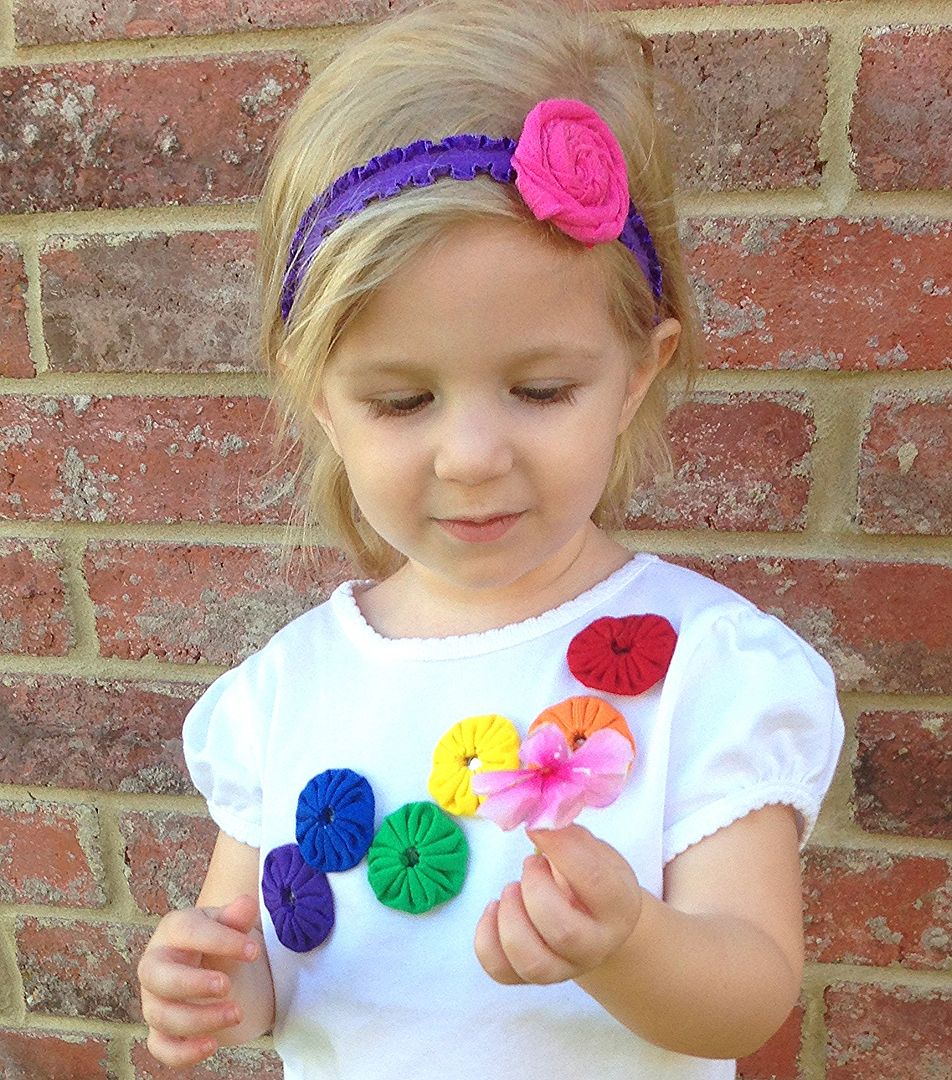 Don't forget to check out the rest of this series.
Part 1
is the Yo-Yo embellished t shirt. Part 3 – Coming in the next couple days – is the rainbow skort.