I've been in a rainbow mood lately. First it was rainbow cupcakes, now I'm creating rainbow outfits. I'm not sure what will be next. Rainbow hair, maybe? My 13 year old would be thrilled if brightly colored hair was allowed at school. Truthfully, I've been missing my hot pink hair lately, too.
This little outfit came out of my sewing hoard. I have too much fabric. I should probably take a picture, or rather pictures, to show you my ginormous fabric stash. But I'm lazy, I'll do that later. This all started last week when I was attempting to clean up another section of my sewing room. It's just too full and hideous. I need about 14 more bookshelves to hold everything, I think.
I found I had one of those giant ziplock bags full of thrift store t shirts, purposely bought in a rainbow of colors. Plus, I had a stack of solid color knit fabrics all in a rainbow of colors, too. I decided something rainbow was going to be made to move some of that stuff out of there.
Voila! I give you the Rainbow Sparkly Yo-Yo T Shirt.
This top is very easy to embellish. It's a store bought t shirt. I used leftover pieces of fabric from the skort (tutorial coming in part 3) to create the yo-yo's, which I then appliqued to the top. I'm not sure if you can determine in this particular picture, but I added a clear rhinestone to the center of each yo-yo to add some sparkle. In the words of my 3 year old, "Little girls love sparkle, ya know." (I have no idea why she ends everything with "ya know." None of us says that.)
Rainbow Sparkly Yo-Yo T Shirt Tutorial
Materials
1 t shirt
a circle template – such as a saucer or lid, etc.
6 different scraps of fabric – each 4-6 inches in diameter
rotary cutter
thread
needle
Heat n Bond Ultra (the no sew type)
Iron
Rhinestones
1. Find a good circle template. I choose these two, but decided to go with the purple lid. It was approximately 4 inches in diameter, which made perfect-sized yo-yo's for a toddler t shirt.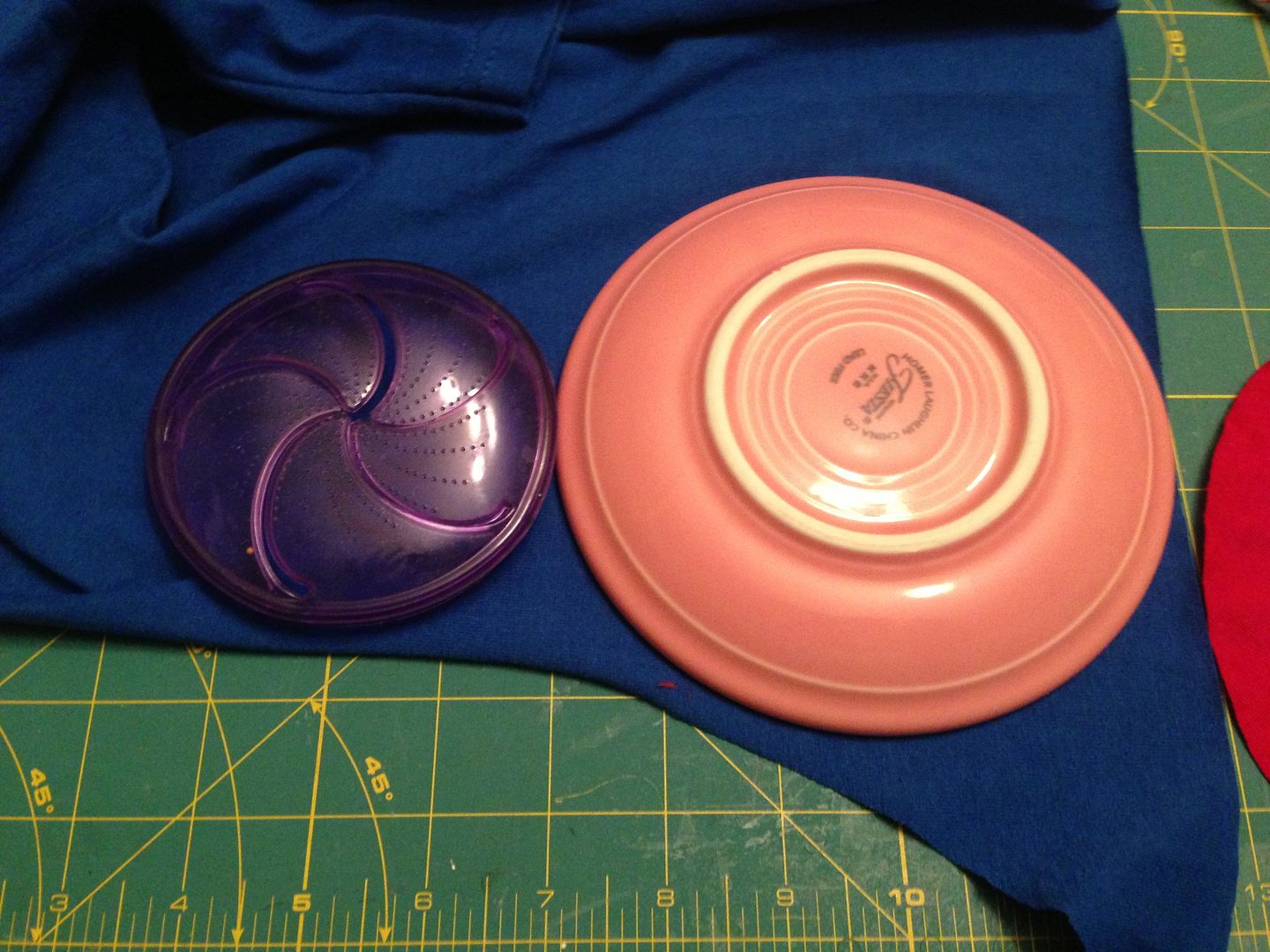 2. If you are wanting the rainbow theme, the 6 scraps should be one of each color – red, orange, yellow, green, blue, and purple.
Using a rotary cutter (instead of scissors) is easier to cut the circles. Cut all six colors into 4 inch circles.
3. This is the part you can sit and do in front of the television.
Thread a needle (and technically, the thread does not have to match because it's totally hidden. this is why I used black, so it would show up in the pictures.)
Then fold over about a tiny hem about 1/4 inch from the edge and begin sewing a gathering stitch all around the circle. The longer your stitch is, the tighter your gathers will be and the smaller your center hole in the yo you will be. If you take shorter stitches, the hole will end up larger and your yo-yo will not be as gathered. I took long stitches.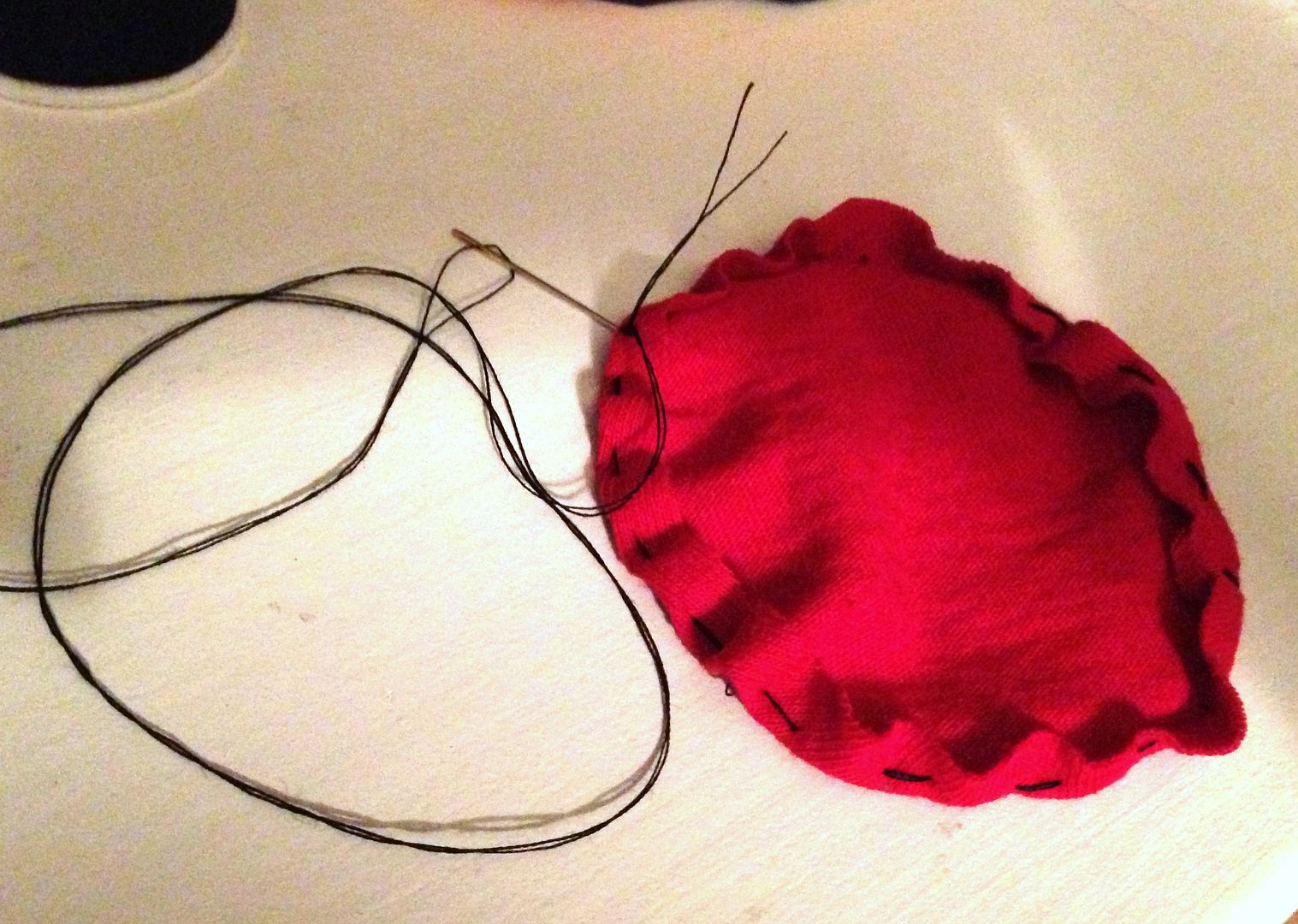 4. Now you will pull both ends of the thread to get your stitches tight, and in doing so, you will push and fold over the edge you were sewing so that it's hidden on the inside of the yo-yo, like the picture below. Tie off your knot discretely in the hole.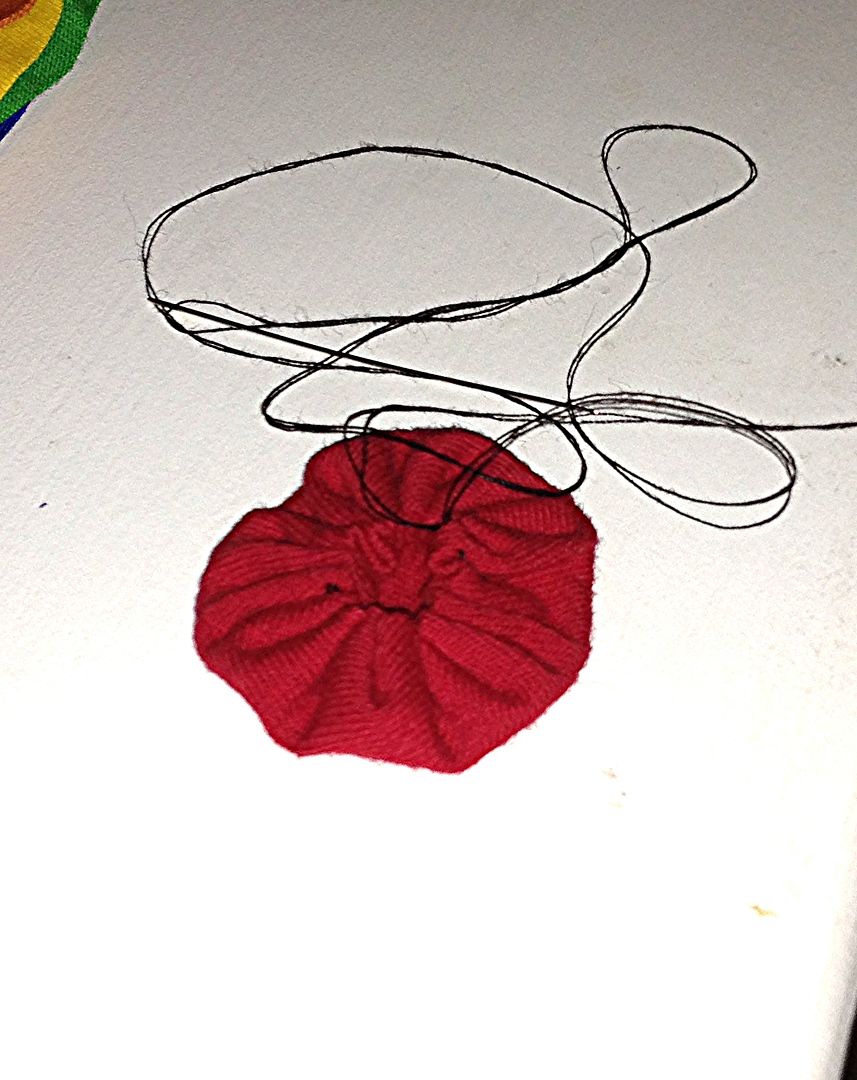 5. At this point, flatten each yo-yo out just a bit and make sure the gathering hole is centered well in each yo-yo.
6. Next, cut small circles of Heat n Bond (I recommend Heat n Bond Ultra for this project) to fit the back side of each yo-yo and apply with an iron following the directions.
7. Remove the paper backing from each yo-yo, then decide the placement on the t shirt for the yo-yos. I chose a staggered look coming from the shoulder in the ROY G BIV colorway. Then, by following the Heat N Bond directions, use your iron to apply them to the shirt.
8. Next, take clear rhinestones and using E-6000 glue (because it will go through the washing machine), apply a tiny amount to each back and apply to the center of each yo-yo.
My rhinestones were about 2.5 to 3 mm in size. The package did not have an exact size. You might need smaller or larger rhinestones if you ended up with smaller holes than me. Allow to dry overnight before wearing.
Don't miss out! There are two more parts to this series. The next part in the series is the headband tutorial which will be up by 8/2, Friday morning.