[disclaim]This post may contain affiliate links. [/disclaim]
It's time again for the Peanut Butter Bash! This time our ingredients were Peanut Butter and Ritz crackers. I cheated a little and instead of plain peanut butter, I used peanut butter chips. But, you're going to love this quick little dessert. There's a reason it's called cracker crack!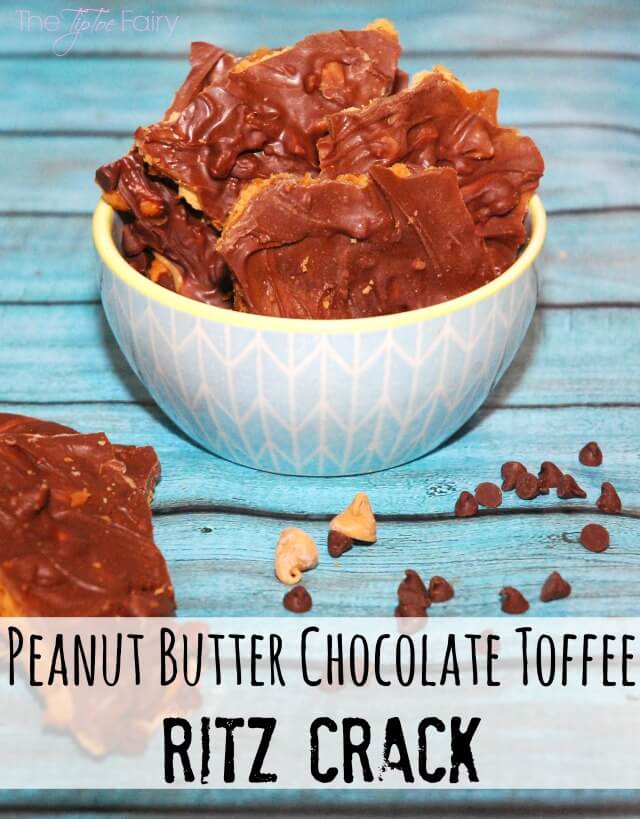 Do you use a toaster oven? My mom did a lot of cooking in the toaster oven when I was growing up to avoid heating up the house with the big oven. When I grew up, I got my own toaster oven. I make all kinds of things in it from fish sticks to cookies to even…toast! My husband thinks I'm crazy because he thinks we just need a plain ol' toaster, but…he's not the one cooking.
If you've never had a toaster oven, my mom says Breville are the best. She loves hers and keeps asking me if I want one. We got our toaster oven as a wedding gift more than six years ago. It's not a Breville, but it's decided it doesn't like broiling anymore, so I have my eye on moving to a convection oven just to see if I like it better than the toaster oven. You have to see how cute these KitchenAid convection ovens are.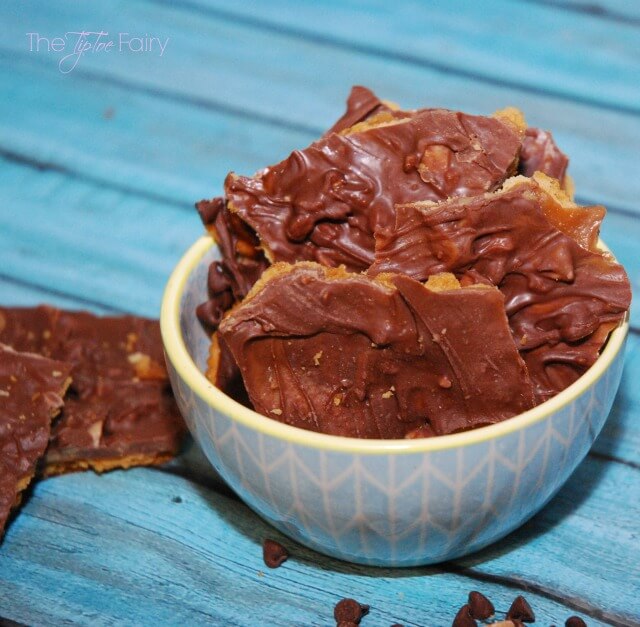 Since I love baking in my toaster oven so often, I have tiny little pans to go with it. They fit just perfectly. A basic little cookie sheet is just perfect for making this small batch of Ritz cracker crack.
Tip: If you are going to make this recipe in the regular oven, I suggest doubling it.
Print
Chocolate Peanut Butter Ritz Crack
---
20

Ritz crackers

1/2 cup

brown sugar

2 tablespoons

whipping cream

4 tablespoons

butter

1/2 cup

chocolate chips

1/2 cup

peanut butter chips

1/2 cup

toffee chips
---
Preheat oven to 400 degrees.
Lay out a piece of foil onto cookie sheet and spray it with nonstick cooking spray.
Lay out 25 crackers on the toaster oven size cookie sheet. Then, set aside.
Combine sugar, cream, and butter and microwave for 5 minutes.
Carefully remove hot sugar mixture from microwave and stir it up and pour all over the crackers.
Work quickly and spread it around all the crackers.
Put the cookie sheet in the toaster oven for 5 minutes. The sugar mixture will bubble.
Pull the cookie sheet out and sprinkle the peanut butter chips, toffee chips, and chocolate chips all over the crackers.
Wait about 2-3 minutes until they have started to melt and spread them all over the crackers to completely cover them.
Place the cookie sheet in the freezer for 30 minutes.
When chocolate has hardened, use the end of a utensil to break up the crack into pieces.
Serve and enjoy!
Recipe Card powered by
Make sure to lay a piece of foil in the pan and spray it with olive oil spray. It makes it so much easier to get the crack out of the pan.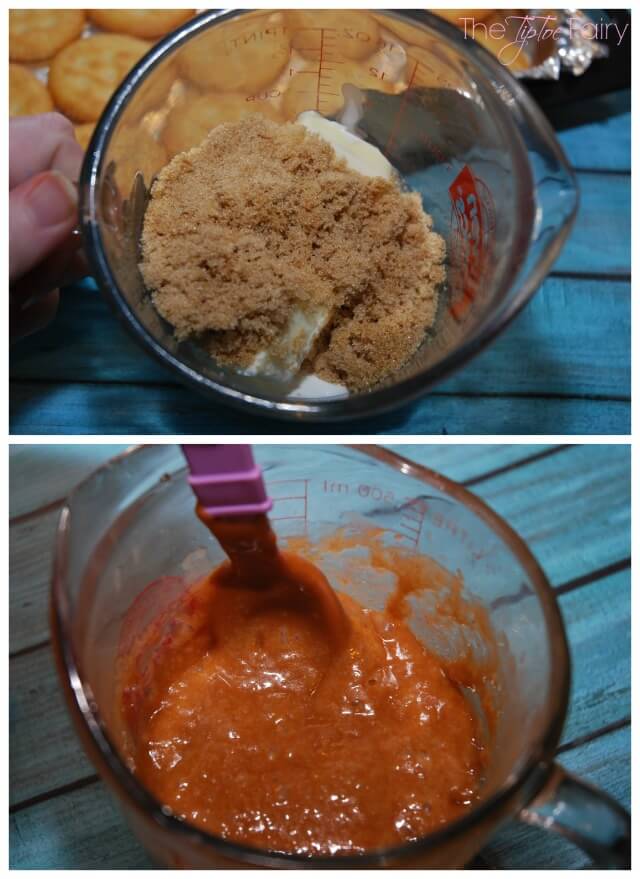 I've seen other people make the caramel on the stove for the crack, but I love using the microwave to do it, like in my Microwave Pecan Pralines. No stirring or getting burned. It's just so easy!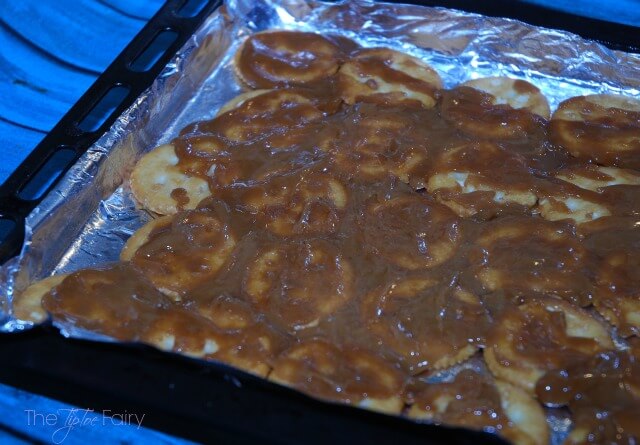 As soon as the caramel is out of the microwave, you have to work quickly before it cools. I thought I was fast, but I could feel it thickening as I was pouring all over the crackers. Spread it quickly!
Pop the pan into the toaster oven and let it bake for about 5 minutes. When you pull it back out, you should see a bit of the caramel bubbling.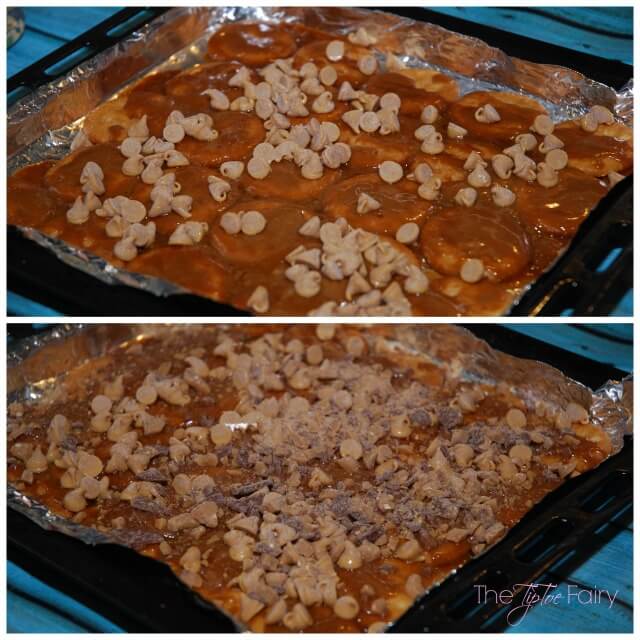 You're done with the hardest part! Next, just sprinkle on the peanut butter chips, toffee chips, and chocolate chips. Then, give them a few minutes to melt from the heat of the pan.
Next, it's time to spread them melted chips all over the crackers. Find a place in the freezer for them to cool quickly, and it's ready to go in 30 minutes.
Just break up pieces about 2 x 2 or 2 x 3 inches in size for some heavenly snacking. It's perfect with a glass of milk for a Netflix binge! This Ritz cracker crack is seriously better than any candy. My teenager hides this stuff from her brother and sister when I make it.

If you're a blogger and would like to join the Peanut Butter Bash. You can do so HERE. If you're looking for some great Peanut Butter recipes, join our Facebook group HERE.
Here are the other peanut butter and Ritz cracker creations!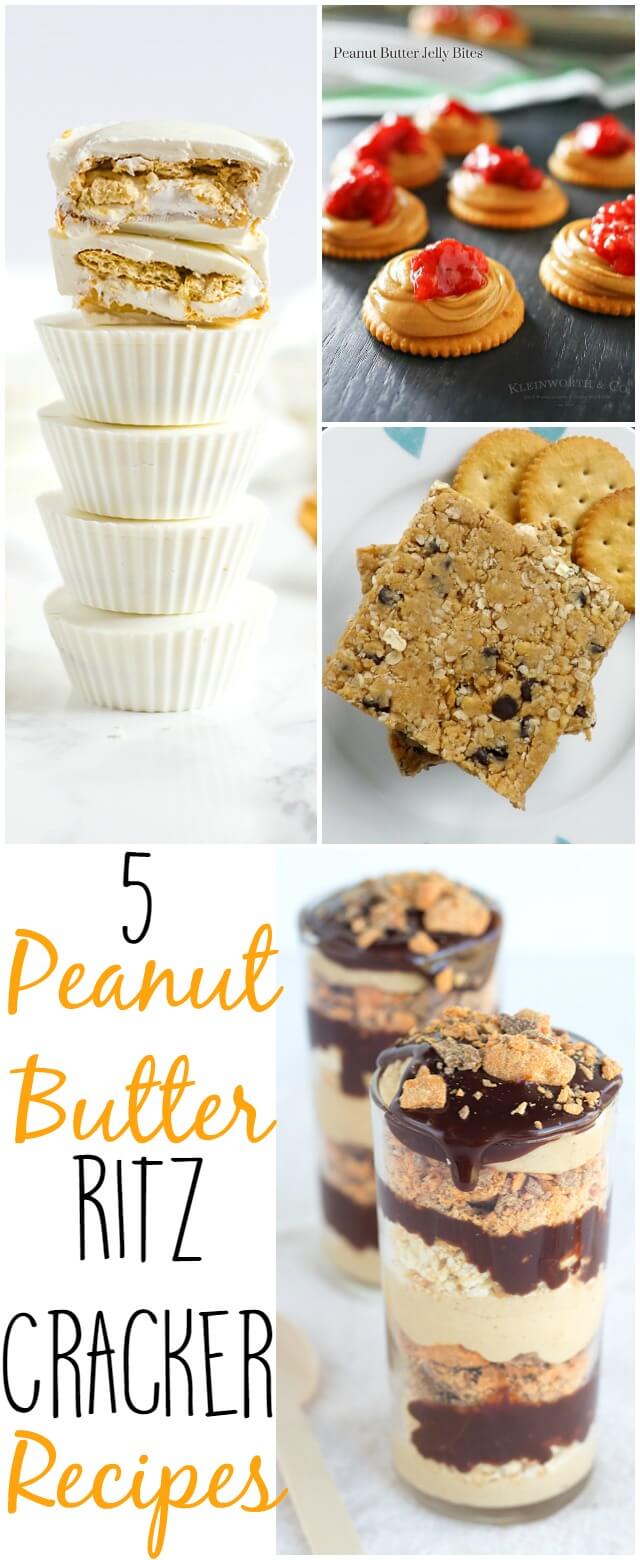 Chocolate Peanut Butter Crunch Trifles from Miranda of Cookie Dough and Oven Mitt
Peanut Butter Jelly Bites from Gina of Kleinworth & Co.
No Bake Peanut Butter Ritz Cracker Breakfast Bars from Emma of Bake Then Eat
Ritz and Marshmallow Fluff Peanut Butter Cups from Amanda of A Cookie Named Desire
Peanut Butter Chocolate Ritz Crack from Stephanie of The TipToe Fairy
Want even more peanut butter recipes? Try these: