This post and recipe were sponsored by Perdue. Perdue provided me with free product and compensation in exchange for an original recipe. All comments, thoughts and reviews are my own.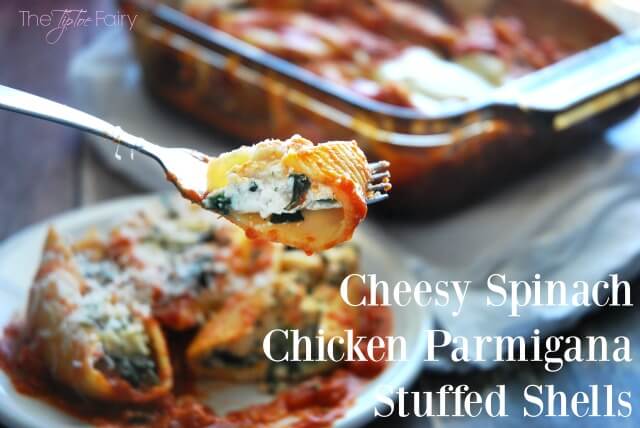 Quick Weeknight Dinner
I love being able to have dinner done, start to finish, in about an hour. I fly by the seat of my pants, so I don't always have dinner planned until I start making it. This is why I love keeping fully cooked chicken in the freezer. It saves so much time! I just made a batch of Stuffed Shells Cheesy Spinach Chicken Parmigiana that was out of this world.
Perdue Simply Smart
I recently discovered Perdue Simply Smart. They have frozen fully cooked chicken, and it's flavors you can feel good about feeding your family.
Simple Ingredients
Simply tastes great
Simply Nutritious
Simply Put: No Antibiotics Ever
It's all white meat and tastes amazing! It's tender, juicy, and I love serving these to my kids knowing there are no antibiotics in these chickens.
How to make Cheesy Spinach Chicken Parmigiana Stuffed Shells
Stuffed shells are a favorite around here as well as chicken. So I decided to combine the two and add some healthy spinach to get some veggies in them. This dish takes minutes to put together, and then in just 30 minutes, you have a delicious meal your kids will totally enjoy.
While you're cooking the pasta shells, go ahead and heat up the chicken strips, Then combine them with spinach and ricotta for the filling. When the pasta shells have cooled, fill each one with a spoonful of the filling.
Layer them in a baking dish with a layer of spaghetti sauce on the bottom.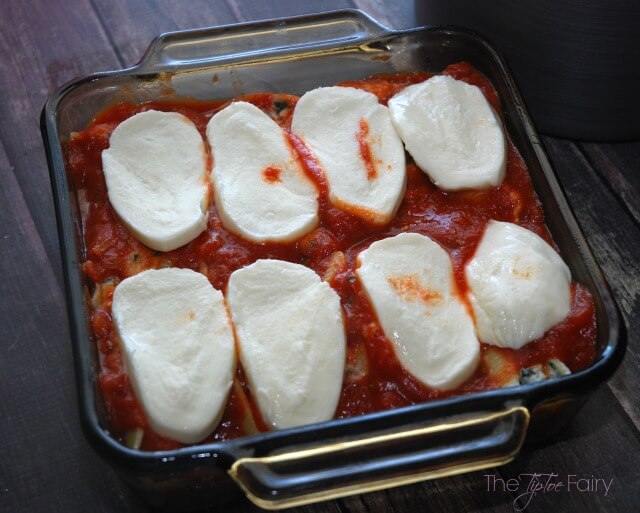 To finish them off, add a second layer of spaghetti sauce on top and then top off with fresh mozzarella slices. I love using the fresh mozzarella instead of low moisture. I think it melts better.
Bake for about 30 minutes, until the cheese is bubbly, then let it cool before serving. Your family will love this dish!
More Easy Chicken Recipes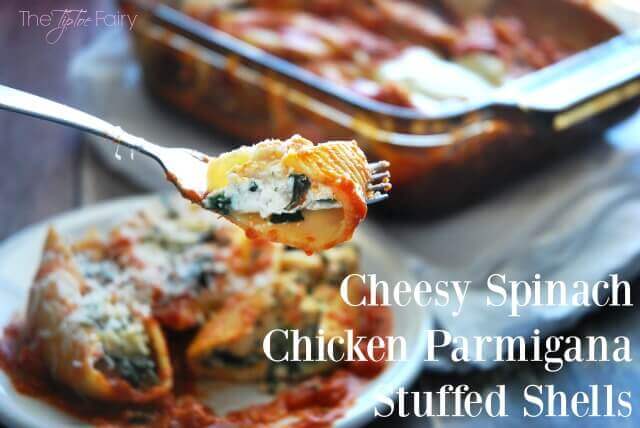 Stuffed Shells with Cheesy Spinach Chicken Parmigiana
Ingredients
1 box stuffed shells
1 cup frozen spinach
8 oz ricotta cheese
1 jar spaghetti sauce
fresh mozzarella
5-6 Perdue Simply Smart fully cooked chicken breast strips
Instructions
Make the shells according to the box. Drain and then add a little olive oil to keep them from sticking together. Set aside.
While the shells are cooking, set out a bag of frozen spinach to defrost.
Heat up the chicken breast strips according to the package. Then, dice them into small pieces.
Mix up the diced chicken, ricotta cheese, and 1 cup of spinach.
Preheat oven to 400 degrees.
Spray a casserole dish with olive oil spray
Pour enough spaghetti sauce to cover the bottom of the pan (about half).
Fill each jumbo shell with a spoonful of the ricotta mixture and then place into the casserole pan.
When the casserole dish is full, cover the shells with the rest of the sauce.
Top with slices of fresh mozzarella.
Bake for about 30 minutes or so until cheese is bubbly. If you want to brown the cheese just a little, turn the broiler on for 1-2 minutes.
Allow to cool for a few minutes before serving.