I have a fun tutorial for an American Girl doll. This is a doll fairy wand tutorial. With a little help from a grown up, your kids will have a blast making these.
Supplies
2 small pieces of cardboard or card stock
Roll of tulle
6-inch piece of 1/4 inch dowel rod
acrylic paint
paint brush
round elastic
a couple of ribbon scraps, about 6 inches
tiny bells or trinkets
hot glue gun
Directions:

1. Cut two circle donut shapes out of cardboard or card stock. These need to be about 3.75 inches in diameter and the middle hole should be about 1-inch wide. They do not have to be perfect, just as close in size as possible.
2. Place the two donuts together on top of each other, so it looks like one. Then, take a 2-yd length of tulle and wrap it around the donut.
3. Next, take scissors and cut the tulle all around the edge.

4. Now the cardboard and tulle will look like a puff ball.
5. Cut a piece of tulle about 6 inches long and insert it between the two pieces of cardboard and tie it tightly around all the tulle. Snip the edges to be the same length as the puff ball.
6. Remove the cardboard donuts.
7. Cut a 1/4-inch dowel rod into 6-inch wand pieces.
8. Paint the 6-inch wand piece and allow to dry.

9. Glue 2 pieces of 6-inch ribbon in a cross.
10. Glue bells to one of the ribbons.
11. Glue the center of the ribbons to the very top of the wand piece.
12. Look for the knot where the tulle was tied in the middle of the tulle pom pom. Add some hot glue and attach it to the top of the wand. Then, rearrange the fluff to hide it.
13. Cut a 3-inch piece of round elastic. Tie a knot, then attach it with hot glue by the knot about 1 inch above the bottom of the wand. Allow to dry.
14. When attaching it to the doll hand, pull it to the side like the picture above, so it will form 2 loops. Slide both loops onto the hand.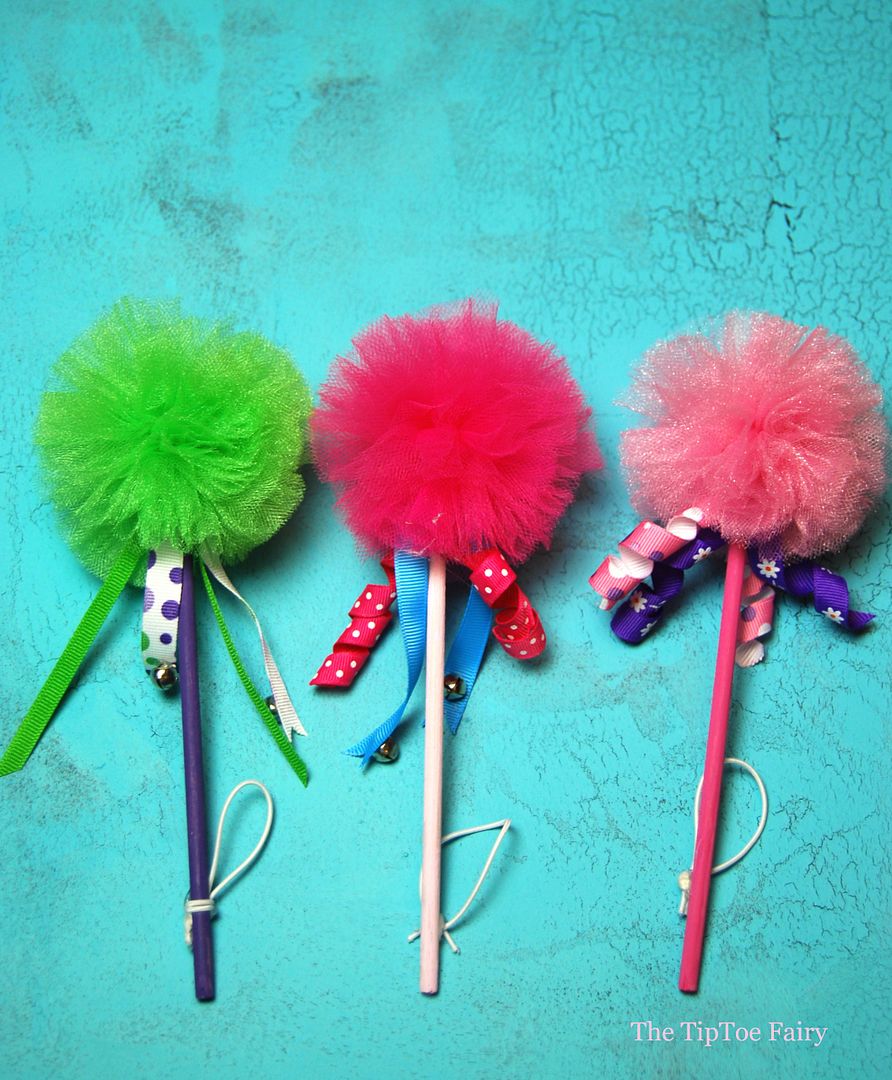 Now that you've made a fairy wand, try a pair of fairy wings or a tutu to complete the outfit!