This shop has been compensated by Collective Bias, Inc. and its advertiser. All opinions are mine alone. #SendHallmark #CollectiveBias
Remember how I made the Santa Hat out of a tomato cage a few weeks ago? Today I've got a Christmas Card Tree made from a tomato cage. It lights up and is perfect to display all your lovely Hallmark cards.
Here are the supplies I used:
1 tomato cage – 36 inches tall
2 rolls of 21-inch deco mesh
1 package of pipe cleaners
Ornaments & picks
1 box of mini lights
twine
mini clothespins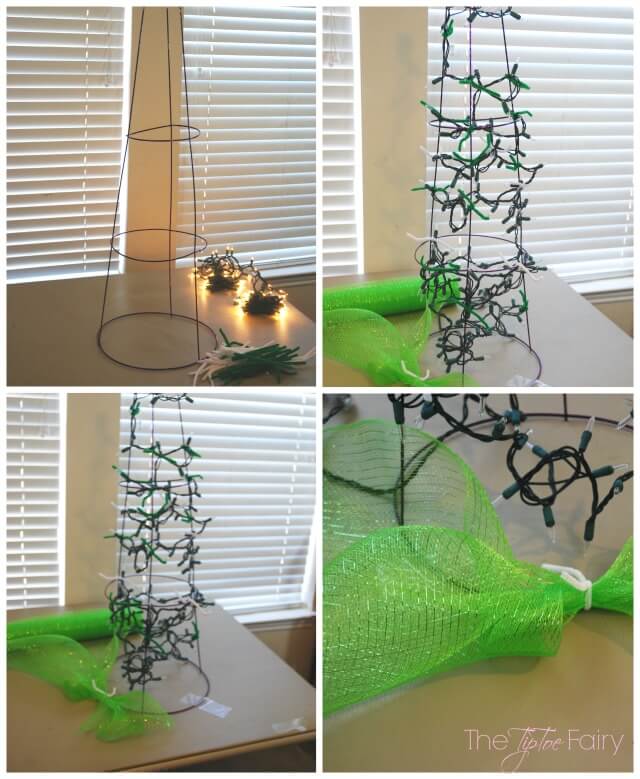 I cut my pipe cleaners in half before I started. Then, I began at the top and wrapped my lights all the way down the tomato cage.
Next, I started the deco mesh at the bottom and tied about 6 inches from the raw edge to the tomato cage bottom.
Instead of making poofs like you normally do when making deco mesh wreaths and decor, I twisted the deco mesh. I would twist it and then wrap it around. I would wrap an entire twisted section around and then attach it randomly with a pipe cleaner. I love this method because you really don't need to attach it but just one every other loop around or so.
Twist about a 2-foot length and then wrap it around, and then attach it at random places. Don't attach it at the same spot when you loop around because that makes it easy to create holes.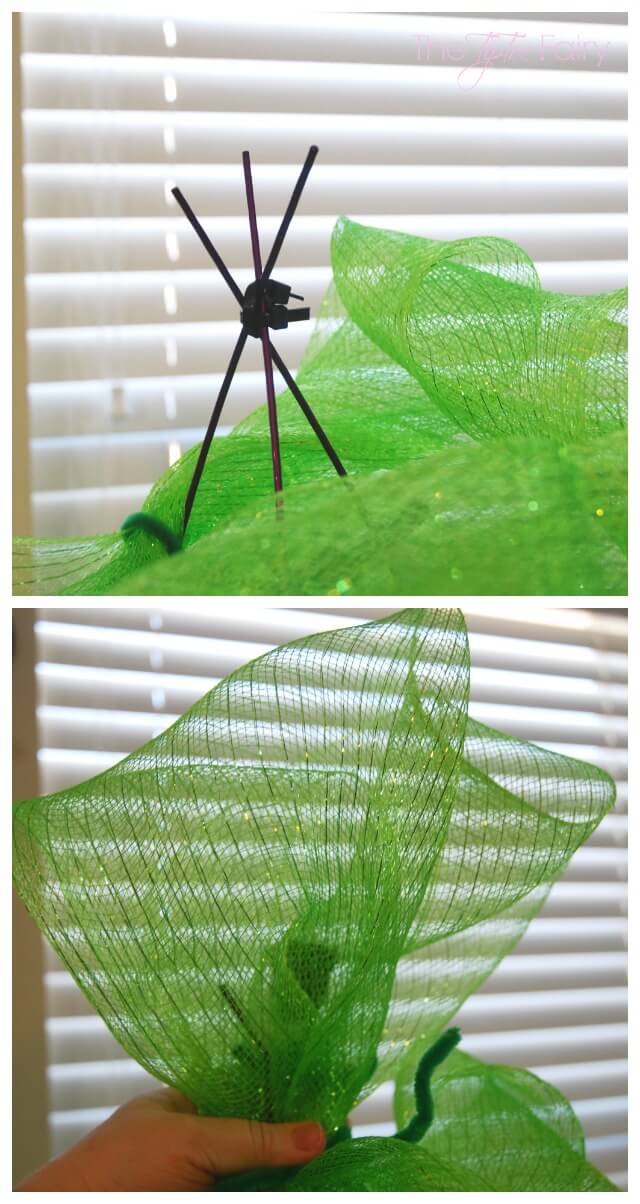 When I was almost to the very top with the deco mesh, I took two zip ties and fastened the points of the tomato cage together.
Then, instead of a twist, I made a loop of deco mesh and fastened it with a pipe cleaner over the points and zip ties to hide them. I had about a 1-foot section left to twist and wrap under the top loop.
Next, I fluffed up the deco mesh to make sure there weren't any holes, and then I started decorating it. You can use regular Christmas decorations. I like using picks for making wreaths. They work great because you can stick them through the deco mesh holes.
Once I had finished decorating it, I wrapped twine loosely around the tree. I tied the raw edges to the top and bottom of the tomato cage inside the deco mesh. Then, I attached mini clothespins at various spots on the twine, so I can easily just hang a Christmas card.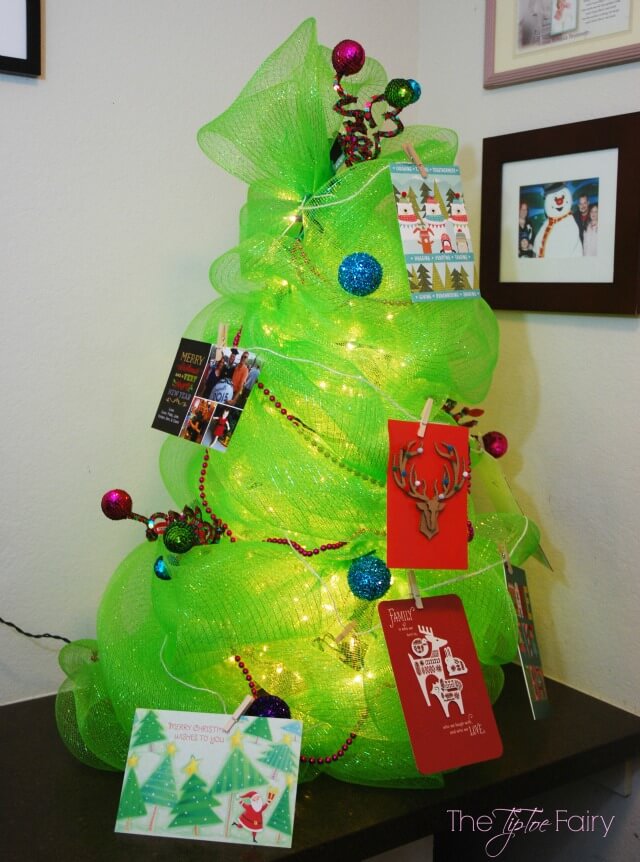 We have a tech center, which is basically a built in desk in the bedroom hallway with the kids' computer. It had a perfect spot to display my Christmas cards on my little tree. Now I have a little Christmas decor down the hallway.
I love sending cards to family and friends, so I picked up a few Hallmark cards at Walmart.My favorites are the embellished and three-dimensional ones. I can never pass those up!
I also found an at-shelf coupon for Hallmark. You can get $2 off a 3-card purchase! Look for it when you're picking up your Hallmark cards!
You can send a little cheer this holiday season with Hallmark when you find the perfect Hallmark greeting cards for your friends and family. Hallmark cards are great for any occasion or just because to send to someone you love!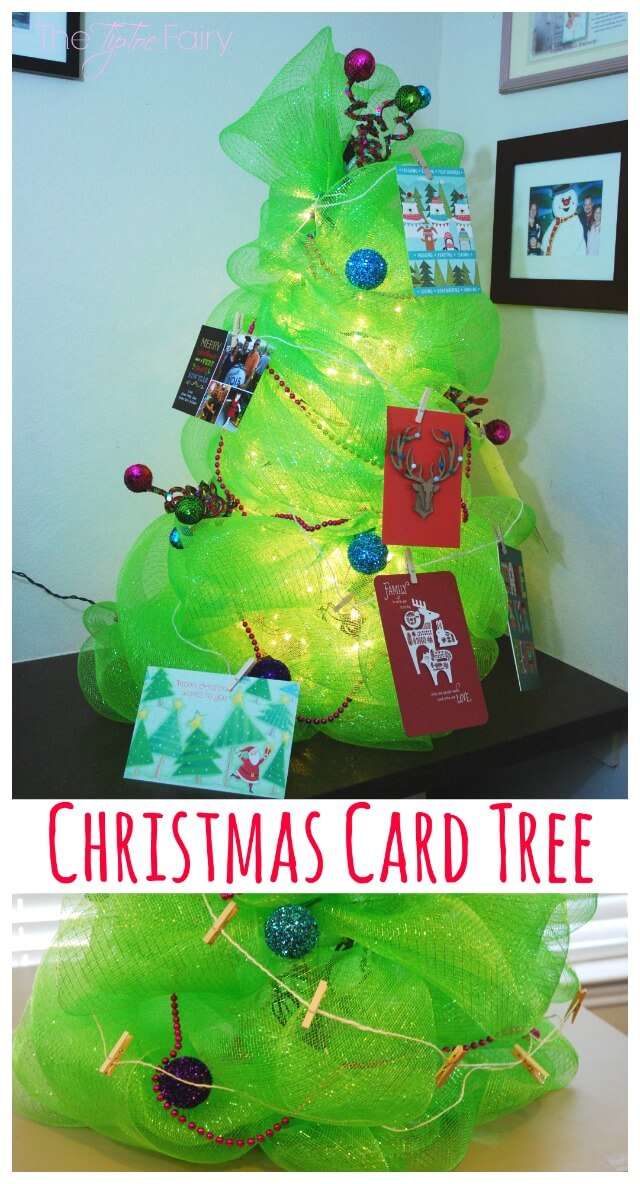 You can get in the holiday spirit with Hallmark's Pandora channel this Christmas season. I was listening to it as I made my Christmas Card Tree, and my kids and I were all just loving it!
Here's a super quick video of the making of my Christmas Card Tree:
Click here to save $1.00 off of a two Hallmark Greeting Card purchase at Walmart, minimum $1.00 purchase required. Take advantage of the savings and #SendHallmark this holiday season!
Check out even more great holiday card ideas. What's your favorite family holiday tradition?