Here's another flavor cupcake I was working on….Bubblegum Cupcakes.  I'm sure you're wondering how good this could possibly be.  Do you like Razzles or Blow Pops?  Think how Razzles or Blow Pops taste just before it's only gum, like you're eating a candy but tastes like gum too — that's the flavor.  It's quite delicious.
All the taste testers just loved it, even the grown up testers.  I really thought if anyone wasn't going to like it, it was going to be the adults.  The only one who didn't like the bubblegum cupcakes was my middle child, Mr. E.  He didn't care for it, which is weird since he currently has an obsession with bubblegum.
I've made these with both flavoring oil and with the Duncan Hines Frosting Creations flavor packets.  Both are good.  However, I really do like how the flavor powder from Duncan Hines turns the cake batter a perfect shade of bubblegum pink.
If you click on that Duncan Hines link, they have a printable coupon for $1.00 off listed on the page.  At my local grocery stores, the flavor packets are only 99 cents, sometimes on sale for 89 cents, so you might be able to get them completely for free!
These were from Miss Molly's birthday party.  She requested pink elephant cupcakes, so I ordered these adorable cookies from BellaDolces on Etsy. Then, instead of gumballs, I topped my bubblegum cupcakes with baby elephants.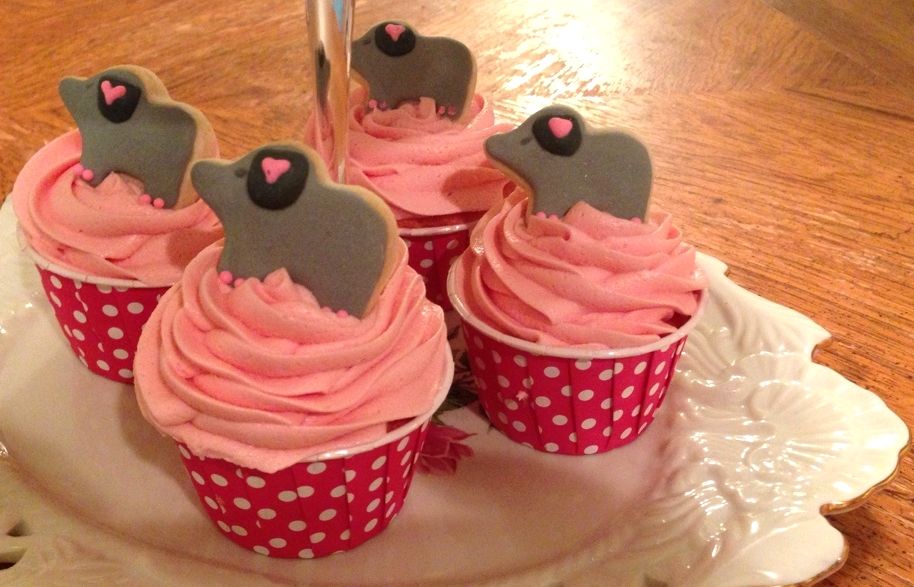 The basic recipe is a plain white cupcake batter.  It's the Vanillope Dream cupcake batter from my last post, except, there's only vanilla (no bean) and no egg yolk to allow it to be very white so that it's easy to color.
You could easily take this recipe and add flavorings like Cotton Candy or Strawberry or Raspberry, etc.  The frosting is a deliciously fluffy cream cheese frosting, but flavored.  I'll put the basic white cupcake recipe down at the bottom of the post.
[amd-zlrecipe-recipe:19]
Bubblegum Cream Cheese Frosting
---
Ingredients
1 cup butter at room temperature - 2 sticks
8 oz cream cheese at room temperature
4-5 cups powdered sugar
3 tbs heavy cream
2 tsp vanilla
1 packet of Bubblegum flavor Frosting Creations
Bubblegum balls - I found Double Bubble ones at Dollar General for $1/packet that had about 30 gumballs.
Instructions
Beat butter and cream cheese until creamy.
Slowly add a cup of powdered sugar at a time.
After about 2-3 cups, add the heavy cream and vanilla.
Add an entire flavor packet of bubblegum flavoring.
Once all powdered sugar is added, beat for an additional 5 minutes until light and fluffy.
Frost once cupcakes are thoroughly cooled. I like to use the big star tips. Finish with nonpareils and a gumball.
7.6.4
17
https://thetiptoefairy.com/2013/04/bubblegum-cupcakes/