Need a cold delicious treat for watching the fireworks or an upcoming birthday bash? How about some Homemade Bubblegum Ice Cream? My kids love bubblegum ice cream. It's such a yummy treat! It's also one of my favorite ice cream flavors, too!
This is also a great recipe to let the kids help stir up. My 4 yr old loves to help in the kitchen. For this one, she was the official food coloring girl and got to mix up the milk mixture into the perfect pink color.
After my last couple of batches of "no churn" ice cream worked out so well, I wanted to try making a batch of Homemade Bubblegum Ice Cream myself. I was very pleased with how good it was. It tasted just like the bubblegum ice cream we get at the ice cream parlor.
I also chopped half a bag of Double Bubble bubblegum balls and folded them into the ice cream before freezing. This is the time consuming part. Next time, I plan to freeze them first to make chopping easier.
You can find flavorings such as Bubblegum and others at craft stores such as Hobby Lobby or Michaels or JoAnn in the cake and candy aisles. The brand I use is LorAnn's super strength flavors. They come in a 2 pack with two bottles each 1 dram. I found one is perfect to make about a quart of ice cream.
More Ice Cream Recipes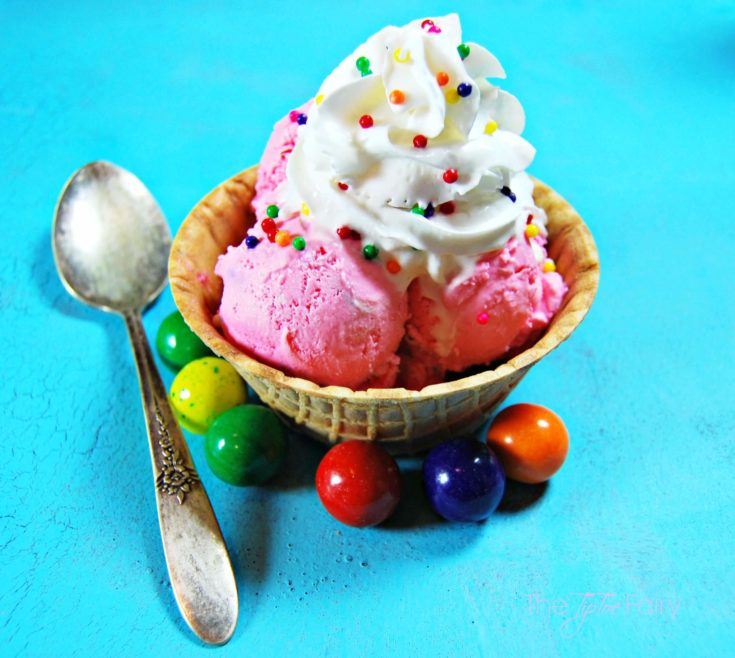 Homemade Bubblegum Ice Cream
Ingredients
2 cups whipping cream
8 oz sweetened condensed milk
1/2 cup sour cream
1 dram bubblegum flavoring
1 bag of bubblegum balls
neon pink food coloring
Instructions
Mix milk and sour cream together.
Add 1 dram of bubblegum flavor. Then add 24-30 drops of neon pink food coloring and stir until well blended.
Heat mixture for 30 seconds at a time. Stir after each heating. Continue heating every 30 seconds until mixture has thickened (usually between 1 1/2 to 2 1/2 minutes).
Whip the whipping cream until it forms hard peaks.
While whipping the cream, chop up several bubblegum balls. Try freezing them first to make it easier.
Add 1/2 cup of the whipped cream to the milk mixture and stir it in.
Next, fold in the rest of the whipped cream mixture gently into the milk mixture.
Add the bubblegum balls.
Pour into a freezable container and place in freezer.
Stir after 1 hour. Then, allow to freeze at least 6 more hours before serving.