This shop has been compensated by Collective Bias, Inc. and its advertiser. All opinions are mine alone.
Spending time together alone without the kids keeps us close. Sometimes we go out, sometimes we just lay in the bed and watch silly YouTube videos together, and sometimes we wait until the kids go to bed and have a movie night date at home.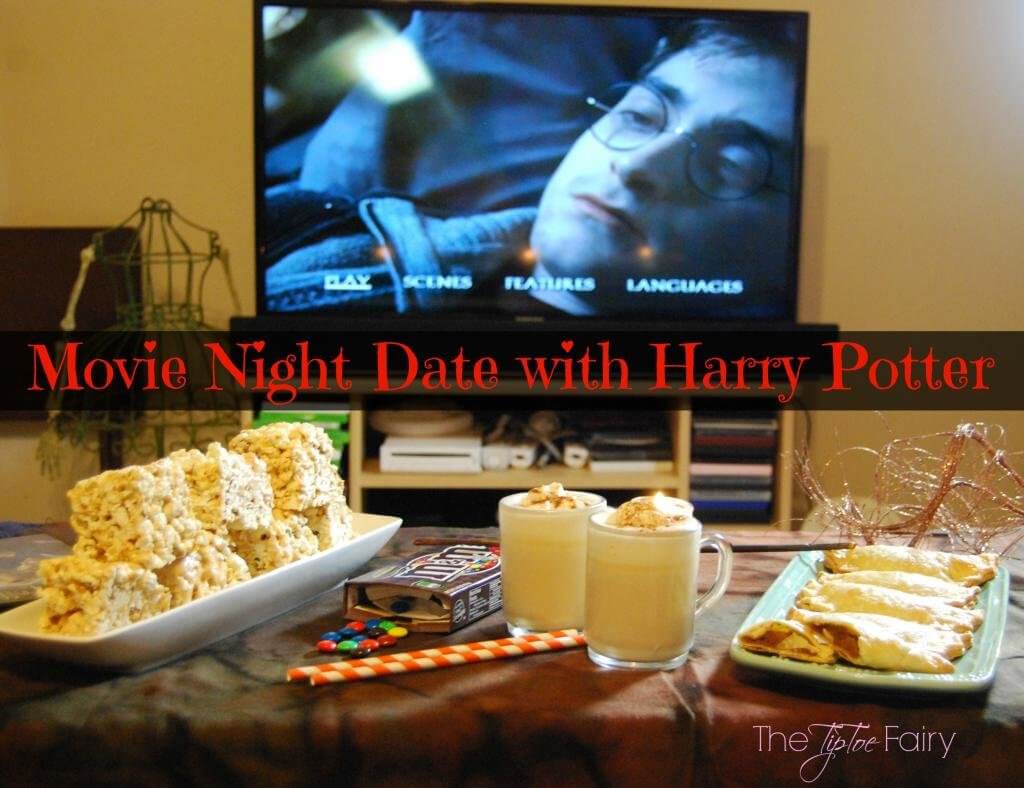 I get out the Orville Redenbacher's popcorn and treats, and it's better than going to the movie theater. This is what we did over the past weekend. This weekend's selection was Harry Potter and The Deathly Hallows Part 1. So, you know I had to make some themed treats!
We have most of the movies except the last two, so I was thrilled to find them at Walmart for just $5! We picked up some Orville Redenbacher's popcorn, M&M's®, and other supplies, and I decided we were going to have a bit of a Harry Potter themed date night complete with Butter Beer popcorn, Pumpkin Pasties, and some delicious Hot Butter Beer.
Harry Potter
My husband is a huge Harry Potter fan. In fact, he's the only one who could convince me to read the books. After book 3, I was hooked and pretty much ate, slept and breathed Harry Potter til I finished book 7. Before baby #3, we would dress up as Tonks and Lupin and attend events with the local HP group. It was definitely "our thing." We went to the last three movies dressed in character, too. I wish I had a picture to share, but they are trapped on Nate's old cell phone.
Our date night was perfect. We snuggled up together enjoying some yummy treats while we watched one of our favorite movies. And it was snowing! Now if we just had a fireplace…
Butter Beer Popcorn
The Butter Beer Popcorn treats were out of this world. They are made with a combination of brown sugar and butterscotch to give you that wonderful sweet and buttery flavor. They just melt in your mouth.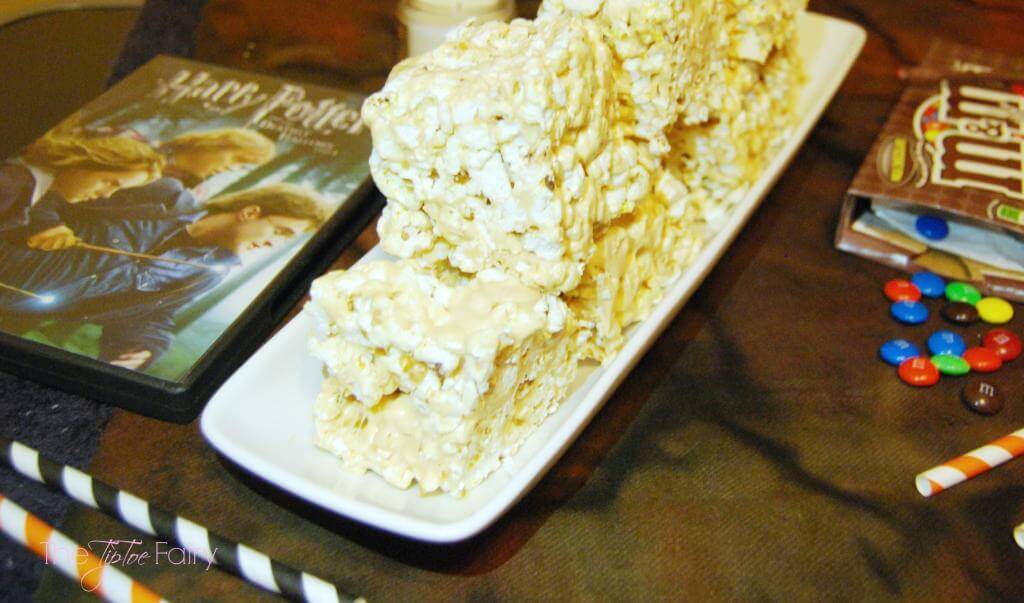 Yield:

9
Butter Beer Popcorn
A fun recipe of Butter Beer perfect to eat while watching Harry Potter!
Ingredients
2 microwaved bags of Orville Redenbacher's Kettle Corn
1/4 cup butter
1/4 cup brown sugar
1 bag of 16 oz mini marshmallows
1/2 cups butterscotch chips
2 tablespoons Hot butterscotch topping
Instructions
Spray an 8 x 8 pan.
Microwave 2 bags of Kettle corn popcorn.
Pour the popcorn into a large bowl and shake to get the unpopped kernels to the bottom.
Transfer the popcorn to another bowl and remove all the unpopped kernels.
In another large bowl combine butter and brown sugar. Mix up thoroughly.
Heat in the microwave for 1 1/2 to 2 minutes until it's bubbly and thick.
Add the marshmallows and stir.
Then heat for an additional 30 seconds to 1 minute until marshmallows are melted. Stir until all of it is well combined.
Pour in the butterscotch chips and stir. Heat for an additional 20 seconds to melt the butterscotch chips. Stir to incorporate the chips completely.
Add the butterscotch topping and keep mixing.
Next, add the popcorn and keep mixing until the popcorn is covered in the marshmallow fluff.
Pour the entire contents into the 8 x 8 pan.
Take a piece of wax paper and push it down over the top of the pan squishing the popcorn all into it.
Allow to cool for an hour or so.
Once cool, remove from pan, and cut into squares.
I can't wait to do this again! Next time I'm at Walmart, we're digging through the movie pallet for another fun at-home date night.
More Harry Potter Fun
Free Harry Potter Bingo Cards