This post contains affiliate links. Do you like to go camping? I went camping all the time as a kid, but my kids are scared at the mention of going camping. I have no idea why. But, we can do a camping party with the tent in the backyard and these fun Campfire Cupcakes!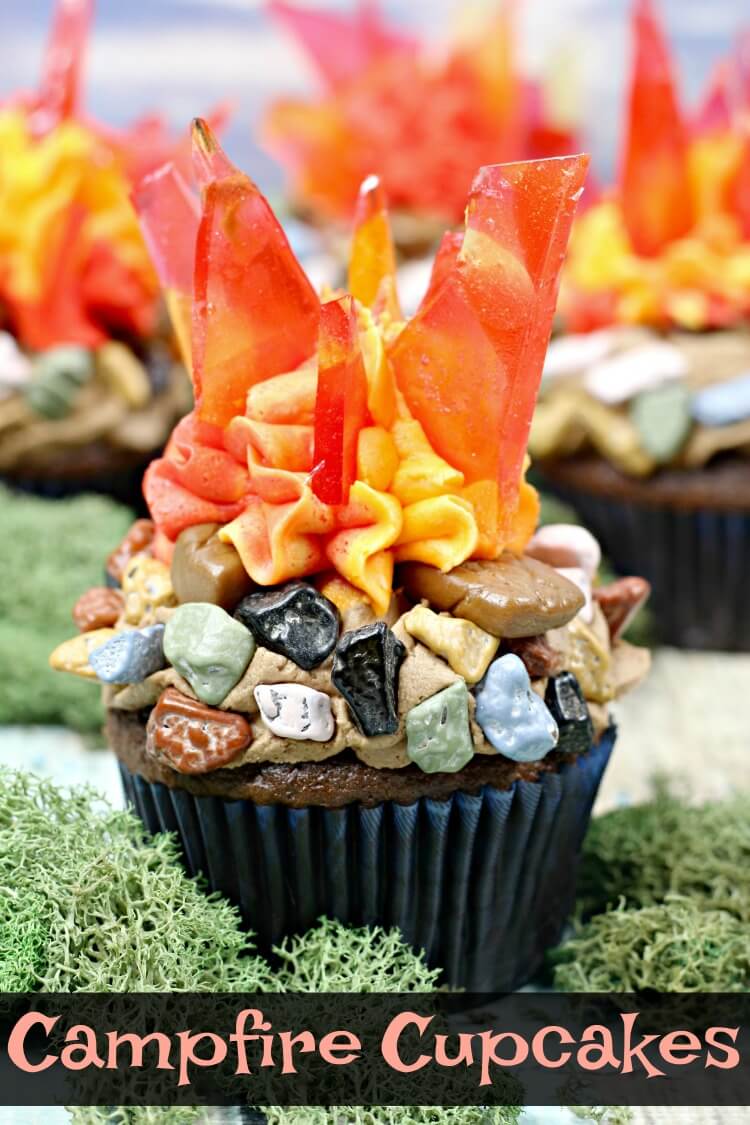 Camping Memories
When I was a kid we would usually do our summer vacations at campgrounds around the country. Those were some of my most memorable times growing up. Before I had kids, my ex husband and I would go camping with my parents and my dog.
One time we were all sitting around the camp fire and I had brought peanuts in the shell and we would roast them in the campfire, then sit around eating them. My dog LOVED to share in this activity, so my husband would feed him peanuts.
Is that a Dog?
One night, it was pretty dark, and we were doing the peanut thing. My ex leaned over and petted the dog getting ready to feed him a peanut or two — or what he thought was the dog. The hair was too long on this "dog," so he took another look and it was a ginormous raccoon. My basset hound was on the other side of the campfire with my dad, and my ex had been feeding a raccoon a good 15 minutes before he noticed!
Have a Camping Party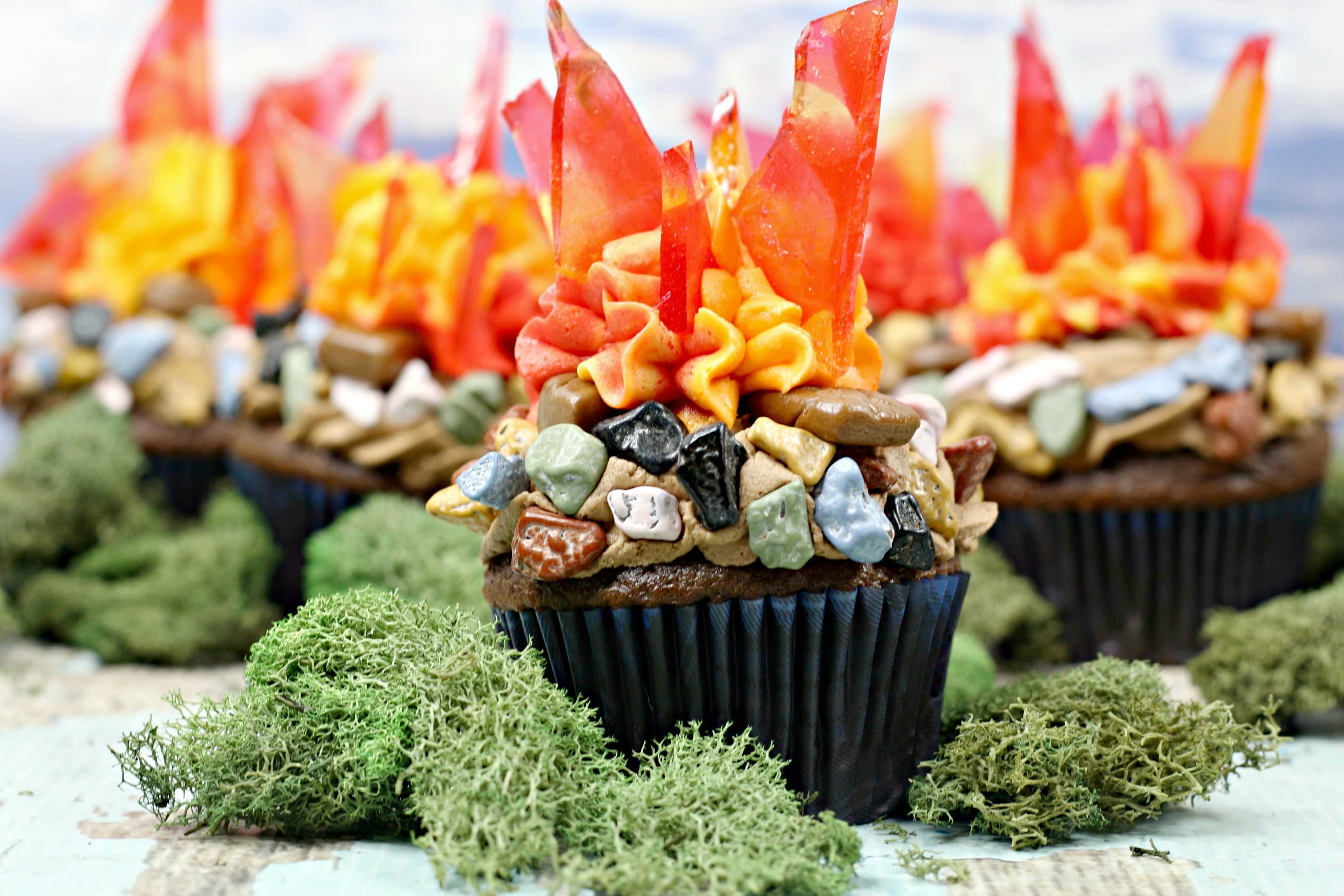 I cannot believe my children are so afraid of camping. It's not like our idea of camping is very harsh. We go to campgrounds with showers and parking lots. They have no idea what they're missing. Lately, we've been trying to talk them into it slowly with a little camping party in the backyard. We put the tent up, they get to drag their sleeping bags outside, have some flashlights, and snacks. I'm hoping they'll realize camping is totally fun – especially if they can have some Campfire Cupcakes!
Crazy Cupcakes from a Box
A few years ago I had a series on the blog with crazy cupcakes from a box. These were all kinds of cupcake recipes made from enhancing box cake mixes. You can search them here on the blog and find all kinds of delicious cupcake recipes like Chocolate Bourbon Pecan Pie Cupcakes and so many more. Scroll to the end of this post to see how you can download 20 of those recipes right to your phone!
Campfire Cupcakes
Now let's make some cupcakes for camping! First, you'll start with a basic chocolate cupcakes with a box cake mix. My go to is usually Devil's Food or Chocolate Fudge cake mix, but any chocolate cake mix will do.

Then, you'll want some chocolate buttercream frosting and frost the cupcakes. I have a delicious recipe down in the recipe card, but if you are short on time, just get a can at the store.
You'll also need some candy rocks to make the base of the campfires. Just place them around the edges and the outer top of the frosting. Then, soften Tootsie Rolls and roll and cut into fire wood.
Next, you'll need another batch of buttercream frosting (or grab a can of white frosting if you're short on time). But, this frosting will be divided up into three bowls and dyed red, orange, and yellow. To create the flame illusion, you'll add each color down 1/3 of the piping bag. So, that when you squeeze it out, it will be tricolor and look like a flame.
Make the Candy Flames
Lastly, is the fun part! You'll make candy flames using Jolly Ranchers. I found it can be hard to find orange Jolly Ranchers, so this bag of Fruity Bash flavors in red, dark red, and yellow works great for making flames.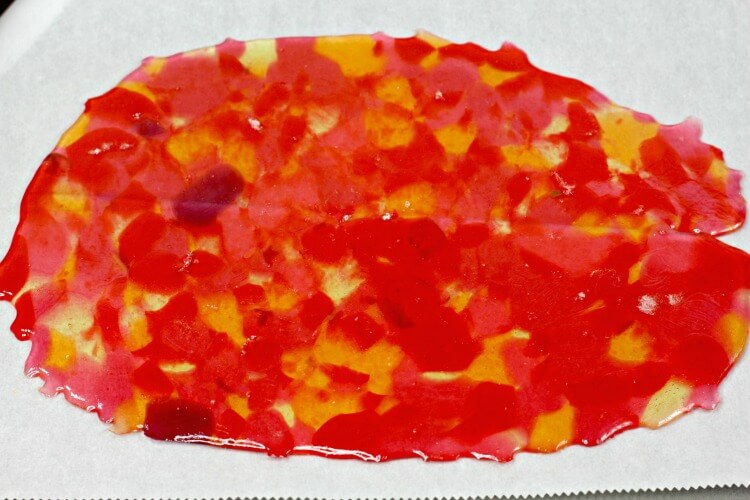 First preheat the oven, and while it's preheating, open up the candies and pop them all in a ziplock baggie and smash them with a hammer or meat tenderizer hammer.
For easy clean up, line a cookie sheet with parchment paper and spread out the crushed candy all over it but keep the candy together on the parchment paper, so it will melt and combine. Bake for about 5-6 minutes. Check the candy to make sure it's melting and not burning, and as soon as it's melted together take it out.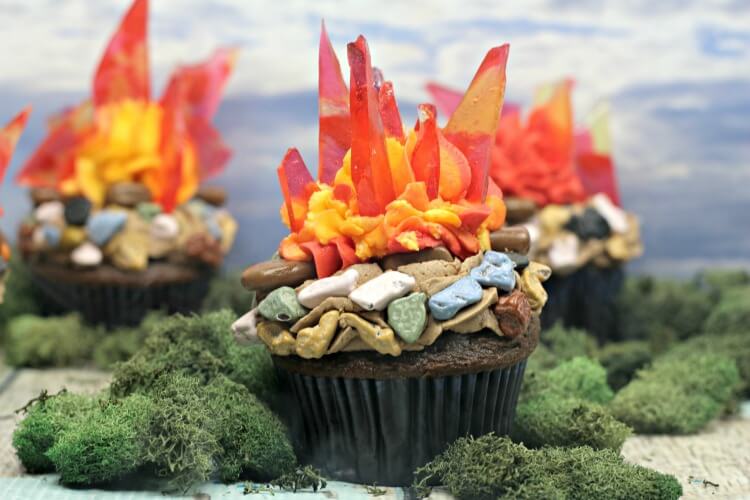 Let it completely cool before gently smashing it with a hammer. You want to be careful how you do it so you'll end up with small pointy shards. Place about 5 shards into the frosting flames like the photos.
More fun themed cupcake ideas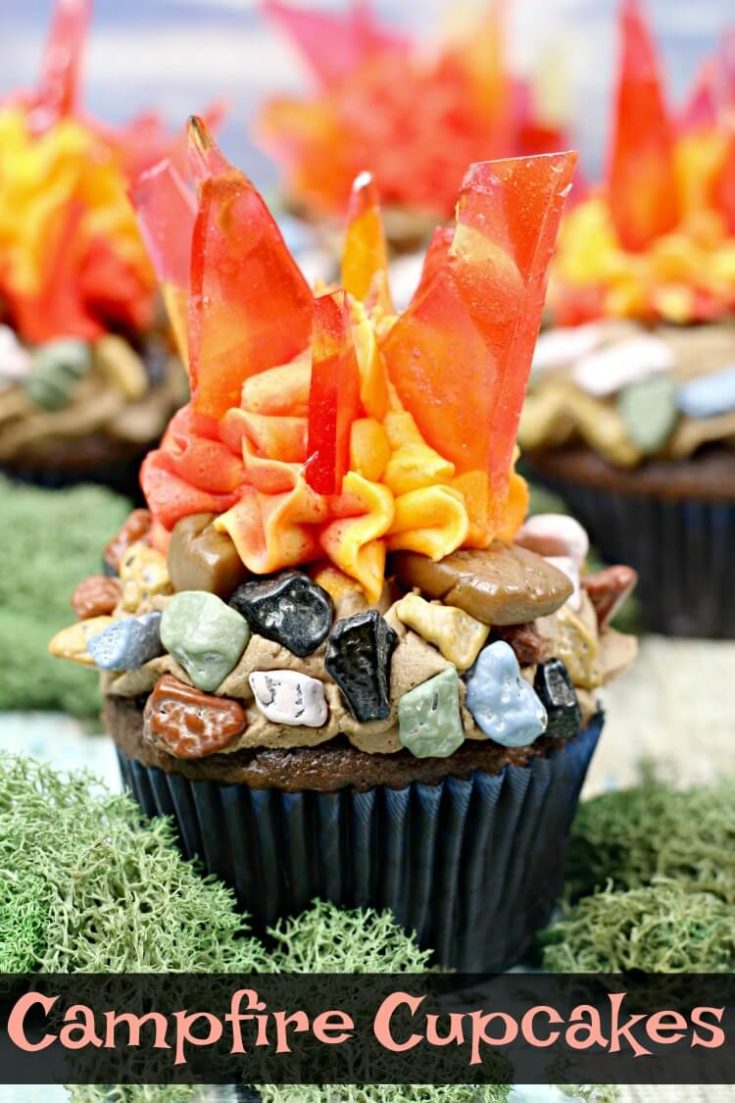 Yield:

18 cupcakes
Campfire Cupcakes
Having a camping party? These Campfire Cupcakes are the perfect treat to celebrate!
Ingredients
Cupcakes
1 box of Chocolate cake mix
Water, vegetable oil, and eggs (back of cake mix box)
Chocolate Frosting
1 cups unsalted sweet cream butter (softened)
2 1/2 cups powdered sugar
1/4 cups cocoa powder
3 tablespoons heavy whipping cream
Decorations
Flame Frosting
2 cups unsalted sweet cream butter (softened)
5 cups powder sugar
6-10 tablespoons heavy whipping cream
3 bowls
Instructions
Cupcakes
Heat oven to 350 degrees.
Prepare cupcake pan with brown cupcake liners.
Make cake mix as directed on box for cupcakes.
Fill cupcake liners 3/4's full.
Bake for length of time as directed on the back cake mix box.
Remove from oven.
Set aside to cool completely.
Chocolate Frosting
With an electric mixer add the butter on medium speed and beat for 1 minute.
Add in the powdered sugar and cocoa powder 1 cup at a time.
Continue to mix until well combined.
Add the heavy whipping cream and vanilla extract.
Mix on medium-high speed until the mixture is fluffy.
Frosting should be a light dirt color.
Scoop the frosting into the piping bag with star tip.
Frost the cupcake with a thin swirl of light dirt chocolate frosting by starting at the center of the cupcake working out ward. Do not the frost to the edge of the cupcake.
Decorating the Cupcakes
Put single rock candies in place as the foundation for the bonfire.
Allow the tootsie rolls to soften.
Roll each tootsie roll in the shape of campfire logs -- 3 per cupcake.
Crisscross the logs to build the foundation of the campfire.
Flame Frosting
Using an electric mixer combine all ingredients and mix on medium speed.
Mix until you see stiffed peaks in your frosting.
Once the frosting is done split it into 3 bowls.
Add about 2-4 drops of each color:
Stir to mix each color throughout the entire bowl of frosting.
Scoop the red frosting onto one side of the piping bag with the round tip.
Scoop the yellow frosting onto another side of the piping bag holding the red frosting.
Scoop the orange frosting onto the the third side of the piping bag holding the red and yellow frosting.
Squeeze the open end of the piping bag to push the frosting to the tip.
Pipe a dollop of this frosting onto the center of the tootsie roll campfire logs to make a flame.
Jolly Rancher Candy Flame
Pour the red, yellow, and orange jolly ranchers into a plastic zipper baggie.
Using a hammer break the jolly rancher candies into smaller pieces.
Heat the oven to 275 F degrees.
Line a baking sheet with parchment paper.
Spread the crushed candy jolly ranchers over the parchment lined baking sheet.
Bake at 275 F degrees for about 5-6 minutes. (check early to make sure the candy doesn't burn.)
Take out of the oven once the candy has melted.
Allow to cool completely.
Using a hammer to gently break the candy into shards.
Place the shards into the frosting flame.