[disclaim]This post has been written in partnership with Gameband. All opinions are 100% my own. #GameOntheGo [/disclaim]
My kids and I love to get into the Halloween spirit as soon as October hits.  We break out the Halloween clothing and the Halloween decorations.  My son even makes fun animations for his Gameband.
I like to make fun things to play with them like this Halloween Spider Slime.  It's full of purple glitter and confetti spiders – perfect for a creepy Halloween time.
This slime is very easy to make, and it makes a big bucket full so there's enough for 3-4 kids.  Here are the supplies you need:
2 (5 oz) bottles of clear school glue
10 oz water
8 oz liquid starch
1/4 cup glitter
1/4 cup Halloween confetti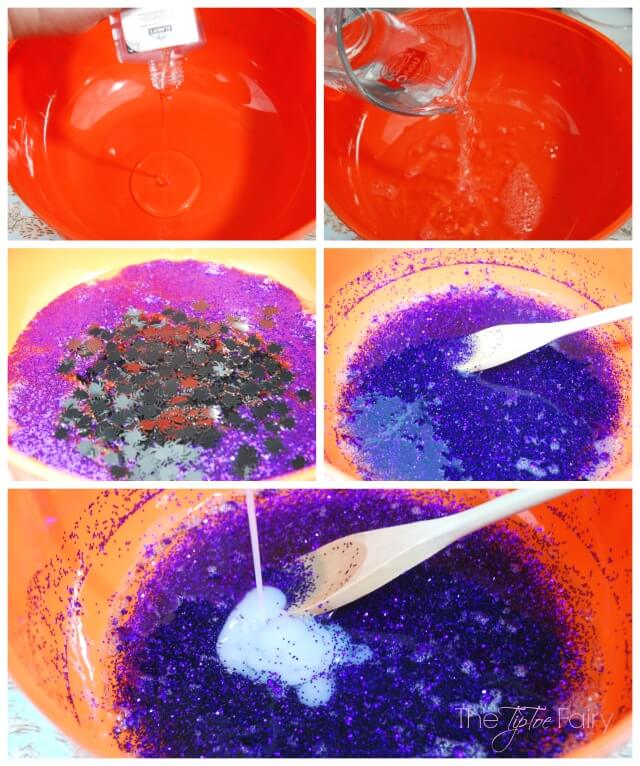 In a bowl pour out the entire contents of both bottles of glue.
Add the water to the glue.
Add the glitter and confetti spiders and stir it all up.
Slowly add about half the starch to the concoction and stir.  If there is still some liquid, add about half of what is left of the starch and keep stirring.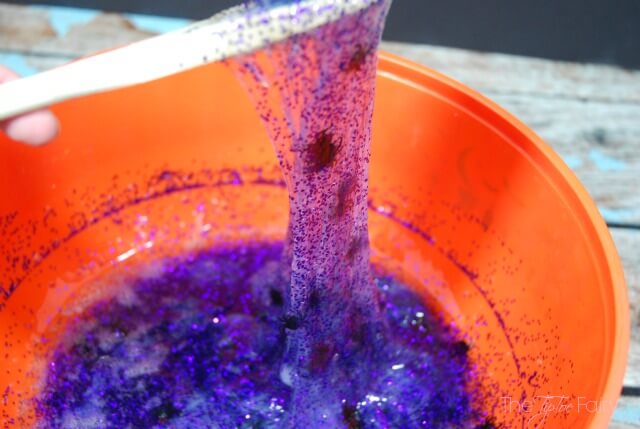 When it looks like a big glob of goo (like the picture above), then stop adding liquid starch.  If there's still liquid in the bowl, then keep adding the starch a little bit at a time until it forms a glob.
Once it's too thick to stir, then start kneading the slime with your hands to work any excess water into it, so that it's no longer sticky.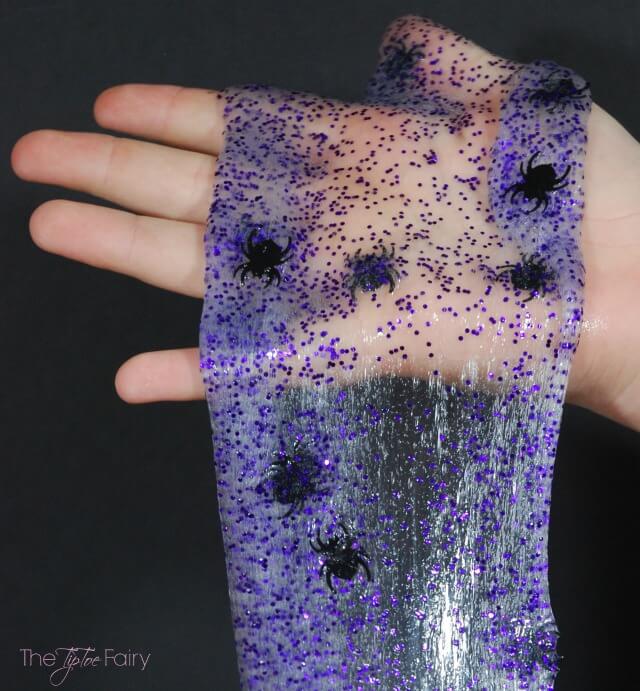 Now it's time to play!  Your kids will get hours of fun from this slime.  Mine love to put it in all sorts of containers and stretch it and make balls with it.  It's really so much fun — even I like to play with it!
You can find some Halloween animations already included in the software on Gameband. One of them is a big jack o'lantern, which my son added to his Gameband.
He also added a few he made himself.  The first one is a "Creeper" jack o'lantern that rises upward and flickers.
The second one is a ghost.  This one is my favorite!  And, it took him just a short time to whip it up.
If you want to make your own animations for your Gameband, these instructions HERE make it so easy!  It even shows you how to upload the GIF files to your Gameband so you can easily upload them to PixelFurnace and share your art!
We uploaded my son's ghost and jack o'lantern on the Holiday page so everyone can grab it for their Gameband!
Thinking about the holidays, yet? If your kids enjoy Minecraft, then give them the gift of Gameband. It's the only Minecraft wearable that lets kids #GameOnTheGo.  You can find Gameband at Target, GameStop, Best Buy, Microsoft Stores and online only at Walmart, NewEgg, and Amazon.
What do you do to get in the Halloween spirit?