This shop has been compensated by Collective Bias, Inc. and its advertiser. All opinions are mine alone. #acnefree123 #CollectiveBias
Do you have a teen with acne? My daughter has very mild acne, but she wanted to clear up her skin with prom season coming up. Instead of buying expensive products from department stores or online, we went to Walmart and picked up the AcneFree Sonic Advanced Cleaning Duo along with the Daily Skin Therapy line of Acne Wash, Therapy Pads, and Complexion Perfect Cream.
When my teen cleans her skin, she likes to use a soft knit headband to keep her hair out of the way. We've found a great way to upcycle headbands from old t-shirts. Here's a quick little tutorial to create your own. You will have a new headband in just a couple minutes. What's even better? They are completely no sew!
All you need is an old t-shirt.
Just cut the hem line off.
Then cut a strip all the way cross about 4-5 inches wide.
DO NOT CUT THE SIDE SEAMS! Keep it as one big loop.
Twist it two times, then fold the loops together, and you have a headband!
Here's how it looks on your head!
She's come up with a quick and easy routine with the new AcneFree Sonic Advanced Cleaning Duo.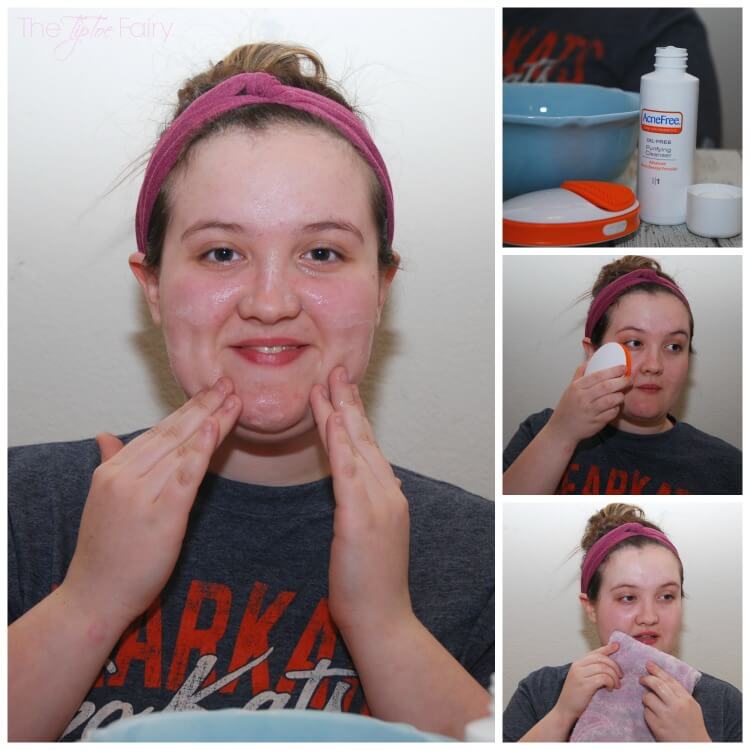 She likes to take a shower at night just before bed, so that's when she uses the kit. It comes with both the Purifying Facial Cleansing Brush + Oil-Free Purifying Cleanser. It also comes with the AAA batteries and an extra brush head for the brush!
Oil Free Cleanser clears blackheads and acne breakouts
Purifying Facial Cleansing Brush uses dermal stimulation technology to gently deep clean pores
Brush delivers 8,000 pulsations per minute! The Pulsations are channeled through a soft, comfortable silicone head to gently exfoliate your skin and remove dirt and oil
The smooth, rounded touch points massage the face and are nonabrasive enough for daily use.
The brush is nonporous and easy to clean – can even be uesd in the shower!
No additional brush heads needed because it's easy to clean
Even as an adult, I still get breakouts every once in awhile. After seeing how much she likes using this kit, I think I'm going to have to get my own. I love that you can use it in the shower, and the price is so affordable.
Em likes to wake up at the last possible second, so before school she has just enough time to do a quick morning routine with the new 3-Step line from AcneFree.
Step #1 of the NEW AcneFree Daily Skin Therapy System is a Pore Targeting formula + Patented Avocado Extract Technology
Helps prevent new Acne from Forming!
Dermatologist tested formula is soap-free and clean rinsing
It removes dirt and oil deep down to the pores and purifies the skin to help prevent breakouts
Active Ingredient: 2% Salicylic Acid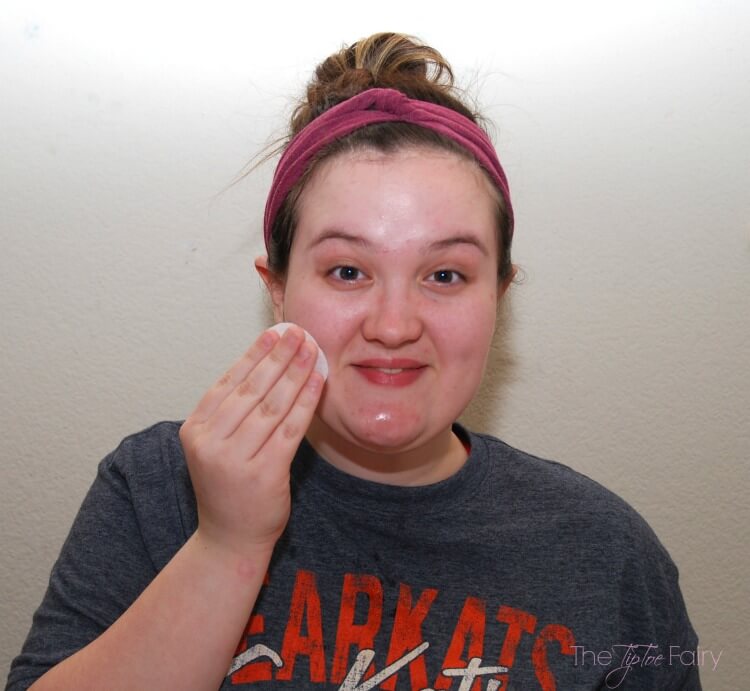 Step #2 is the Acne Pads. After school and color guard workouts, my teen likes to clean her face with these.
Great new pads unclog pores and tone your skin!
Active Ingredient: 2% Salicylic Acid
Each pad contains a dermatologist tested formula designed to open blocked pores while thoroughly cleaning your skin and preventing new acne from forming!
The soothing menthol leaves your face feeling refreshed and clean.
Step #3 is the Complexion Perfecting Cream. This one is her favorite because it feels so great on her skin.
Gently Renews Skin's Appearance for a Clearer Complexion
Lightweight Cream contains Advanced Retinol Technology that allows controlled release of retinol throughout the day to reveal healthier looking skin!
Added skin conditioners and humectants help keep the skin moisturized
AcneFree has a full line of products to help treat and control your acne. For product information and savings, visit HERE.
Want to be part of the AcneFree community? Join the conversation and share your skincare routine and success stories on Instagram, Facebook and Twitter.