I love making Valentine treats. I love quick and easy treats you can make at the last minute like these One in a Minion Pudding Cups or even these Simple Lollipops. I've got a new one this year. These Last Minute Valentine Heart Treats are quick to make and so cute. This post contains affiliate links.
Where to get the supplies for these Valentine Heart Treats
They are made with Reese's Peanut Butter Hearts. I made them with both the regular peanut butter hearts and the ones with Reese's Pieces in them, too.
If you're in a hurry, head to Walmart because they will have every single thing you need to make these. Otherwise, you'll have to get the supplies at a craft store like Michaels, and then stop at a grocery store for the peanut butter hearts.
Get the Files
Print these Valentines and attach to the treat bags for a ready made Valentine for you or your kids to hand out.
How do you make Valentine Heart Treats?
If you've never dipped something in chocolate or candy melts, you might be a little worried. But, trust me, these are so easy, you can make them with the kids. Scroll down to the easy tutorial!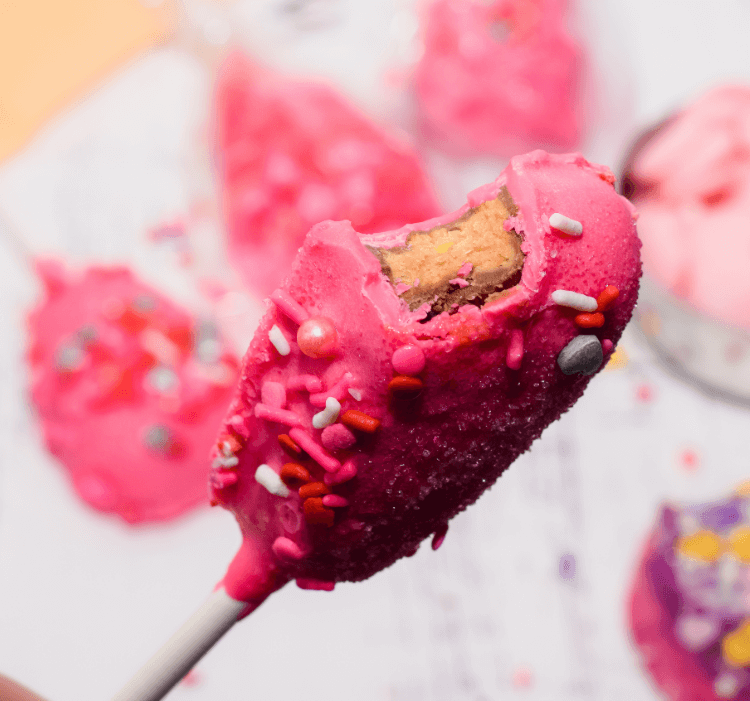 Here are a few tips to make it as easy as pie:
Make sure you freeze the hearts for about 10-15 minutes. You want the chocolate cold so it won't melt and slide off in the candy melt.
When you melt the candy melts, if the consistency seems more gloppy than smooth, you'll want to add a pinch or two of EZ Flakes or you'll want to add 1/2 to 1 teaspoon of cooking oil. I prefer the EZ Flakes because it incorporates so much better into the candy melts. But, I have also used oil when I was out of the flakes.
Do not wait to decorate a heart. Decorate it as soon as you set it down on the wax paper. I waited too long and tried to do two hearts at a time, but the first one had already mostly hardened and wouldn't hold the sprinkles at all.
Supernatural Sprinkles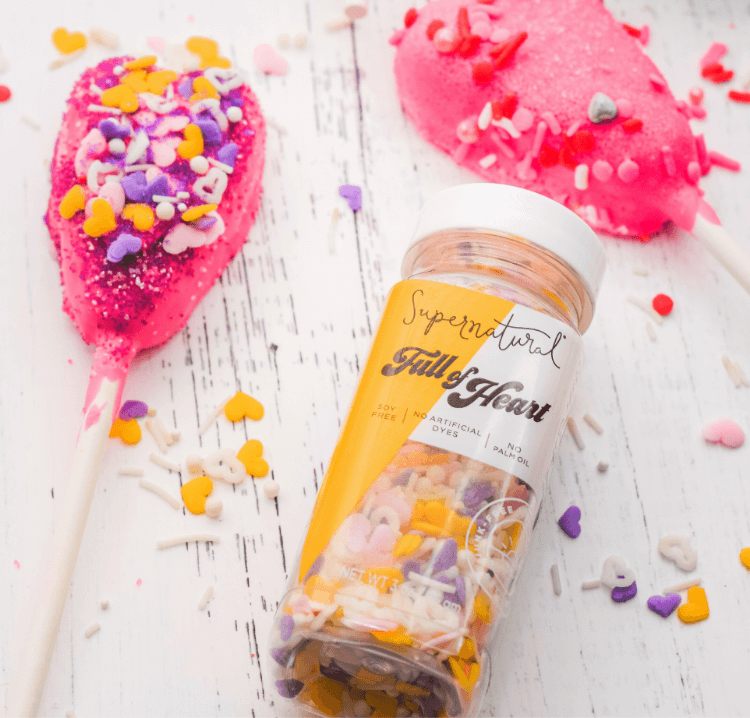 Supernatural sent me some sprinkles to try out, and they were full of hearts and perfect for Valentine's Day. Their sprinkles are awesome. They use only plant-based dyes with no "nasties" in them. Plus, they have the cutest themes from Starfetti to Into the Woods. Check them out on Amazon or at Supernatural Foods!
More Last Minute Valentine Ideas
Yield:

12
Last Minute Valentine Heart Treats
Total Time:
1 hour
30 minutes
Tools
Microwave Safe Mug
Cookie Sheet
Wax Paper
Instructions
Lay out the wax paper on a tray or cookie sheet.
Open the heart peanut butter cups and lay out on the wax paper.
Gently insert lollipop sticks.
Freeze for 15 minutes.
At the last five minutes of freezing, melt the candy melts in 30 second increments in a mug, stirring every 30 seconds until smooth. (Mine are usually melted in 1.5 to 2 minutes.)
IF the lollipop stick seems loose, pull out the lollipop sticks and dip in the candy melt and reinsert.
Dip each heart into the candy melt until it's completely coated. Shake off excess over the mug.
Lay the heart back on the wax paper and immediately add sprinkles and sanding sugar. If you don't, it will dry quickly since the chocolate was freezing.
Allow to dry for an hour (or pop back in the freezer for 15 minutes).
Insert each heart into a treat bag and tie off with twist tie.
Attach a valentine and give to friends.