Are you ready for the conclusion of my treasure hunt date night?
Quick Recap: In celebration of Valentine's Day, I made Nate a romantic treasure hunt as a date night.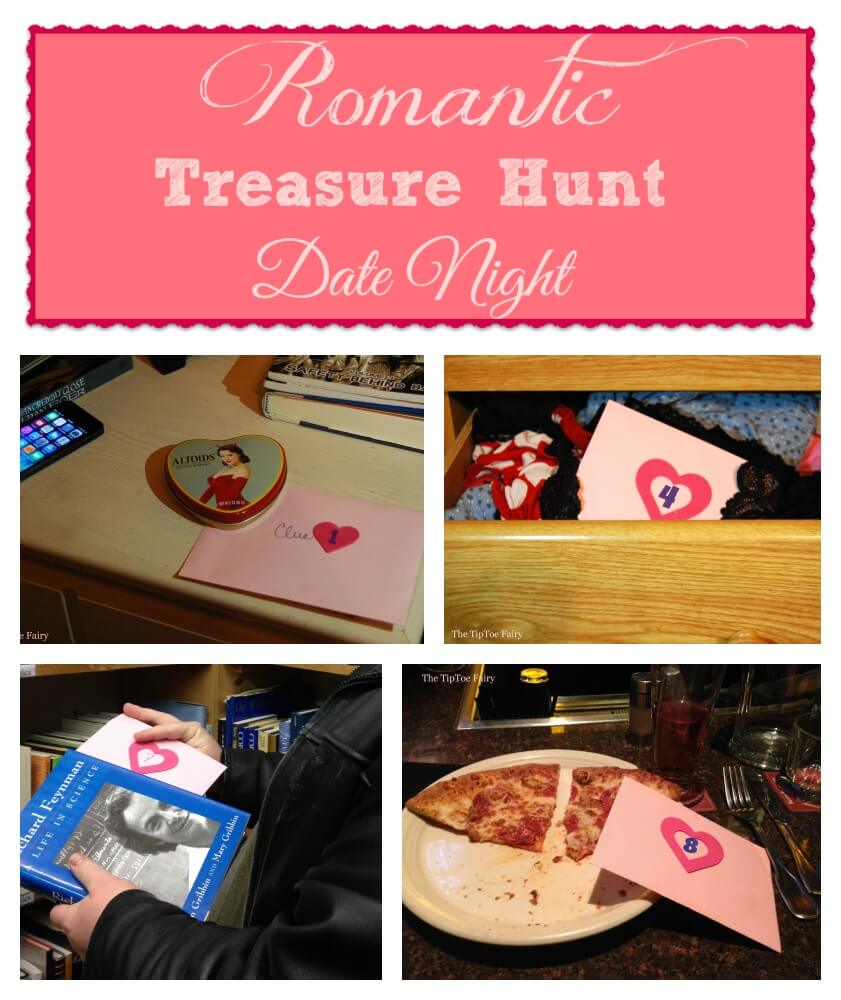 The beginning clues were hidden around our house, and they all contained a piece of a puzzle. Once he put the pieces of the puzzle together, it was a clue to the first destination on our date night adventure.
We figured Valentine's night would be a busy night, so we had our oldest babysit on Saturday night. In preparation, I hid the clues Saturday morning. I wanted to give him plenty of time to find them.
Treasure Hunt Date Night Begins…
I was pleasantly surprised some of the clues were a bit of a challenge. I just knew he was going to whip through the hunt and tell me how easy it was. The last clue at the house that had the last piece of the puzzle took him quite awhile to find. (It was in his car.)
Puzzle Pieces for Clue #1
The puzzle had the clue to our first destination. It was the location of our first date — Recycled Books. It's an old used bookstore that used to be an opera house. It's a wonderful place. There are upstairs and downstairs and all kinds of nooks and crannies. We walked in, and I just stood behind him. I didn't want to give away where I'd hidden the clue, but he walked straight to "our section."
Destination #1
We had our first kiss in the physics section in front of the Richard Feynman books – one of my husband's favorite physicists, next to Neil DeGrasse Tyson. (Why yes, we are total nerds) Then, 8 months later, he proposed in the same spot! It's one of the first spots we always go to when we come to the bookstore. So, I had to hide the next clue in a Richard Feynman book.
He knows me so well. He found this clue pretty quickly, and then kissed me like he did the first time right there! Then, it was clue-solving time. It took him a few minutes to figure out our next destination.
Remember the night we had so much fun?
There was pizza, cider, and beer.
Now let's go, and take me there, my dear!
Destination #2
Once he solved the clue, it was on to BJ's Brewhouse. One of our favorite dates was there. I was hoping the "cider" part of the clue would help him. It's one of the few restaurants we know has cider. We love the pizza and the Berry Burst Cider is one of our favorites. I rarely drink, but when we go to BJs, we always get a pitcher of cider.
When we arrived the wait was 30 minutes, so we headed to the bar (for the cider!) Luckily, there were two open seats, and we decided to stay and have dinner right there. After dinner, I dropped the final clue next to Nate's plate.
With some time and candlelight
I'll be the maiden and you'll be the knight
So, Sweetheart, now take me home
Then together we can spend time alone!
Then, it was time to go home! In the car he told me this was the nicest thing anyone had ever done for him. That made me happy. My husband can be so sweet!
Destination #3
I had prepared the bedroom before we left. When we got home, this is what he found. Unfortunately, we had 3 kids bouncing off the walls, so it was a couple hours before we could be alone with our rose petals and strawberry champagne.
Our treasure hunt date night was a lot of fun. I definitely want to do another one and make it a bit more extravagant. Once my youngest is bit older, grandma might just be staying the night, while we go on an overnight treasure hunt.
Looking for more fun ideas? Check these out: