Awhile ago, I shared a recipe for Ooey Gooey Butter Toffee Cake. It's a wonderfully delicious treat, and it's almost like a cheesecake. Anyone who tries it begs for the recipe and asks when you're going to make it again.
My daughter took a batch to school around Christmas time for her Color Guard Christmas party, and the girls loved it. Recently, a few of them were asking if she could bring to school again. It's rather difficult to cut it up into bars and transport because it is so sticky and gooey, they end up sticking together.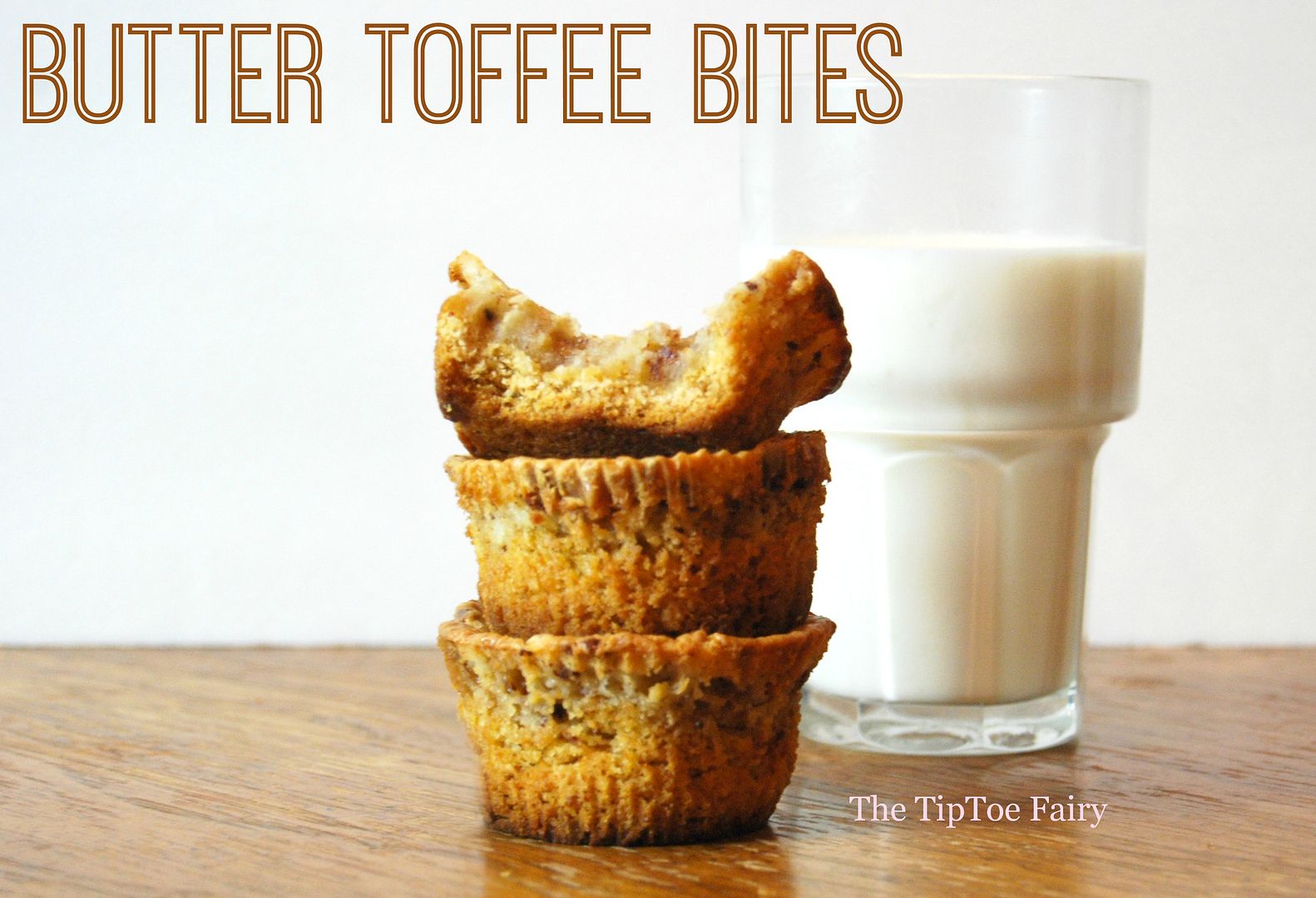 I decided to experiment and come up with single serving sizes in cupcake size — sort of like mini cheesecakes. I must admit, I've never made a cheesecake. It's on my to do list, but I've never made a regular size cheesecake or mini versions either, so I was hoping for a success when I decided to make my Butter Toffee Bites.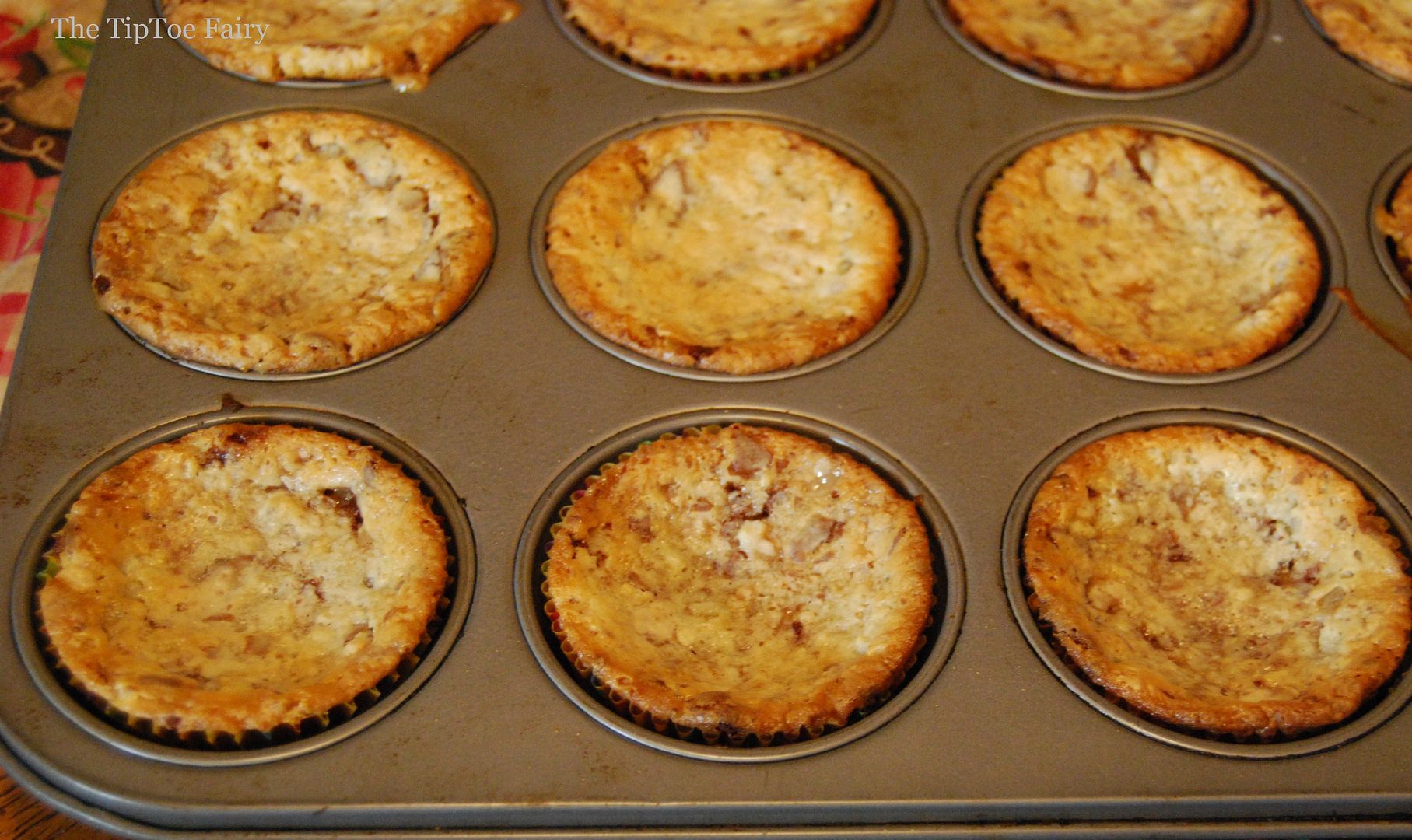 I was pleasantly surprised at how great they came out and how easy it was to make. I used cupcake liners because I was afraid the stickiness of the cake might glue them to the pan permanently. I would recommend spraying the liners so they come off a bit easier. Mine were really glued to the cake, and I had to delicately tease them off each one.
Print
Sticky Butter Toffee Bites
---
Crust:

1

stick of butter, softened

1

box of yellow cake mix

1

egg
Cake:

1

stick of butter, softened

8 oz

cream cheese, softened

2

eggs

2 cups

powdered sugar

1 tsp

vanilla

1

bag of milk chocolate toffee bits
---
Preheat oven to 350 and place 24 cupcake liners into cupcake pans.
With electric mixer, mix crust ingredients together.
Press 1 tbsp into each cupcake liner with the back of a small measuring cup.
For cake, beat butter and cream cheese until fluffy.
Add eggs and beat until smooth.
Add vanilla and powdered sugar and beat until smooth
Fold in toffee bits.
Add about 2 to 3 tbsp of batter over each crust. Fill about 2/3 full.
Bake for 20-25 minutes until cake is "set" and doesn't jiggle too much.
During the last 10 minutes, rotate the cupcake pans so that the front cakes are at the back of the oven, for even baking.
Let cool and store in fridge.
Recipe Card powered by
There are a couple of things I learned while doing this experiment. The first one is to use the back of a small measuring cup to push down the cake mix crust in each cupcake liner. It really makes it go quickly. The second one is to rotate the pans around during the last 10 minutes of baking. Flip the cupcake tin so that the front cakes are at the back of the oven for that last 10 minutes. Otherwise, you'll end up having the front cakes not quite done and the back cakes ready to come out.
In the future, I'm definitely making these butter toffee bites again, especially if I have to send them somewhere. The serving size is just perfect, and they are so delicious!
Enjoy!