Can you believe it's nearly Valentine's Day? Wasn't Christmas just a couple weeks ago? I swear the holidays come faster every year. Awhile ago I shared one of my favorite drinks here on the blog, How to make Orangeade. I could develop a serious addiction to that one. It's so, so yummy! This time around I made a twist on my usual orangeade recipe just in time for Valentine's Day — Blood Orangeade.
Orangeade is just so delicious! Since it has a full cup of sugar in it, it's a rare treat. When I do make a pitcher of it and spend quite a bit of time juicing oranges by hand, I secretly want to hide it from my family. While it's chilling in the fridge, they frequently will find it and drink it all before I can even get a taste of it!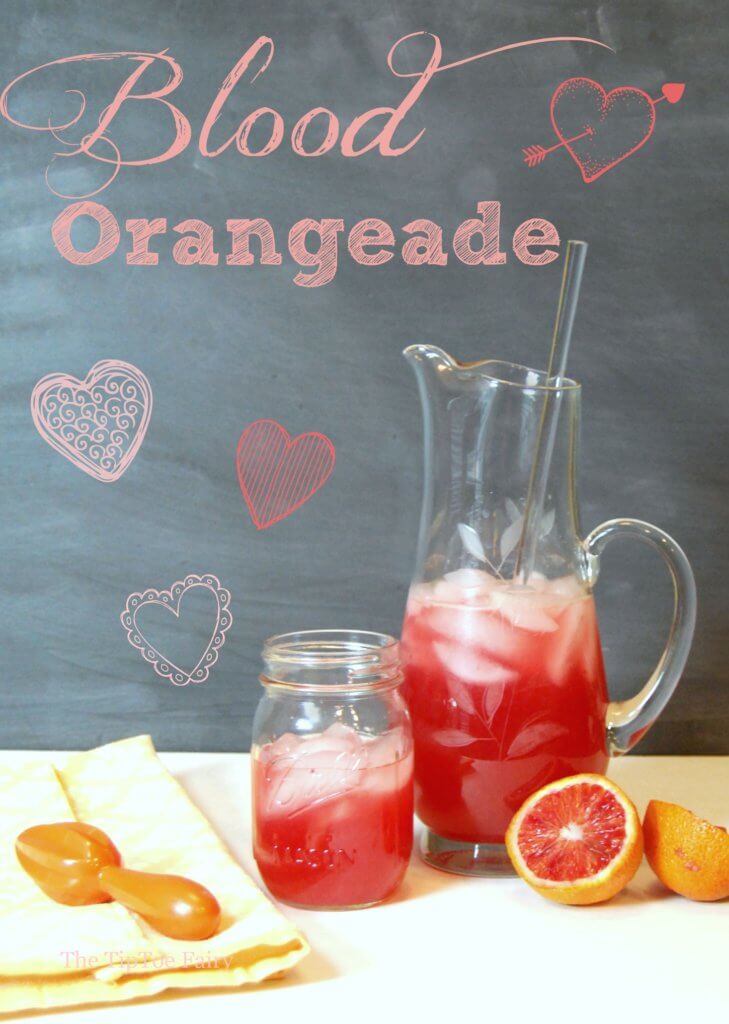 Does anyone else think of Dexter when they think of blood oranges, or am I just the weird one out? It's probably just me. I've been on a binge of Dexter episodes for about a week now. I'm halfway through the entire series. Should I be ashamed to admit that? Every time I watch the opening sequence, I feel the need to point out that the orange he's cutting in half is NOT the blood orange he's juicing in the next scene. Yes, I am that nit-picky.
Back to my precious little blood oranges. Their coloring is just beautiful. My favorite are Moro blood oranges. I just love that pinkish-red fruit and especially the juice. By themselves, they can be a bit tart for some people. Here in Texas, blood oranges are in season in the winter months. Usually I have to go to a "fancy" grocery store, but I found bags of them at Walmart just this week – 3lbs for just $3.88. W00t!
Blood orangeade is just delightful. It has a sweet & tart flavor that is just divine. The perfectly pink/red color is a wonderul addition to a special Valentine's Day meal. Or you could booze it up and make mimosas for a Valentine's Day brunch!
Ingredients
1 cup water + 1 cup sugar
7-8 blood oranges (Moro)
3 small lemons or 1 large lemon
3 cups of ice
5-6 cups of water
Instructions
Heat 1 cup of water in the microwave (or stovetop) until boiling. (About 2-3 minutes in microwave). Then, stir in 1 cup of sugar until completely mixed and water is clear. Set aside
In a mesh strainer, squeeze 7-8 Moro blood oranges.
Then, squeeze 3 small lemons (or 1 large lemon) in mesh strainer.
There should be 1 1/2 to 2 cups of juice when finished.
Add sugar water, additional water, and ice.
Mix thoroughly and allow to chill for an hour or more.
Serve and enjoy!